U.S. Women's Open Q Results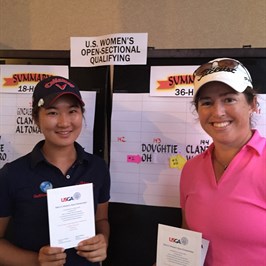 Chapel Hill, NC – Final results of U.S. Women's Open Sectional Qualifying hosted by Governors Club on Wednesday, May 27, 2015. Par 36-36—72, 6499 yards Course/Slope Rating: 74.6/147.
After 36 holes and a 40 minute rain delay during the second round two players punched their ticket to the U.S. Women's Open Championship that will be held July 9-12, 2015 at Lancaster Country Club in Lancaster, PA. Lauren Doughtie of Suffolk, Va will make her third appearance in her national championship after firing a 75-68—143. Her 68 in the second round was the low round of the day. Also advancing is 19-year-old Su Oh of Australia who will make her first trip to the U.S. Women's Open.
The low amateur medal was captured by Natalie Srinivasan of Spartanburg, SC. After a three hole playoff Jean Chua of Malaysia secured the first alternate position while Cydney Clanton of Rockwell, NC earned the second alternate spot.
This qualifier was conducted by the Carolinas Golf Association (CGA) on behalf of the United States Golf Association (USGA). For more information and detailed hole-by-hole scoring please visit: https://www.ghintpp.com/carolinasgolf/TPPOnlineScoring/ResultsStroke.aspx?ID=1221
Qualifiers
Lauren Doughtie, Suffolk, Va.

75-68--143 (-1)

Su Oh, Australia

72-71--143 (-1)
Alternates
1st Jean Chua, Malaysia 75-69-144 (Even)
2nd Cydney Clanton, Rockwell, NC 71-73 – 144 (Even)
Final Results
Place

Competitor

Score

T1

Su Oh, Australia

72-71--143 (-1)

T1

Lauren Doughtie, Suffolk, Va.

75-68--143 (-1)

T3

Jean Chua, Malaysia

75-69--144 (Even)

T3

Jennie Lee, Henderson, Nev.

70-74--144 (Even)

T3

Cydney Clanton, Rockwell, N.C.

71-73--144 (Even)

T3

Jessica Wallace, Canada

73-71--144 (Even)

T7

Brittany Altomare, Shrewsbury, Mass.

71-74--145 (+1)

T7

Lindsay Gahm, Louisville, Ky.

74-71--145 (+1)

T7

Sara-Maude Juneau, Canada

73-72--145 (+1)

T7

Laura Gonzalez-Escallon, Belgium

71-74--145 (+1)

T11

Ginger Howard, Bradenton, Fla.

75-72--147 (+3)

T11

Giulia Molinaro, Scottsdale, Ariz.

73-74--147 (+3)

T13

Natalie Srinivasan, Spartanburg, S.C. (a)

76-72--148 (+4)

T13

Jessy Tang, Orlando, Fla.

76-72--148 (+4)

15

Emilia Migliaccio, Cary, N.C. (a)

77-72--149 (+5)

T16

Jennifer Chang, Cary, N.C. (a)

77-73--150 (+6)

T16

Samantha Swinehart, North Myrtle Beach, S.C.

74-76--150 (+6)

T16

Katherine Perry, Cary, N.C.

74-76--150 (+6)

T16

Emily Tubert, Burbank, Calif.

80-70--150 (+6)

T16

Ashleigh Albrecht, Murrieta, Calif.

74-76--150 (+6)

21

Bryana Nguyen, Columbia, Md. (a)

77-74--151 (+7)

22

Siranon Shoomee, Sanford, N.C. (a)

74-78--152 (+8)

T23

Ericka Schneider, Bradenton, Fla.

75-78--153 (+9)

T23

Ulrika Van-Niekerk, Vidalia, Ga.

75-78--153 (+9)

T23

Sarah Spicer, Bahama, N.C. (a)

76-77--153 (+9)

T26

Erin Thorne, Canada

80-74--154 (+10)

T26

Vaishavi Sinha, Oak Brook, Ill.

75-79--154 (+10)

T26

Kelsey Badmaev, Columbia, S.C. (a)

78-76--154 (+10)

T29

Sarah Bejgrowicz, Carrboro, N.C.

78-77--155 (+11)

T29

Louise Olsson, Sweden (a)

77-78--155 (+11)

T29

Gina Kim, Chapel Hill, N.C. (a)

77-78--155 (+11)

T29

Olivia Jordan-Higgins, England

80-75--155 (+11)

T29

Fiona Puyo, Hollywood, S.C.

75-80--155 (+11)

T34

Kaylin Yost, Fort Lauderdale, Fla.

76-80--156 (+12)

T34

Susana Benavides, Bolivia

78-78--156 (+12)

T34

Mathilda Cappeliez, France (a)

81-75--156 (+12)

T34

Sarah Bae, Pinehurst, N.C. (a)

77-79--156 (+12)

T38

Taylor Dodson, Aiken, S.C. (a)

79-78--157 (+13)

T38

Lauren Dunbar, Columbia, S.C. (a)

83-74--157 (+13)

T38

Roshnee Sharma, Waxhaw, N.C. (a)

82-75--157 (+13)

T38

Jenni Jenq, Davenport, Fla.

76-81--157 (+13)

T38

Courtney McKim, Raleigh, N.C. (a)

72-85--157 (+13)

T43

Mandy Moore, Southern Pines, N.C.

80-78--158 (+14)

T43

Jessica Haigwood, Roswell, Ga. (a)

83-75--158 (+14)

T43

Riley Rennell, Columbia, Tenn. (a)

76-82--158 (+14)

T46

Hannah Craver, Winston Salem, N.C. (a)

78-81--159 (+15)

T46

Jordan Britt, Chattanooga, Tenn.

81-78--159 (+15)

T46

Jessica Spicer, Bahama, N.C. (a)

79-80--159 (+15)

Place

Competitor

Score

49

Mary Chandler Bryan, Chapin, S.C. (a)

80-80--160 (+16)

T50

Anna Buchanan, Athens, Ga. (a)

79-82--161 (+17)

T50

Anne Marie Goslak, Winston Salem, N.C.

79-82--161 (+17)

52

Anaelle Carnet, France

81-81--162 (+18)

53

Catherine Ashworth, Fuquay-Varina, N.C. (a)

81-82--163 (+19)

T54

Mariah Hopkins, Danville, Va. (a)

82-83--165 (+21)

T54

Kendall Dobbins, Summerfield, N.C. (a)

81-84--165 (+21)

T54

Ryanne Haddow, Sugar Land, Texas

85-80--165 (+21)

T54

Allyson Dunn, Kingsport, Tenn. (a)

81-84--165 (+21)

T54

Emily Brooks, Chapel Hill, N.C. (a)

85-80--165 (+21)

59

Emma Marlatt, Chapel Hill, N.C. (a)

86-80--166 (+22)

60

Moon Cheong, Charlotte, N.C. (a)

84-83--167 (+23)

61

Sarah Almond, Laurinburg, N.C.

81-87--168 (+24)

62

Melanie Talbott, Woodstock, Ga. (a)

85-84--169 (+25)

63

Megan Leineweber, Salisbury, Va.

86-84--170 (+26)

64

Brooke Kochevar, Glen Ellyn, Ill. (a)

83-88--171 (+27)

T65

Alejandra Cangrejo, Colombia

81-WD--WD (WD)

T65

Juliana Sebastian, Columbia, S.C. (a)

86-WD--WD (WD)

T65

Kelly Whaley, Farmington, Conn. (a)

76-WD--WD (WD)

T65

Maia Schechter, Takoma Park, Md. (a)

77-WD--WD (WD)

T65

Kathleen Sumner, Charleston, S.C. (a)

84-WD--WD (WD)

T65

Kristina Tucker, Waxhaw, N.C.

79-WD--WD (WD)

T65

Annika Bovender, Mount Pleasant, S.C. (a)

81-WD--WD (WD)

T65

Katie Rose Higgins, Lewisville, N.C. (a)

78-WD--WD (WD)

T65

Meghan Musk, San Antonio, Texas (a)

78-WD--WD (WD)

T65

Patty Waszak, Pigeon Forge, Tenn. (a)

100-WD--WD (WD)

T75

Meghan Allum, Canada

WD (WD)

T75

Evelyn Dole, Raleigh, N.C. (a)

WD (WD)

T75

Audrey Nelson, Sunbury, Ohio

WD (WD)

T75

Haeley Wotnosky, Wake Forest, N.C. (a)

WD (WD)

T75

Teleri Hughes, Knoxville, Tenn. (a)

WD (WD)

T75

Katelyn Dambaugh, Goose Creek, S.C. (a)

WD (WD)

T75

Madison Caldwell, Dawsonville, Ga. (a)

WD (WD)
##30##