Women's Team Win Six Straight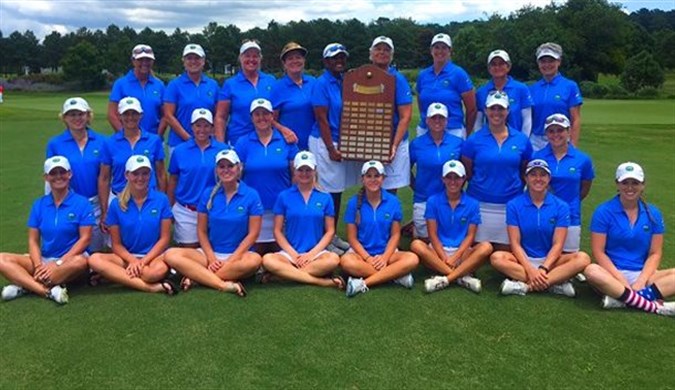 Event: 59th Carolinas-Virginias Women's Team Matches
Host Site: Bay Creek Resort (Nicklaus), Cape Charles, VA
Playing Dates: July 13-15, 2015
Carolinas Team Wins Six Straight
Final Results
Cape Charles, VA –– The 24-golfer Carolinas team posted a wire-to-wire 12-point victory (78-66) over their Virginias counterparts to win the 59th Virginias-Carolinas Women's Team Matches, held at Bay Creek Resort (Nicklaus) on July 13-15, 2015.
Carolinas, owners of a 10-point lead entering the final day of the event notched twelve wins in 24 encounters on day three. In the format, three points are available per match; a point is scored for winning the outward half, the inward nine and the overall match. This is the first year the matches included head-to-head singles matches which replaced four-ball competition on the final day.
Carolinas received four shutouts and the accompanying three points from the following team members: Mallory Hetzel (Waynesville, N.C.), Kelli Murphy (Elgin, S.C.), Patty Moore (Charlotte, N.C.), and Karen Ferree (Hilton Head, S.C.).
Virginias posted six of their own 3-0 blankings from Cindy Morris, Kayleigh Reed, Kimberly Mitchell, Alex Austin, Lauren Greenleif, and Lyndsey Hunnell.
Results from final day singles match play competition at the 59th Carolinas-Virginias Women's Team Matches at Bay Creek Resort on Wednesday, July 15.
Carolinas won final day singles match play competition, 37-35
Day One Four-Ball Matches: 19 ½ - 16 ½
Day Two Modified Alternate Shot: 21 ½ - 14 ½
Carolinas wins the 59th Carolinas- Virginias Women's Team Matches, 78-66 . This is the teams sixth straight win.
This annual team match competition is conducted by the Carolinas Golf Association in conjunction with the Virginia and West Virginia State Golf Association.