N.C. Mid-Amateur Championship Preview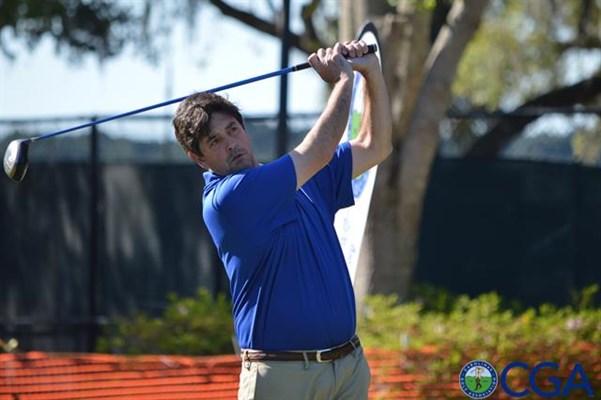 Uly Grisette will try to win a record third N.C. Mid-Amateur title

SOUTHERN PINES, N.C. (September 16, 2016) -- The Carolinas Golf Association (CGA) will conduct the 23rd North Carolina Mid-Amateur Championship at Starmount Forest Country Club in Greensboro, N.C. from September 23-25. The championship is conducted at 54 holes of stroke play. After 36 holes, there will be a cut to the low 60 scores and ties.
Related: Tee Times & Pairings | Hole-by-hole Scoring | Championship History
In last year's championship held at Bright's Creek Golf Club, Greg Earnhardt of Greensboro fired a tournament low round of six-under 66 to finish at nine-under and win his first CGA championship title by four strokes over six-time CGA champ Matthew Crenshaw of Burlington.
Medalist
Score
Site
Chad Wilfong
Charlotte
68
Cabarrus Country Club
Reid Clark
Raleigh
70
Carolina Trace
Ryan Sharpe
Greensboro
67
Pilot Knob Golf Club
Pilot Mountain
Brad Mundy
Hickory
Josh Cornett
Boone
73
Bermuda Run Country Club (East)
Advance
John Pitt
Raleigh
67
Lochmere Golf Club
Cary
Earnhardt will be looking to defend his title when this year's championship comes to his hometown. Other past N.C. Mid-Amateur champions in the field include Joe Jaspers of Huntersville (2014), Brian Westveer of Charlotte (2011), Uly Grisette of Winston-Salem (2008 & 2010), and Paul Tucker of Waxhaw (2009).
122 players are expected to compete in the 23rd edition of the championship. Exempt players were automatically accepted while others were required to qualify through one of five 18 hole qualifiers.
Top-ranked players competing:
Sherrill Britt, 51, of West End, is ranked second among mid-amateurs in North Carolina. Britt claimed his first CGA title at the 2015 Carolinas Mid-Amateur Championship and had a top-ten finish at the 2015 N.C. Mid-Amateur Championship. This summer he won the Old North State CPGA Senior Open and Starmount Forest CPGA Senior Open.

Defending champion Greg Earnhardt, 47, of Greensboro, is ranked third. Earlier this year, Earnhardt had a top-20 finish at the Carolinas Mid-Amateur.

Joe Jaspers, 50, of Huntersville, won this championship in 2014. He currently ranks fourth in N.C. In 2015, Jaspers finished T3 at this championship and has had 3 top-25 finishes for the 2016 season.

Three-time CGA champion Paul Tucker, 37, of Waxhaw had a top-five finish at last year's championship. The 2009 N.C. Mid-Amateur champion, Tucker is currently ranked 5th.
Entry is open to any male amateur golfer who has reached his 30th birthday by September 23, 2016, is a legal resident of North Carolina, is a member in good standing of a club which is a member of the Carolinas Golf Association (CGA) and has an active GHIN® USGA Handicap Index® at a CGA member club that does not exceed 5.4.
Scoring will be provided by the CGA throughout the championship, offering 9 and 18-hole updates. Live updates will also be available on the CGA's official Twitter account, @cgagolf1909. Continue to visit the CGA website throughout this championship and all year long for complete championship coverage including scores, interviews, photos, and recaps.

##30##