2nd Carolinas Senior Interclub Final Four Teams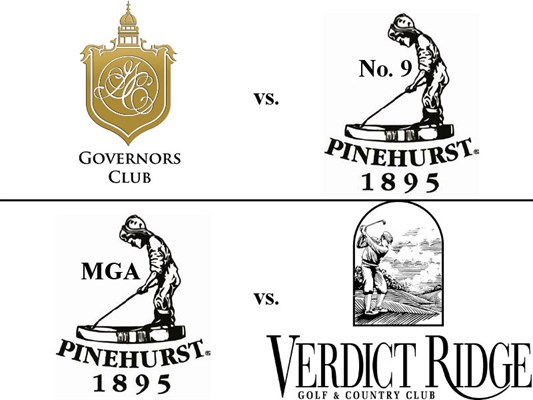 SOUTHERN PINES, N.C. -- The 2nd Carolinas Senior Interclub Final Four will take place Wednesday, October 25th and Thursday, October 26th at Pinewild Country Club's Magnolia Course.
74 senior teams competed this year, an increase from 45 that participated in the inaugural season. 46 of the 74 senior teams advanced to the playoffs. Now, just four remain:
Governors Club vs. Pinehurst Country Club (No. 9)
Pinehurst Country Club (MGA) vs. Verdict Ridge
The format of the championship is four-ball match play for men ages 55 and older. Eight players from each team compete in four matches with six total points awarded in each match (two for front nine, two for back nine, two for overall match).
Final Four Team Matches:

Each team includes 8 competing members plus the Captain
Each team can bring 2 alternates (optional). Captains can be a competing player a/o alternate.
Eligible players may be substituted between the semi-finals and the championship match.
Format:

Semi-Final matches Wednesday (10/25, Magnolia Course) starting at 11:30am from #1 and #10 tee (10 minute intervals).
Format is the same as the regular season. Players will compete for 6 match points (2 for each 9 and 2 for the overall).
Championship match Thursday (10/26, Magnolia Course) 8:30am from #1 tee (10 minute intervals).
Schedule of Events:

Tuesday, October 24:

5:45pm Captain's meeting – Pinewild Clubhouse.
6:00pm – 7:30pm Team Reception (F&B hosted by the CGA). Location Pinewild Club House.
Matchups and tee times to be announced at team reception.

Wednesday, October 25 (Semi-Final Matches – Magnolia Course):

11:30am to 12:30pm (10 minute intervals) from #1 and #10 tees.
Non-competing Captains/Alternates (optional) will tee off first.
Player social with refreshments at the scoreboard area immediately following play.
Finals lineups and starting times announced following semifinal matches.

Thursday, October 26 (Championship Match – Magnolia Course):

8:30am to 9:30am (10 minute intervals) from Tee #1
Awards ceremony immediately following play

NOTE: There is no consolation match for 3rd/4th place.