US Mid-Amateur Q Results Keith Hills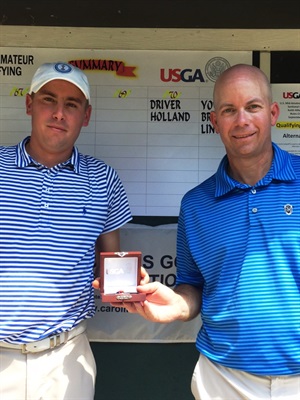 BUIES CREEK, NC – Final results from U.S. Mid-Amateur Championship sectional qualifying hosted by Keith Hills Country Club in Buies Creek, NC on Tuesday, September 1, 2015 (6700 yards, par 36-36—72, Rating: 72.2/132).
Two qualifying spots and two alternate positions are available at this qualifying site.
Timothy Driver from Holly Springs, NC and Chris Holland from Fayetteville, NC each carded a two-under par 70 to share medalist honors and qualify for the 2015 United States Mid-Amateur Championship at Johns Island Club in Vero Beach, FL from October 3-8, 2015. Nathan Young from Oak Ridge, NC and William Lincicome from Pinehurst, NC were 1st and 2nd Alternates respectively.
Hole by hole scoring can be viewed here: https://www.ghintpp.com/carolinasgolf/TPPOnlineScoring/ResultsStroke.aspx?ID=1223
Qualifying Results
Place

Competitor

Score

Qualifiers

T1

Timothy Driver, Holly Springs, N.C.

35-35--70 (-2)

T1

Chris Holland, Fayetteville, N.C.

36-34--70 (-2)

Alternates

3

Nathan Young, Oak Ridge, N.C.

36-35--71 (-1) 1st Alternate

4

William Lincicome, Pinehurst, N.C.

32-39--71 (-1) 2nd Alternate

Failed to Qualify

5

Sherrill Britt, West End, N.C.

35-36--71 (-1)

T6

Shawn Will, Raleigh, N.C.

37-35--72 (Even)

T6

Dow Taylor, Raleigh, N.C.

39-33--72 (Even)

T8

Renny Buddin, Garner, N.C.

38-36--74 (+2)

T8

Nickolas Kwaterski, Sunset Beach, N.C.

39-35--74 (+2)

T8

Jared Fryer, Fayetteville, N.C.

37-37--74 (+2)

T8

Matthew Canavan, Raleigh, N.C.

38-36--74 (+2)

T8

Mark Gauley, Raleigh, N.C.

37-37--74 (+2)

T8

Erik Ehlert, Raleigh, N.C.

39-35--74 (+2)

14

Jake Colley, Holly Springs, N.C.

36-39--75 (+3)

T15

Jerry Richardson, Cary, N.C.

37-39--76 (+4)

T15

Michael Olson, Wake Forest, N.C.

38-38--76 (+4)

T15

Steven Hale, Holly Springs, N.C.

39-37--76 (+4)

18

Michael Swiger, Raleigh, N.C.

41-36--77 (+5)

T19

T.d. Luten, Raleigh, N.C.

38-40--78 (+6)

T19

Jackson Taylor, Wilmington, N.C.

39-39--78 (+6)

T19

Brandon Belisle, Wilmington, N.C.

38-40--78 (+6)

T19

Stuart Augustine, Fayetteville, N.C.

39-39--78 (+6)

T19

Kenneth Bass, Pinehurst, N.C.

39-39--78 (+6)

T19

Chris Tanner, Kinston, N.C.

39-39--78 (+6)

T19

Brent Cooper, New Bern, N.C.

38-40--78 (+6)

T19

John Marshall, Kinston, N.C.

38-40--78 (+6)

T19

William Rocchi, Pinehurst, N.C.

39-39--78 (+6)

T19

Zachary Barrier, Greensboro, N.C.

40-38--78 (+6)

29

Blair Miller, Southern Pines, N.C.

41-38--79 (+7)

T30

Bill Reduzzi, Raleigh, N.C.

40-40--80 (+8)

T30

Shawn O'Donnell, Holly Springs, N.C.

36-44--80 (+8)

T32

Brent Hayes, Kinston, N.C.

40-42--82 (+10)

T32

Bill Martin, Pinehurst, N.C.

43-39--82 (+10)

T34

Keith Bishop, Lumber Bridge, N.C.

39-44--83 (+11)

T34

Jeffrey Stephenson, Wake Forest, N.C.

44-39--83 (+11)

T34

Kelly Miller, Southern Pines, N.C.

42-41--83 (+11)

T37

Jonathan Jackson, Chapel Hill, N.C.

WD-WD--WD (WD)

T37

Rodney Streeter, Wilmington, N.C.

WD-WD--WD (WD)

T37

Walker Taylor, Wilmington, N.C.

WD-WD--WD (WD)

T37

Chip Pate, Elizabethtown, N.C.

WD-WD--WD (WD)

T37

J. Vann Parker, Emerald Isle, N.C.

WD-WD--WD (WD)

T37

Preston Edmondson, Morrisville, N.C.

WD-WD--WD (WD)

T37

John Blackwell, Wilmington, N.C.

WD-WD--WD (WD)