U.S. Amateur Four-Ball Q Final Results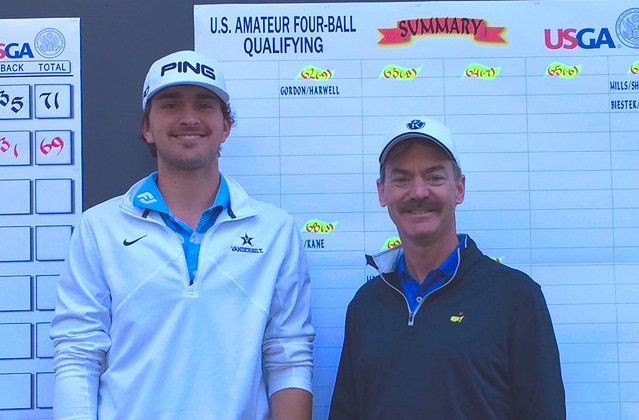 Medalists (L-R): William Gordon-Steve Harwell
PINEHURST, NC – Final results from U.S. Amateur Four-Ball Championship sectional qualifying hosted by Pinewild Country Club (Holly) in Pinehurst, NC on Monday, March 23, 2015 (6780 yards, par 36-35—71, Rating: 72.2/135).
Three qualifying spots and two alternate positions were available at this qualifying site.
William Gordon of Davidson, N.C.-Steve Harwell of Mooresville, N.C. carded a nine-under par 62 to take medalist honors. Nolan Mills of Charlotte, N.C.-Henry Shimp of Charlotte, N.C. and Sherrill Britt of West End, N.C.-Greg Earnhardt of Greensboro, N.C. secured the final two qualifying spots in a 3-for-2 playoff with pars on the first playoff hole.
William Biestek of Middletown, Conn.-Michael O'Conner of High Point, N.C. is the first alternate while Logan Harrell of Huntersville, N.C.-Ryan Whalen of Huntersville, N.C. won the second alternate position in a 6-for-1 playoff with a birdie on the first playoff hole.
The three qualifiers advanced to the inaugural United States Amateur Four-Ball Championship at The Olympic Club in San Francisco, CA from May 2-6, 2015.
Hole-by-hole scoring times can be viewed here: https://www.ghintpp.com/carolinasgolf/TPPOnlineScoring/ResultsStroke.aspx?ID=954
This qualifier was conducted by the Carolinas Golf Association on behalf of the United States Golf Association.
| | | |
| --- | --- | --- |
| Place | Team | Score |
| | Qualifiers | |
| 1 | William Gordon, Davidson, N.C. - Steve Harwell, Mooresville, N.C. | 29-33--62 (-9) |
| T2 | Nolan Mills, Charlotte, N.C. - Henry Shimp, Charlotte, N.C. | 33-33--66 (-5) |
| T2 | Sherrill Britt, West End, N.C. - Greg Earnhardt, Greensboro, N.C. | 34-32--66 (-5) |
| | Alternates | |
| T2 (1st Alt) | William Biestek, Middletown, Conn. - Michael O'Connor, High Point, N.C. | 36-30--66 (-5) |
| T5 (2nd Alt) | Logan Harrell, Huntersville, N.C. - Ryan Whalen, Huntersville, N.C. | 34-33--67 (-4) |
| | Failed to Qualify | |
| T5 | Ken Clarke, Cleveland, N.C. - Chris Owen, Mount Ulla, N.C. | 35-32--67 (-4) |
| T5 | Chris Cassetta, Winston Salem, N.C. - David Gies, Charlotte, N.C. | 33-34--67 (-4) |
| T5 | Mike Christensen, Minneapolis, Minn. - Brad Clark, Chapel Hill, N.C. | 32-35--67 (-4) |
| T5 | Nicholas Brown, Lenoir, N.C. - Bern Gregory, Mooresville, N.C. | 34-33--67 (-4) |
| T5 | Will Huntley, Pinehurst, N.C. - William Lincicome, Pinehurst, N.C. | 34-33--67 (-4) |
| 11 | John Eades, Charlotte, N.C. - Timothy Kane, North Bethesda, Md. | 35-33--68 (-3) |
| T12 | Hugh Morrison, Charleston, S.C. - Raymond Warga, Charleston, S.C. | 37-32--69 (-2) |
| T12 | Jacob Lowder, Greensboro, N.C. - Kyle Stockton, High Point, N.C. | 33-36--69 (-2) |
| T12 | Kevin Duerr, Raleigh, N.C. - Bill Reduzzi, Raleigh, N.C. | 34-35--69 (-2) |
| T12 | Kevin Fetzner, Pinehurst, N.C. - Chris Harp, Pinehurst, N.C. | 36-33--69 (-2) |
| T12 | Dwight Cauthen, Columbia, S.C. - Jonathan Rector, Hendersonville, N.C. | 38-31--69 (-2) |
| T12 | Thomas Addison III, Laurens, S.C. - Bret Boulware, Greenville, S.C. | 35-34--69 (-2) |
| T12 | Whitten Meares, Charleston, S.C. - John Pitt, Raleigh, N.C. | 35-34--69 (-2) |
| T12 | Lawrence Largent, Boones Creek, Tenn. - Tommy Miller, Boone, N.C. | 34-35--69 (-2) |
| T12 | Steven Liebler, Columbia, S.C. - Chase Liebler, Irmo, S.C. | 35-34--69 (-2) |
| T12 | Joe Kastelic, Newton, N.C. - Joseph Sadowski, Hickory, N.C. | 33-36--69 (-2) |
| T22 | Samuel McGee, Charlotte, N.C. - Aaron Walker, Charlotte, N.C. | 33-37--70 (-1) |
| T22 | Brian Gauley, Wake Forest, N.C. - Mark Gauley, Raleigh, N.C. | 36-34--70 (-1) |
| T22 | Dwayne Baker, Wilson, N.C. - Brandon Godwin, Wilson, N.C. | 34-36--70 (-1) |
| T22 | Brock Godwin, Wilson, N.C. - Josh Talton, Wilson, N.C. | 37-33--70 (-1) |
| T22 | David Egerton, Greensboro, N.C. - Jay Kirkpatrick, Greensboro, N.C. | 37-33--70 (-1) |
| T27 | David Glabicki, Cary, N.C. - Hunter Grove, Cary, N.C. | 36-35--71 (Even) |
| T27 | Hunter Shull, Charlotte, N.C. - Michael Teague, Charlotte, N.C. | 36-35--71 (Even) |
| T27 | Walker J Taylor, Wilmington, N.C. - Walker Taylor IV, Wilmington, N.C. | 36-35--71 (Even) |
| T27 | Hayes Brown, Charlotte, N.C. - Zachary Capps, Easley, S.C. | 36-35--71 (Even) |
| T27 | Blayze Di Pasquale, Raleigh, N.C. - Stuart Kaufman, Armonk, N.Y. | 35-36--71 (Even) |
| T32 | Troy Ferris, Currituck, N.C. - Scott Moore, Virginia Beach, Va. | 37-35--72 (+1) |
| T32 | Cordes Ford IV, Charleston, S.C. - Frank Ford III, Charleston, S.C. | 36-36--72 (+1) |
| T34 | David Brown, Conover, N.C. - Mikell Gentry, Indian Trail, N.C. | 37-36--73 (+2) |
| T34 | Josh Anderson, Sunbury, Ohio - Jeffrey Maier, Worthington, Ohio | 39-34--73 (+2) |
| T34 | Noel Brown, Charlotte, N.C. - Paul Clark, Charlotte, N.C. | 39-34--73 (+2) |
| T34 | Ron Kirkpatrick, Charlotte, N.C. - Vince Sumner, Charlotte, N.C. | 36-37--73 (+2) |
| T34 | Hank Thompson, Pinehurst, N.C. - Robert Zalzneck, Pinehurst, N.C. | 35-38--73 (+2) |
| T34 | Ryan Gerard, Raleigh, N.C. - James Mishoe IV, Cary, N.C. | 37-36--73 (+2) |
| T40 | Billy Andrews, Advance, N.C. - Hamp Andrews, Spanish Fort, Ala. | 38-36--74 (+3) |
| T40 | Steve Arrington, Wake Forest, N.C. - Hunter Freeman, Raleigh, N.C. | 36-38--74 (+3) |
| T40 | Mark Absher, Winston Salem, N.C. - Daniel Welborn, Charlotte, N.C. | 35-39--74 (+3) |
| T40 | Kenneth Bass, Pinehurst, N.C. - William Rocchi, Pinehurst, N.C. | 37-37--74 (+3) |
| T44 | Cliff Seastrunk, Raleigh, N.C. - Jason Seastrunk, Raleigh, N.C. | 37-38--75 (+4) |
| T44 | Preston Edmondson, Morrisville, N.C. - Stephen Sharpe, Greensboro, N.C. | 37-38--75 (+4) |
| T44 | Jason Robertson, Blacksburg, Va. - Ryan Sypniewski, Blacksburg, Va. | 37-38--75 (+4) |
| T44 | Kevin Atamian, Raleigh, N.C. - Jay Clayton, Burlington, N.C. | 39-36--75 (+4) |
| 48 | Michael Griggs, Hartsville, S.C. - Ryan Melton, Summerville, S.C. | 38-38--76 (+5) |
| T49 | Bob Cook, Easley, S.C. - Van Williams, Richmond, Va. | 39-39--78 (+7) |
| T49 | Brian Gardner, Morganton, N.C. - Ryan Kelley, Marion, N.C. | 38-40--78 (+7) |
| 51 | Daniel Craig, Philadelphia, Pa. - Adam Kucharski, Burr Ridge, Ill. | 41-38--79 (+8) |
| 52 | Brian Pannell, Chicago, Ill. - Daniel Pannell, Wyomissing, Pa. | 39-42--81 (+10) |
| T53 | Keith Kepley, Charlotte, N.C. - Paul Spadafora, Charlotte, N.C. | WD |
| T53 | Tony DiBitetto, Charlotte, N.C. - Matthew Gugino, Washington, D.C. | DNS |