US Senior Open Q Results Highland CC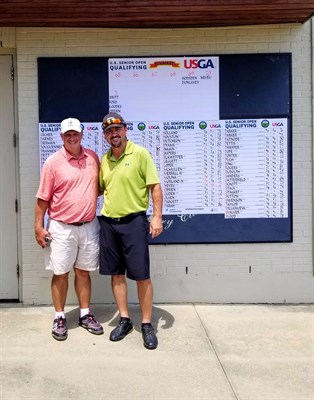 Tim Dunlavey, Carey Hodsden
FAYETTEVILLE, NC– Final results from U.S. Senior Open Championship Sectional Qualifying hosted by Highland Country Club in Fayetteville, NC on Monday, May 20, 2019 (6695 yards, par 36-36—72).
Two qualifying spots and two alternate positions were available at this qualifying site.
Carey Hodsden of Suffolk, VA and Tim Dunlavey of Spartanburg, SC shot rounds of three-under par, 69 to take home medalist honors. Dunlavey was also low amateur medal.
The 2019 U.S. Senior Open Championship will be conducted at The Warren Golf Club at Notre Dame in South Bend, IN from June 27-June 30, 2019.
This qualifier was conducted by the Carolinas Golf Association on behalf of the United States Golf Association.
2019 US Senior Open Sectional Qualifying
Highland Country Club, Fayetteville, NC
Qualifying Results
Related: Hole-by-Hole Scoring | Tournament Website
Pos.

Player

City, State

To Par

Total

T1

Carey Hodsden (p)

Suffolk, VA, Pro

-3

69

T1

Tim Dunlavey (a)

Spartanburg, SC, Amateur

-3

69

Low Am

LowFailed to Qualify

CUT

Daniel Neveu (a)

Pinehurst, NC, Amateur

-2

70

1st Alt

CUT

Michael Goodes (p)

Brown Summit, NC, Pro

-1

71

2nd Alt

CUT

Sherrill Britt (a)

West End, NC, Amateur

-1

71

CUT

Stephen Ford (p)

Melbourne, FL, Pro

-1

71

CUT

John Obrien (a)

Jacksonville, FL, Amateur

-1

71

CUT

John Inman (p)

Durham, NC, Pro

-1

71

CUT

Mauricio Molina (p)

Villa De Mayo, ARG, Pro

E

72

CUT

David Morland IV (p)

Palm Coast, FL, Pro

E

72

CUT

Chris Hockaday (p)

Angier, NC, Pro

E

72

CUT

David Ogden (a)

Pinehurst, NC, Amateur

+1

73

CUT

Robert Todd Gleaton (p)

Fayetteville, NC, Pro

+1

73

CUT

Jerome Schott (a)

Holly Springs, NC, Amateur

+1

73

CUT

Lee Porter (p)

Greensboro, NC, Pro

+1

73

CUT

Dean Channell (a)

Cary, NC, Amateur

+1

73

CUT

Mark Hodges (a)

Belmont, NC, Amateur

+2

74

CUT

Brian Hepler (a)

Wilmington, NC, Amateur

+2

74

CUT

Mike Stack (p)

Richmond, VA, Pro

+2

74

CUT

Trent Gregory (a)

Wake Forest, NC, Amateur

+2

74

CUT

Chris Holland (a)

Fayetteville, NC, Amateur

+3

75

CUT

Dewey Delovich (p)

Johns Island, SC, Pro

+3

75

CUT

Ronald Giles (p)

Pinehurst, NC, Pro

+3

75

CUT

Joe Jaspers (a)

Huntersville, NC, Amateur

+3

75

CUT

Lionel Sutton (a)

La Grange, NC, Amateur

+3

75

CUT

Craig Gunn (p)

Danville, VA, Pro

+3

75

CUT

Christopher Conlon (a)

Altamonte Springs, FL, Amateur

+3

75

CUT

Chip Collins (p)

Hope Mills, NC, Pro

+4

76

CUT

Greg Parker (p)

Marion, NC, Pro

+4

76

CUT

Walker Taylor (a)

Wrightsville Beach, NC, Amateur

+4

76

CUT

Dale Bouguennec (a)

Pinehurst, NC, Amateur

+5

77

CUT

Tommy Padgett (p)

Denver, NC, Pro

+5

77

CUT

Jon Corliss (p)

Virginia Beach, VA, Pro

+5

77

CUT

Derek Sanders (p)

Whispering Pines, NC, Pro

+5

77

CUT

Brian Swenson (a)

Charlotte, NC, Amateur

+5

77

CUT

Gerald Frye (a)

Aberdeen, NC, Amateur

+5

77

CUT

Jeffrey Phieffer (p)

Southport, NC, Pro

+5

77

CUT

John Olsen (a)

Mooresville, NC, Amateur

+5

77

CUT

Gary Pugh (a)

Asheboro, NC, Amateur

+5

77

CUT

Mikael Hogberg (p)

Greensboro, NC, Pro

+6

78

CUT

Michael Hutcheon (p)

High Point, NC, Pro

+6

78

CUT

Charles Archer (a)

Heath, TX, Amateur

+6

78

CUT

Tad Wood (p)

Raleigh, NC, Pro

+6

78

CUT

Mark Houston (p)

Newport News, VA, Pro

+6

78

CUT

Tim Dean (a)

Ocean Isle Beach, NC, Amateur

+7

79

CUT

John Rudolph (a)

Charlotte, NC, Amateur

+7

79

CUT

Glenn Collins (a)

Greensboro, NC, Amateur

+7

79

CUT

Dale Ring (a)

Carthage, NC, Amateur

+7

79

CUT

Jimmy McMullen (p)

Clemmons, NC, Pro

+7

79

CUT

Jimmy Hyams (a)

Charleston, SC, Amateur

+8

80

CUT

Jeff Brown (p)

Fayetteville, NC, Pro

+8

80

CUT

Steve Clark (p)

Longs, SC, Pro

+8

80

CUT

Scott Patnode (a)

Belmont, NC, Amateur

+8

80

CUT

Francis R. Debois Jr. (p)

Spring Lake, NC, Pro

+8

80

CUT

Robert Loper (p)

Wilmington, NC, Pro

+8

80

CUT

Dwayne Pope (a)

Hope Mills, NC, Amateur

+8

80

CUT

Fred Rogers (a)

New Bern, NC, Amateur

+9

81

CUT

Wilbur Fagan (p)

Surfside Beach, SC, Pro

+9

81

CUT

Jack Merrell III (a)

Wake Forest, NC, Amateur

+9

81

CUT

Bobby Bumgardner (a)

Rock Hill, SC, Amateur

+9

81

CUT

Tommy Brannen (p)

Martinez, GA, Pro

+9

81

CUT

Melvin Barnes (a)

Hillsborough, NC, Amateur

+9

81

CUT

Marcus Gray (a)

Colfax, NC, Amateur

+9

81

CUT

Eliseo Villanueva (a)

Fayetteville, NC, Amateur

+9

81

CUT

Mark Walker (a)

Greensboro, NC, Amateur

+9

81

CUT

David Cauthen (p)

Mount Holly, NC, Pro

+10

82

CUT

Tim Brooks (a)

Rockwall, TX, Amateur

+10

82

CUT

Matt Pettis (a)

Pinehurst, NC, Amateur

+10

82

CUT

Kyle Klawetter (a)

High Point, NC, Amateur

+11

83

CUT

Glen Davis (p)

Myrtle Beach, SC, Pro

+11

83

CUT

Todd Satterfield (a)

Greer, SC, Amateur

+12

84

CUT

Deac Dawson (p)

Concord, NC, Pro

+13

85

CUT

Michael Parah (p)

Foxfire Village, NC, Pro

+14

86

CUT

Samuel Leggett (p)

Washington, NC, Pro

+18

90

WD

Mike Crawford (a)

Summerfield, NC, Amateur

-

WD

WD

J. Vann Parker (a)

Emerald Isle, NC, Amateur

-

WD

NS

Bill Bierman (a)

Marvin, NC, Amateur

-

NS

NS

Lee Everhart (p)

Thomasville, NC, Pro

-

NS