Three Tied at the Top at the Creed Boys' Invitational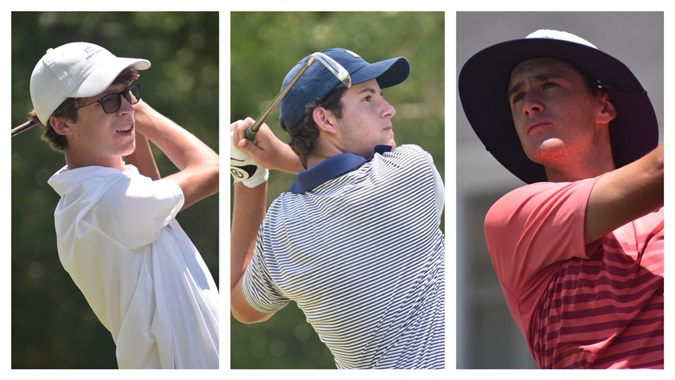 SOUTHERN PINES, N.C. (May 23, 2019) -- First round results of the 7th Creed Boys' Invitational at Camden Country Club in Camden, S.C. on May 25, 2019.
Related: Championship Web Site | Full Field of Players | Starting Times | Scoring | History
Randall Hudson of New Burn, N.C., Zachary Reuland of Rock Hill, S.C. and Carlos Garre of Myrtle Beach, S.C. are tied for the lead after shooting one-under-par, 69 in the first round of the 7th Creed Boys' Invitational.
Battling tough conditions with 95 degree heat, Hudson was able to drop a few birdie putts to finish the round.
"I drank a lot of water, probably the most water I have ever drank in one round today, but it was really hard to play in it," said Hudson. "I have been hitting the ball really well lately. I just started putting a little bit better today."
Garre's round was steady and consistent and he was one of the few to have an eagle in the field.
"I feel confident. I think I can really get the job done and win the tournament. I just have to make a whole lot more putts and just have fun and stay hydrated." said Garre.
Reuland had a solid front nine and the putts started rolling in on the back nine to finish at one-under-par, 69.
Andrew Graham of Asheville, N.C. and Cade Hancock of Elizabethtown, N.C. finished their rounds at level par, 70 to put themselves into a tie for fourth position heading into the final round.
7th Creed Boys' Invitational
Camden Country Club, Camden, S.C.
First Round Results
| | | | | |
| --- | --- | --- | --- | --- |
| Pos. | Player | City, State, Graduation Year | R1 | To Par |
| T1 | Carlos Garre | Myrtle Beach, SC, 2019 | 69 | -1 |
| T1 | Randall Hudson | New Bern, NC, 2020 | 69 | -1 |
| T1 | Zachary Reuland | Rock Hill, SC, 2020 | 69 | -1 |
| T4 | Andrew Graham | Asheville, NC, 2020 | 70 | E |
| T4 | Cade Hancock | Elizabethtown, NC, 2019 | 70 | E |
| T6 | Adam Hunt | Columbia, SC, 2023 | 71 | +1 |
| T6 | Keegan Vaugh | Myrtle Beach, SC, 2020 | 71 | +1 |
| T6 | Mason Tucker | Lancaster, SC, 2021 | 71 | +1 |
| T6 | Pake June | Florence, SC, 2022 | 71 | +1 |
| T6 | Simon Wright | Lancaster, SC, 2021 | 71 | +1 |
| T11 | Austin Scott | Charleston, SC, 2021 | 72 | +2 |
| T11 | Daniel Brasington | Woodruff, SC, 2021 | 72 | +2 |
| T11 | Garrett Clark | Burlington, NC, 2020 | 72 | +2 |
| T11 | Jake Newman | Charlotte, NC, 2020 | 72 | +2 |
| T11 | Wills Kelly | Camden, SC, 2021 | 72 | +2 |
| T16 | Tyler Jones | Jacksonville, NC, 2023 | 73 | +3 |
| T16 | Elliott Pope | Lugoff, SC, 2021 | 73 | +3 |
| T16 | Anthony Sutton | Lancaster, SC, 2019 | 73 | +3 |
| T16 | Alex Heffner | Harrisburg, NC, 2020 | 73 | +3 |
| T16 | Daniel Coker | Hartsville, SC, 2020 | 73 | +3 |
| T16 | Calahan Keever | Greenville, SC, 2020 | 73 | +3 |
| T16 | Garrett Risner | Holly Springs, NC, 2020 | 73 | +3 |
| T16 | Zach Roberts | Holly Springs, NC, 2020 | 73 | +3 |
| T24 | Hunter Treece | Monroe, NC, 2019 | 74 | +4 |
| T24 | Justin Guilford | Davidson, NC, 2020 | 74 | +4 |
| T24 | Frank Gilliam | Raleigh, NC, 2020 | 74 | +4 |
| T24 | Austin Holland | Belmont, NC, 2019 | 74 | +4 |
| T24 | Ian Faulconer | Simpsonville, SC, 2019 | 74 | +4 |
| T24 | Manning Sloop | Rock Hill, SC, 2020 | 74 | +4 |
| T24 | Ike Joy | Denver, NC, 2021 | 74 | +4 |
| T31 | Collin Adams | Charlotte, NC, 2021 | 75 | +5 |
| T31 | Hinson Perry | Rock Hill, SC, 2020 | 75 | +5 |
| T31 | Major Lenning | Simpsonville, SC, 2023 | 75 | +5 |
| T31 | Austin Alexander | Rutherfordton, NC, 2020 | 75 | +5 |
| T31 | Luke Walmet | Mount Pleasant, SC, 2023 | 75 | +5 |
| T31 | Nicholas Song | Waxhaw, NC, 2020 | 75 | +5 |
| T31 | Cameron Akers | Asheville, NC, 2020 | 75 | +5 |
| T31 | Casey Osiecki | New Bern, NC, 2020 | 75 | +5 |
| T31 | Jonathan Brennan | Taylors, SC, 2020 | 75 | +5 |
| T31 | Zachary Gilbert | Davidson, NC, 2019 | 75 | +5 |
| T41 | Luke Nelson | Raleigh, NC, 2020 | 76 | +6 |
| T41 | Walker Isley | Oak Island, NC, 2020 | 76 | +6 |
| T41 | Alex Campbell | Charlotte, NC, 2020 | 76 | +6 |
| T41 | Pearse Lucas | Charlotte, NC, 2021 | 76 | +6 |
| T45 | Eston Lee | Four Oaks, NC, 2020 | 77 | +7 |
| T45 | Jack Hart | Charlotte, NC, 2020 | 77 | +7 |
| T45 | Matthew Hutto | Blythewood, SC, 2021 | 77 | +7 |
| T45 | Tyler DeChellis | Clayton, NC, 2021 | 77 | +7 |
| T45 | Columb Knight | Raleigh, NC, 2020 | 77 | +7 |
| T50 | Luke Sullivan | Columbia, SC, 2022 | 78 | +8 |
| T50 | Mitchell Vance | Hartsville, SC, 2019 | 78 | +8 |
| T50 | Josh Lendach | Raleigh, NC, 2021 | 78 | +8 |
| T50 | Karsten Shields | Monroe, NC, 2020 | 78 | +8 |
| T50 | Ryan Jahr | Ocean Isle Beach, NC, 2022 | 78 | +8 |
| T50 | Trey Crenshaw | Lancaster, SC, 2021 | 78 | +8 |
| T56 | Lleyton Renner | Simpsonville, SC, 2020 | 79 | +9 |
| T56 | Matthew Song | Waxhaw, NC, 2019 | 79 | +9 |
| T56 | Trevor Gerard | Hartsville, SC, 2019 | 79 | +9 |
| T59 | Zach Young | Lugoff, SC, 2019 | 80 | +10 |
| T59 | Jackson Bode | Pinehurst, NC, 2022 | 80 | +10 |
| T59 | Aidan Browning | Charlotte, NC, 2022 | 80 | +10 |
| T59 | Cameron Whitney | Charlotte, NC, 2020 | 80 | +10 |
| T59 | Ryan Macri | Wake Forest, NC, 2021 | 80 | +10 |
| T64 | Evan Younghans | Camden, SC, 2021 | 81 | +11 |
| T64 | Luke Edwards | Chapel Hill, NC, 2021 | 81 | +11 |
| T64 | Zach Adams | Charleston, SC, 2022 | 81 | +11 |
| T64 | Ben Bailey | Huntersville, NC, 2022 | 81 | +11 |
| T64 | Luke Cashion | Waxhaw, NC, 2020 | 81 | +11 |
| 69 | Braeden Barnett | Galivants Ferry, SC, 2021 | 82 | +12 |
| T70 | Griffin Tarver | Tega Cay, SC, 2021 | 83 | +13 |
| T70 | Landon Barnes | Pilot Mountain, NC, 2020 | 83 | +13 |
| T72 | Andrew Wood | Greensboro, NC, 2019 | 84 | +14 |
| T72 | Colin Browning | Charlotte, NC, 2020 | 84 | +14 |
| T72 | Dylan Smith | Cornelius, NC, 2020 | 84 | +14 |
| T72 | Mitchell Tanis | Pineville, NC, 2020 | 84 | +14 |
| 76 | David Bishop | Camden, SC, 2020 | 88 | +18 |
| 77 | Alex Gould | Greensboro, NC, 2022 | 90 | +20 |
| WD | Caleb Henson | Lancaster, SC, 2019 | WD | - |
Schedule of rounds:
Saturday May, 23
First Round Starting Times: Begin at 12:30 pm on hole #1 and #10
Sunday May, 24
Second Round Starting Times: Begin at 8:00 am on hole#1 and #10