O'Connell Receives the 2021 Lynch Award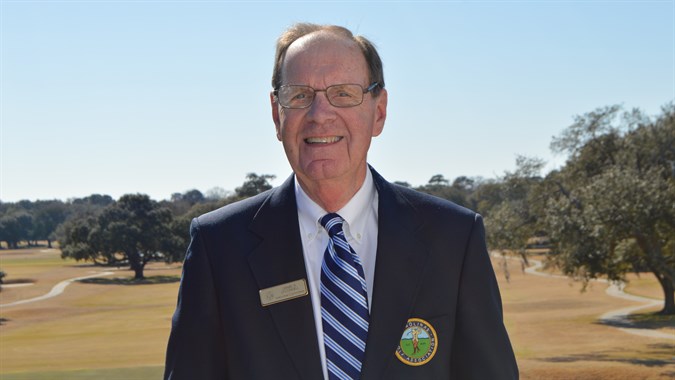 SOUTHERN PINES, N.C. (April 30, 2021) – The CGA conducts over 300 tournaments and provides course ratings in addition to a host of other services. With these numerous services, we rely heavily on the help of volunteers throughout the Carolinas. Every year we award a volunteer or group whose devotion to golf in the Carolinas stands out amongst over 300 volunteers with the Charles E. Lynch, Jr. Distinguished Service Award. This year, Dan O'Connell earned the 2021 honor.


Golf is an ever-changing sport, but it has benefitted in the Carolinas from one consistency over the last four decades - Dan O'Connell.


Beginning his career on the CGA Executive Committee in 1981, O'Connell has volunteered for the CGA in nearly every facet available.


"Dan has served in so many different capacities as a volunteer," said CGA Executive Director, Jack Nance. "He has dedicated his time to areas such as course rating, rules of golf, officiating tournaments, serving on the Executive Committee including as CGA President in 1990 and 1991. I don't know of anyone who has worked in as many roles as a CGA volunteer."


The former Wofford College Men's Golf Coach (1988 to 2004) has served the game in other aspects outside of the CGA. O'Connell was a member of the USGA's Mid-Amateur Championship Committee from 1988 to 2013. He was a founding Director and past President of the First Tee of Spartanburg and a founding Board Member of the prestigious Bobby Chapman Junior Invitational. O'Connell was also a long-time member of the South Carolina Golf Association's Board of Directors and current member of their Committee Emeritus.


Earlier this year, O'Connell served his fortieth and final year on the CGA Executive Committee. We sat down with him to talk about his time volunteering and what it means to him.


How long have you volunteered in golf and how did you come to volunteer with the CGA?
I started volunteering in the mid-1970s when I helped to start a junior golf association serving junior players of all levels in the upstate of South Carolina. I had also played in some CGA events and got to know Hale Van Hoy who was the Executive Director of the CGA at the time. I started helping with some CGA events on a very limited basis in 1977 and was elected to the Executive Committee in February of 1981.


What are some accomplishments in the last 40 years that you are proud of?
The growth of the CGA tournament program and the many services now offered by the association stand out as significant accomplishments. Having grown from two full-time employees and a part time secretary in a rented office of the clubhouse at Tanglewood Golf Club in Clemmons, N.C. to the beautiful Carolinas Golf House with 20 employees is remarkable.


What was your favorite experience while volunteering?
There are so many great memories that it's hard to single out one, but I would say having the opportunity to referee quite a few final matches in CGA championships. I especially enjoyed the Carolinas Four-Ball at Camden Country Club, which is my favorite site of any of the CGA events I have worked as a rules official.


What makes volunteering meaningful/worthwhile for you?
Being around the great people who play and hopefully contributing, in some small way, to their enjoyment of the game we all love makes the opportunity to help the CGA so meaningful and worthwhile.


Why is it important for people to volunteer for the CGA?
The volunteers are the lifeblood of the association and extremely important for the CGA to be able to conduct its extensive tournament program and other services such as course rating.


What would you tell someone who is thinking about volunteering?
If someone is considering volunteering with the CGA, I would strongly encourage them. They will have the opportunity to serve this great game and to visit many of the best golf clubs in the Carolinas while doing so.


About the Charles E. Lynch, Jr. Distinguished Service Award
The Carolinas Golf Association established the Charles E. Lynch, Jr. Distinguished Service Award at its 2016 Annual Meeting. Mr. Lynch began his service to the CGA in 1977 becoming its legal counsel and board member. Since then he has contributed countless hours of insight and advice to help mold one of the largest golf associations in the country. He has gone above and beyond the call as a CGA volunteer, executive committee member, and legal counsel. This award will honor an individual or group whose actions have done just that.
Past Charles E. Lynch, Jr. Distinguished Service Award Recipients:
2016 – Charles E. Lynch, Jr.
2017 – Ellen Shulby
2018 – Joyce Wittman
2019 – Ben Payne
2020 – Larry McWane
2021 – Dan O'Connell
O'Connell's many contributions to the game of golf in the Carolinas and beyond include:
1988 - 2004: Wofford College Men's Golf Coach
1988 - 2013: USGA Mid Amateur Championship Committee
1990 - 1991: Carolinas Golf Association President
1998 - 2020: Carolinas Golf Association Treasurer
2013: Ike B. Grainger Award Recipient
Founding Director and Past President of the First Tee of Spartanburg
South Carolina Golf Association Board of Directors member for 9 years
South Carolina Golf Association Committee Emeritus member
Bobby Chapman Junior Invitational: Founding Board Member

The CGA is continuously seeking willing and capable persons to assist us in the areas of Rules Officiating, Tournament Volunteers and Course Raters. For more information on how you can help, visit www.CarolinasGolf.org/Volunteer.
##30##