Pinehurst and Pine Island Advance to Interclub Finals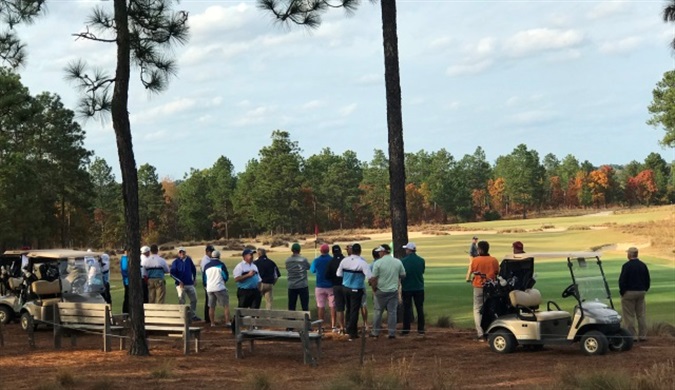 PINEHURST, N.C. (November 18, 2017) – From over 70 teams who began the 20th Carolinas Interclub season, the final four competed Saturday at Dormie Club in Pinehurst, NC (Par 35-36--72, 6303 Yards). The format of the Carolinas Interclub is a 12 player team competition with four-ball match play formats in each match. Each match has a 6 point total; 2 points for the front nine, 2 points for the back nine and 2 points for the total.
Related: Photo Gallery | East Region Finals Scoring | West Region Finals Scoring | Finals Starting Times | History
In the East Regional Finals, Pinehurst Country Club of Pinehurst, NC defeated Umstead Pines of Durham, NC by a score of 19-17. After the first three matches Pinehurst grabbed a 12-6 lead. Umstead Pines battled their way back to two down going into the last match. The final match was decided on 18 green, as Matt Nunez of Pinehurst Country Club sank a 5-footer for par sealing the victory for Pinehurst.
The West Regional Finals also came down to the last hole as Pine Island Country Club from Charlotte, NC defeated Highland Creek Country Club #2 of Charlotte, NC by a score of 19-17. Highland Creek jumped out to an early lead, up 16-2 after the first three matches. Pine Island finished strong tallying 17 of the final 18 points to send them to the championship.
Todd Purser and John Derolph both of Highland Creek each recorded a hole-in-one today. Purser aced the Par 3, 9th, while Derolph made his on the Par 3, 16th.
The teams representing Pinehurst Country Club and Pine Island Country Club will begin play for the Ben Payne Trophy at 7:57am Sunday from the first tee at Dormie Club.

Final Four Results

East Region Finals
Pinehurst Country Club 19 Umstead Pines Country Club 17
| | | | |
| --- | --- | --- | --- |
| Points | Pinehurst CC | Umstead Pines | Points |
| 2 / 0 / 0 | Dennis Fogle + Jim Koch | Wayne Ball + Ted Million | 0 / 2 / 2 |
| 1 / 2 / 2 | John Masotti + Randy Muir | Scott Ellis + David Butts | 1 / 0 / 0 |
| 2 / 1 / 2 | David Jensen + Brian Gellman | Mike Spoon + Danny Lloyd | 0 / 1 / 0 |
| 0 / 1 / 0 | Joe Picaro + Hugh Beckwith | Chris Filiaci + Mike Taray | 2 / 1 / 2 |
| 1 / 1 / 1 | David Kelley + Pete Kallgren | Reid Lankford + John Kenlan | 1 / 1 / 1 |
| 1 / 1 / 1 | Martin Huff + Matt Nunez | Greg Wassil + Andrew Hahn | 1 / 1 / 1 |
West Region Finals
Pine Island Country Club 19 Highland Creek Country Club #2 17
| | | | |
| --- | --- | --- | --- |
| Points | Highland Creek CC # 2 | Pine Island CC | Points |
| 2 / 2 / 2 | Steve Aparicio + Mark Laliberte | Jw Anderson + Bob Paradis | 0 / 0 / 0 |
| 2 / 2 / 2 | Chuck Johnson + Todd Purser | Kevin Stines + Peter Greene | 0 / 0 / 0 |
| 0 / 2 / 2 | John Derolph + Kyle Bowker | Thomas Lowrie + Matthew Quinn | 2 / 0 / 0 |
| 0 / 0 / 0 | Jerry Barber + Joseph Impoco | Paul Tracy + John Kowalczik | 2 / 2 / 2 |
| 0 / 1 / 0 | Mark McLauchlan + Steve Cracovia | Jason McCorduck + Larry Griffin | 2 / 1 / 2 |
| 0 / 0 / 0 | Tommy Ribbans + John Rigsbee | Andrew Smith + Mark Hodges | 2 / 2 / 2 |