Mathews Captures 11th North Carolina Amateur Match Play Championship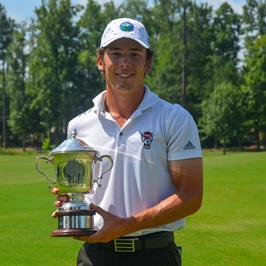 HOLLY SPRINGS, N.C. (August 2, 2020) -- The results from the 11th North Carolina Amateur Match Play Championship at The Club at 12 Oaks in Holly Springs, N.C. on August 2, 2020. (7,093 yards, par 36-36--72)
The CGA will be conducting this championship under the new COVID-19 Tournament Protocols. Learn more here.
Related: Championship Web Site | Match Play Bracket | History l Photos
Nicholas Mathews, of Mebane, N.C. battled it out against Tim Bunten, of Concord, N.C. to claim the 11th North Carolina Amateur Match Play Championship this morning. Mathews had a steady hand on the match all day and ultimately won 2 & 1.
"This feels awesome. I've been putting in a lot of work, and continuing to work really hard and my game has been progressing a lot. This is a great validation, and feels great to get it done," Mathews said.
Mathews took the lead early on in the morning, coming in with a four shot lead through seven holes. On the back nine, he fell to a three-shot lead, then two, but remained focused and calm to ultimately take the match on No. 17. Mathews has competed in multiple CGA events this summer; his strongest finish being the N.C. Amatuer where he tied for 10th. Mathews said that the key to his game all week was keeping a clear mind, and staying focused on the shot at hand.
"I just did a great job staying focused, staying calm and just trusting my game plan and fortunately it worked out. Going into No. 17 I had a one-up lead and I just knew I needed to stay calm and keep doing what I was doing," Mathews said.
This was Mathews' first major win of the summer, and he hopes the momentum of this win will continue into the fall when he competes in more CGA events, and continues his training and practicing for his spring season at N.C. State.
"Anytime you get it done, and frankly anytime you play well coming down the stretch it's always momentum and that momentum keeps you working hard. It's something you call back on in times of pressure. I think it's just validation that I'm doing the right stuff and it's just a matter of continuing to work hard, and continuing to focus on what I need to do," Mathews said.
The CGA would like to thank the members and staff of The Club at 12 Oaks for their amazing hospitality in hosting the 11th North Carolina Amateur Match Play Championship. A special note of gratitude is extended to Director of Golf, Andy Gregory, Superintendent, John Parrish and General Manager, Ed Hanley.
The CGA would also like to thank the players and spectators for their understanding and adherence to the new COVID-19 tournament protocols.
11th North Carolina Amateur Match Play Championship
The Club at 12 Oaks, Holly Springs, N.C.
Championship Results
Nicholas Mathews, Mebane, N.C. def. Tim Bunten, Concord, N.C. 2 & 1
About the Carolinas Golf Association (CGA)
The CGA is a 501(c)(3) not-for-profit educational organization that was founded in 1909 to promote and to protect the game of golf in the Carolinas by providing competitions, education, support and benefits to golf clubs and golfers. The CGA is the second largest golf association in the country with over 700 member clubs represented by nearly 150,000 individuals.
The CGA annually conducts 48 championships and five team match competitions for men, women, juniors, and seniors. It also runs over 150 One-Day (net and gross) events as well as qualifying for USGA national championships. The CGA serves golf in the Carolinas with numerous programs such as: the USGA Handicap System; tournament management software and support; course measuring and course/slope ratings; agronomy consultation; answers about the Rules of Golf, Rules of Amateur Status, and Handicapping; Carolinas Golf Magazine; Interclub series; Tarheel Youth Golf Association; Carolinas Golf Hall of Fame; expense assistance for USGA Junior and Girls' Junior qualifiers from the Carolinas; and the Carolinas Golf Foundation (CGF). The CGF has distributed nearly $2,000,000 since 1977 to benefit Carolinas' golf initiatives including junior and women's programs.
For more information about the CGA, visit our website.
##30##