*Note: Members may also Post a Score on the CGA website using GHIN Number and Last Name.
How to Register for eGolfer/eRevision Account:
1. Go to CGA website home page: www.carolinasgolf.org
2. Right-side of home page look for "MyCGA Member Login".
3. Make sure the tab for eGolfer/eRevision: is selected (has a Blue background, see picture below)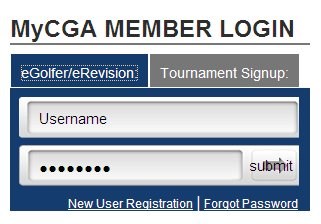 4. Click the "New User Registration" link.
5. New window or tab will open at the GHIN eGolfer registration page.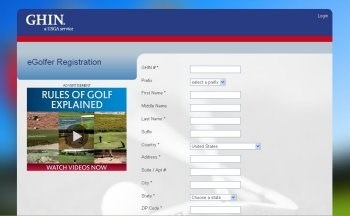 6. Complete the profile including your email address and click "Register".
7. You will be sent a confirmation email from noreply@ghinconnect.com.
8. Open the email from noreply@ghinconnect.com. YOU MUST FIRST CLICK THE LINK IN THE CONFIRM EMAIL TO VERIFY YOUR ACCOUNT BEFORE YOU CAN LOGIN AND USE eGOLFER. Check your SPAM folder if the confirm email does not appear in your Inbox.
9. Once account is verified you may login to eGolfer.