US Open Local Qualifying Results from Lonnie Poole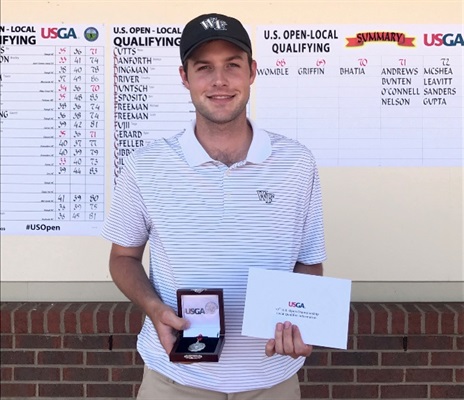 Davis Womble - Winston-Salem, NC
RALEIGH, N.C.– Final results from U.S. Open Championship Local Qualifying hosted by Lonnie Poole Golf Course in Raleigh, NC on Wednesday, May 17, 2017 (7202 yards, par 36-36—72, Course/Slope Rating: 73.7/140).
Five qualifying spots and two alternate positions were available at this qualifying site.
Davis Womble of Winston-Salem, NC earned medalist honors by shooting a four-under par 68 and earned the first qualifying spot. The second qualifying spot went to JT Griffin of Wilson, NC, who shot three-under par 69. The third qualifying spot went to Akshay Bhatia from Wake Forest, NC who shot two-under par 70. The fourth and fifth qualifying spots where earned in a playoff by Kevin O'Connell from Cary, NC and Tim Bunten of Concord, NC who both shot one-under par 71.
First alternate went to Bo Andrews of Raleigh, NC and second alternate position went to Matt Nelson of Winston-Salem, NC.
Sectional qualifying, conducted over 36 holes, will be held on Monday, June 5, at 10 sites in the U.S. For the 12th consecutive year, Japan and England will host international sectional qualifying, scheduled for May 22 and May 29, respectively
Hole-by-hole scoring can be viewed here: https://www.ghintpp.com/carolinasgolf/TPPOnlineScoring/ResultsStroke.aspx?id=2291. This qualifier was conducted by the Carolinas Golf Association on behalf of the United States Golf Association.
Qualifying Results
Place

Competitor

Score

1

Davis Womble, Winston Salem, N.C. (a)

34-34--68 (-4)

2

JT Griffin, Wilson, N.C.

34-35--69 (-3)

3

Akshay Bhatia, Wake Forest, N.C. (a)

34-36--70 (-2)

4

Tim Bunten, Concord, N.C. (a)

35-36--71 (-1)

5

Kevin O'Connell, Cary, N.C. (a)

33-38--71 (-1)

Failed to Qualify

T6

Bo Andrews, Raleigh, N.C.

35-36--71 (-1) 1st Alt.

T6

Matt Nelson, Winston Salem, N.C.

37-34--71 (-1) 2nd Alt.

T8

Aman Gupta, Concord, N.C. (a)

35-37--72 (Even)

T8

Michael Sanders, Davidson, N.C. (a)

33-39--72 (Even)

T8

Blake McShea, Zebulon, N.C. (a)

37-35--72 (Even)

T8

Jake Leavitt, Blythewood, S.C. (a)

37-35--72 (Even)

T12

Michael Freeman, Asheville, N.C. (a)

35-38--73 (+1)

T12

Beau Cutts, Raleigh, N.C. (a)

36-37--73 (+1)

T12

Matt Carter, Easley, S.C. (a)

33-40--73 (+1)

T12

Michael Pittelli, Holly Springs, N.C.

37-36--73 (+1)

T12

Danny Guise, Winston-Salem, N.C.

37-36--73 (+1)

T12

Keith Hinton, Suffolk, Va.

36-37--73 (+1)

T18

Michael Wicker, Rougemont, N.C. (a)

36-38--74 (+2)

T18

Grayson Wotnosky, Wake Forest, N.C. (a)

38-36--74 (+2)

T18

Christopher Blum, Raleigh, N.C. (a)

38-36--74 (+2)

T18

Quinn Riley, Raleigh, N.C. (a)

37-37--74 (+2)

T18

Adam Stephenson, Raleigh, N.C.

36-38--74 (+2)

T18

Garrett Browning, Raleigh, N.C.

36-38--74 (+2)

T18

Bradley Arrington, Saint Simons Island, Ga.

33-41--74 (+2)

T25

Ryan Gerard, Raleigh, N.C. (a)

34-41--75 (+3)

T25

Parker Gillam, Cary, N.C. (a)

31-44--75 (+3)

T25

Jake Colley, Raleigh, N.C. (a)

36-39--75 (+3)

T25

Spencer Oxendine, Fayetteville, N.C. (a)

37-38--75 (+3)

T25

Ryan Parrish, Greensboro, N.C.

37-38--75 (+3)

T25

Peter Williamson, Hanover, N.H. (a)

37-38--75 (+3)

T31

Nicholas Lyerly, Salisbury, N.C. (a)

36-40--76 (+4)

T31

Bryce Hendrix, Raleigh, N.C. (a)

38-38--76 (+4)

T31

Brad Clark, Chapel Hill, N.C. (a)

37-39--76 (+4)

T31

Ryan Gilbert, Raleigh, N.C.

36-40--76 (+4)

T31

Taiga Fujii, Boiling Springs, N.C. (a)

35-41--76 (+4)

T31

Jared Mactas, Woodcliff Lake, N.J. (a)

36-40--76 (+4)

T37

Alex Burris, Greensboro, N.C. (a)

40-37--77 (+5)

T37

Chris Jones, Charlotte, N.C. (a)

37-40--77 (+5)

T37

Jerry Richardson Jr, Cary, N.C. (a)

37-40--77 (+5)

T37

Justin Hood, St Matthews, S.C. (a)

39-38--77 (+5)

T37

Zane Lewis, Sanford, N.C. (a)

36-41--77 (+5)

T42

Anthony Perrino, Mooresville, N.C. (a)

38-40--78 (+6)

T42

Jonathan Henry, Mooresville, N.C. (a)

38-40--78 (+6)

T42

Preston Ball, Raleigh, N.C. (a)

38-40--78 (+6)

T42

Peyton Shore, Saluda, S.C. (a)

37-41--78 (+6)

T42

Connor Reilly, Raleigh, N.C.

36-42--78 (+6)

T42

Tyler Lail, Conover, N.C.

38-40--78 (+6)

T48

Timothy Driver, Holly Springs, N.C. (a)

36-43--79 (+7)

T48

Ben Esposito, Pittsboro, N.C. (a)

40-39--79 (+7)

T48

Bretton Danforth, Raleigh, N.C. (a)

38-41--79 (+7)

T48

Nick Capra, Greensboro, N.C.

40-39--79 (+7)

T52

Michael Coe, Morrisville, N.C. (a)

41-39--80 (+8)

T52

Tyler Dingman, Greensboro, N.C.

38-42--80 (+8)

T54

Wes Simmons, Kinston, N.C. (a)

39-42--81 (+9)

T54

Scott Freeman, Willow Spring, N.C. (a)

37-44--81 (+9)

T54

Noah Connor, Reidsville, N.C. (a)

36-45--81 (+9)

T54

Renny Buddin, Garner, N.C.

39-42--81 (+9)

T54

Daniel Spurling, Raleigh, N.C.

40-41--81 (+9)

T59

Brian Chen, Cary, N.C. (a)

39-44--83 (+11)

T59

Scott Kubic, Raleigh, N.C. (a)

41-42--83 (+11)

T59

Mike Blasey, Potomac, Md. (a)

35-48--83 (+11)

T62

Allen Smith III, Durham, N.C. (a)

41-43--84 (+12)

T62

Kevin Herring, La Grange, N.C. (a)

43-41--84 (+12)

T62

Ryan Walker, Wayne, Pa.

36-48--84 (+12)

T62

Joshua Mohun, Glen Allen, Va. (a)

39-45--84 (+12)

T66

John E Major, Winston-Salem, N.C. (a)

39-46--85 (+13)

T66

Alex Palomeque, Huntersville, N.C.

45-40--85 (+13)

68

Trevor Beckham, Mooresville, N.C. (a)

37-49--86 (+14)

69

Ryan Van Der Poll, Apex, N.C. (a)

39-48--87 (+15)

T70

John Gibbons, Pawleys Isand, S.C.

42-46--88 (+16)

T70

Scott Clagg, Raleigh, N.C.

44-44--88 (+16)

72

Jimmy Taylor, Charlotte, N.C. (a)

42-47--89 (+17)

73

Kevin Martin, Wake Forest, N.C.

39-51--90 (+18)

74

Rodney Mulford Jr., Raleigh, N.C.

41-50--91 (+19)

75

Byron Hayden, Hartsville, S.C.

46-47--93 (+21)

76

Tyler Duntsch, Chico, Calif. (a)

43-52--95 (+23)

T77

Nicholas Holanek, Cary, N.C. (a)

WD-WD--WD (WD)

T77

Matthew Younts, Greensboro, N.C.

WD-WD--WD (WD)

T77

John Leak, Charlotte, N.C.

WD-WD--WD (WD)

T77

Mike Sweeney II, Chesapeake, Va. (a)

WD-WD--WD (WD)

T77

Woody Woodward, Bridgeport, W.Va.

WD-WD--WD (WD)

T77

Brandon Mawyer, Whispering Pines, N.C.

WD-WD--WD (WD)

T77

Evan Gfeller, Greenville, S.C. (a)

WD-WD--WD (WD)

T77

Brett Kourey, Charlotte, N.C.

WD-WD--WD (WD)