Pinehurst CC #9 Wins CGA Senior Interclub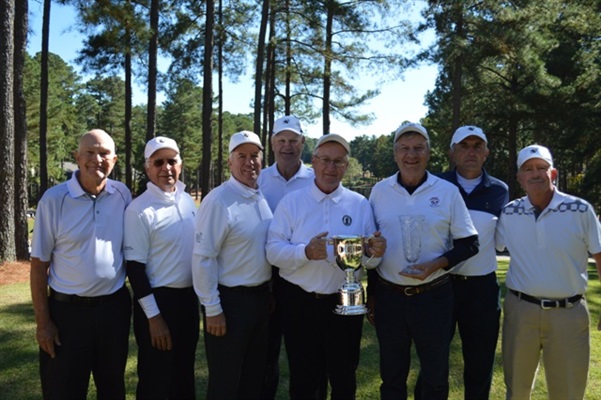 Pinehurst Country Club No. 9 Wins
2nd Carolinas Senior Interclub Title
PINEHURST, N.C. (October 26, 2017) – Pinehurst Country Club Course #9 captured the second Carolinas Senior Interclub Championship with a final score of 22-2 over Verdict Ridge Golf & Country Club hosted on Pinewild Country Club's Magnolia Course (Par 36-36--72, 5889 Yards). With 77 teams competing in the second Carolinas Senior Interclub Season, Pinehurst Country Club #9 will be the team that will be engraved on the Thomas J. Thorpe trophy, named for the CGA Executive Committee member instrumental in the administration of the Carolinas Interclub seasons. The format of the championship is four-ball match play for men ages 55 and older. Eight players from each team compete in four matches with six total points awarded in each match (two for front nine, two for back nine, two for overall match).
Related: Photo Gallery | Finals Scoring | Playoff Bracket | East Region Finals Scoring | West Region Finals Scoring
Pinehurst Country Club #9 advanced to the finals by dispatching Governors Club on Wednesday with a score of 17-7. On Thursday, Pinehurst Country Club #9 took a strong lead, winning every match on the front side to take an eight-zero lead. Verdict Ridge Golf and Country Club knocked off Pinehurst MGA in the semi-finals but were only able to capture two points on the back nine in the finals.
Finals
| | | | |
| --- | --- | --- | --- |
| Points | Pinehurst #9 | Verdict Ridge Golf & Country Club | Points |
| 6 | Bob Sizer + Robert Eater | Dale Crumley + David Fisher | 0 |
| 6 | Dennis Fogle + William Christina | Glenn Carter + John Kolff | 0 |
| 6 | James Cole + Ernie Ferrell | Randy Adams + Jack Piel | 0 |
| 4 | Jim Koch + Ross McDonald | Scott Powers + Gary Downing | 2 |
| 22 | | | 2 |
Final Four Results

East Region Finals
| | | | |
| --- | --- | --- | --- |
| Points | Pinehurst #9 | Governors Club | Points |
| 5 | Bob Sizer + Robert Eater | Gary McKenna + Larry Gunn | 1 |
| 1 | Dennis Fogle + William Christina | Jack Smailes + George Brannon | 5 |
| 6 | James Cole + Ernie Ferrell | Gary Clinton + Duaine Robertson | 0 |
| 5 | Jim Koch + Ross McDonald | Don Harkey + Raymond Keenan | 1 |
| 17 | | | 7 |

West Region Finals
| | | | |
| --- | --- | --- | --- |
| Points | Verdict Ridge Golf & Country Club | Pinehurst MGA | Points |
| 3 | Dale Crumley + David Fisher | John McClain + Bob Nilsen | 3 |
| 4 | Glenn Carter + John Kolff | John Vann + Robert Dauenhauer | 2 |
| 0 | Randy Adams + Jack Piel | Mike Fusselbaugh + James Kaczmarek | 6 |
| 6 | Scott Powers + Gary Downing | Bob Rust + John Harpole | 0 |
| 13 | | | 11 |