CGA Net Amateur First Round Results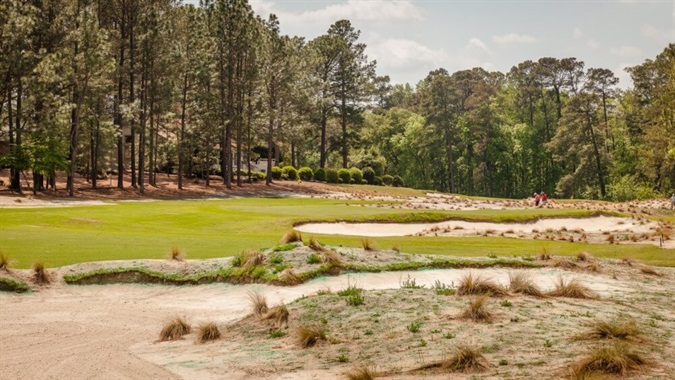 PINEHURST, NC (November 11, 2017) -- First round results of the 7th Carolinas Net Amateur Championship at Pinehurst Country Club (No. 3) in Pinehurst, NC on Saturday, November 11, 2017 (Par 33-35--68).
Related: Championship Web Site | Starting Times | Scoring | Championship History | Photos

Players had to battle more than the course as blustery and cold conditions swept through the Sandhills Saturday. Michael Lee from Raleigh, NC leads the Men's Division after carding net scores of two-under par, 66. Peter Pentony of Lillington, NC, Paul Callow of Charlotte, NC and Chris Chambers of Fayetteville, NC lead the Senior Men's Division behind net scores of one-over par net, 69. Robert Wilson of Rock Hill, SC and Andrew Sapp of Wake Forest, NC lead the Super Senior Men's Division with scores of three-over par 71.
In the Women's Division Maggie Collins of Greensboro, NC leads with a one-par 69. Paula Smith of Cary, NC leads the Senior Women's Division with a four-over par 72. Doris Fisher of Simpsonville, SC leads in the Super Senior Women's Division after a first round net score of five-over par 73.
The Carolinas Net Amateur Championship is played at 36 holes of net stroke play using 100% of player's course handicaps. Players will be placed into flights within their division for the final round. All players will tee off at 10:00am in a shotgun start on Sunday morning.
The Carolinas Net Amateur Championship is run concurrently by the Carolinas Golf Association (CGA), South Carolina Golf Association (SCGA) and Women's South Carolina Golf Association (WSCGA).
Scoring will be provided by the CGA throughout the championship. Live updates will also be available on the CGA's official Twitter account, @cgagolf1909. Continue to visit the CGA website throughout this championship and all year long for complete championship coverage including scores, interviews, photos, and recaps.

7th Carolinas Net Amateur Championship
Pinehurst Country Club (No. 3), Pinehurst, NC
First Round Net Results
Pos.

Player

Affiliation

Total To Par Net

R1

Men

1

Michael Lee

Raleigh, NC

-2

66

2

John Clark

Foxfire Village, NC

+2

70

2

Paul Davis

Raleigh, NC

+2

70

4

Glen Pounds

Rock Hill, SC

+3

71

4

Scott Tarcy

Fort Mill, SC

+3

71

4

Phil Pfeiffer

Myrtle Beach, SC

+3

71

7

Patrick Piner

Beaufort, NC

+4

72

7

Alan Ryder

Aiken, SC

+4

72

7

Joey Todd

Bladenboro, NC

+4

72

10

Damian Rouse

Wake Forest, NC

+5

73

10

Craig Schiffmacher

Pinehurst, NC

+5

73

12

Joe Tucker

Lyman, SC

+6

74

12

Mark Howerton

Fort Mill, SC

+6

74

14

Sergio Rivera

Fayetteville, NC

+7

75

14

Charlie Gardner

Fayetteville, NC

+7

75

14

Sam Lin

Simpsonville, SC

+7

75

14

Stephen McAdams

Raleigh, NC

+7

75

14

Brandon Britt

Benson, NC

+7

75

19

Dan Pearce

Hampstead , NC

+8

76

19

Rudy Canales

Fayetteville, NC

+8

76

19

Matthew Blood

Durham, NC

+8

76

19

Rob Sweeney

Chapel Hill, NC

+8

76

23

Derrick Oyervides

Greer, SC

+9

77

23

Devin Cassas

Cary, NC

+9

77

23

Jerry Fatkin

Oak Island, NC

+9

77

26

Aaron Babson

Holly Springs, NC

+10

78

26

Brian Harpster

Raeford, NC

+10

78

26

Heng Neng Hong

Columbia, SC

+10

78

26

Derek Gottlich

Wake Forest , NC

+10

78

30

Tyler McSwain

Raleigh, NC

+11

79

31

Jeff Johnson

Charlotte, NC

+12

80

31

Byron Huff

Chapel Hill, NC

+12

80

31

Michael Phan

Cary, NC

+12

80

34

Greg Matthews

Charlotte, NC

+13

81

34

Mark Dey

York, SC

+13

81

36

Aaron Fitt

Durham, NC

+14

82

36

Jason Deans

Raleigh, NC

+14

82

38

Matthew Johnson

Raleigh, NC

+15

83

39

Gavin Wilkinson

Rock Hill, SC

+16

84

40

Jim Marra

Aiken, SC

+17

85

41

Travis Justus

Greer, SC

+18

86

42

Tony Chen

Columbia, SC

+19

87

43

Will Christoph

Charlotte, NC

+20

88

44

Ricky Meinhold

Hartsville, SC

+22

90

45

Matthew Corey

Charlotte, NC

+28

96

Women

1

Maggie Collins

Greensboro, NC

+1

69

2

Cindy Fahey

Apex, NC

+13

81

3

Megan Britt

Benson, NC

+19

87

Senior Men

1

Peter Pentony

Lillington, NC

+1

69

1

Paul Callow

Charlotte, NC

+1

69

1

Chris Chambers

Fayetteville, NC

+1

69

4

Dennis Guerriero

Lexington, SC

+2

70

4

William Wilkinson

Swansboro, NC

+2

70

6

Gary Davis

Rock hill, SC

+3

71

6

Mark Henline

Whitsett, NC

+3

71

8

Dexter Barbee

Burlington, NC

+4

72

9

Keith Thomas

Greensboro, NC

+5

73

9

Randy McKinney

Reidsville, NC

+5

73

11

Tom Royston

Rock Hill, SC

+6

74

11

Jeff McClaren

Cary, NC

+6

74

11

Mark Nordin

Raleigh, NC

+6

74

11

Rick Oyervides

Greer, SC

+6

74

15

Charles Morgan

Fort Mill, SC

+7

75

15

Frank Trzcinski

Sumter, SC

+7

75

15

Randy Kiser

Albemarle, NC

+7

75

18

Dwight Davis

Pittsboro, NC

+8

76

19

Ed Luczak

Rock Hill, SC

+10

78

19

Walter Wysk

Myrtle Beach, SC

+10

78

19

John Atkinson

Camden, SC

+10

78

22

Johnny Adams

Cary, NC

+11

79

23

Michael Herman

Charlotte, NC

+12

80

24

Robert Lynch

Raleigh, NC

+14

82

24

Stephen Huff

Matthews, NC

+14

82

26

Robert Smith

Cary, NC

+17

85

26

Earl Bottorff

Raleigh, NC

+17

85

28

Doug Simmons

Charlotte, NC

+20

88

Charles Goode

Spartanburg, SC

-

WD

Tony Robison

Southern Pines, NC

-

WD

Senior Women

1

Paula Smith

Cary, NC

+4

72

2

Mary Jones

Simpsonville, SC

+11

79

3

Seong Simmons

Charlotte, NC

+12

80

4

Patti Trzcinski

Sumter, SC

+13

81

Super Senior Men

1

Robert Wilson

Rock Hill, SC

+3

71

1

Andrew Sapp

Wake Forest, NC

+3

71

3

Chip Stone

Raleigh, NC

+4

72

3

Michael Burdick

McLeansville, NC

+4

72

3

Tony Parker

Claremont, NC

+4

72

6

David Harrison

Yadkinville, NC

+5

73

6

Jeff Heath

Clinton, NC

+5

73

6

Joe Collins

Greensboro, NC

+5

73

9

King Carter

Charlotte, NC

+6

74

10

Glenn Reynolds

Fort Mill, SC

+7

75

10

Tom Colli

Rock Hill, SC

+7

75

12

Michael Monroe

Saint Pauls, NC

+8

76

13

John Riordan

Southport, NC

+9

77

13

Mitchell Jordan

Myrtle Beach, SC

+9

77

15

Marshall Stuart

Easley, SC

+10

78

15

Steve Piner

Beaufort, NC

+10

78

15

Richard Farrington

Burlington, NC

+10

78

18

Victor Mcphee

Charlotte, NC

+12

80

18

Jerry Bitzenhofer

Raleigh, NC

+12

80

18

Bob McQueen

Fayetteville, NC

+12

80

21

Curtis Miel

Murrells Inlet, SC

+13

81

22

Ricky Karim

York, SC

+17

85

Super Senior Women

1

Doris Fisher

Simpsonville, SC

+5

73

2

Betty Reynolds

Fort Mill, SC

+7

75

3

Jane Webb

Anderson, SC

+14

82

4

Jayne Karim

York, SC

+17

85