Adam maintains lead at Dogwood Girls'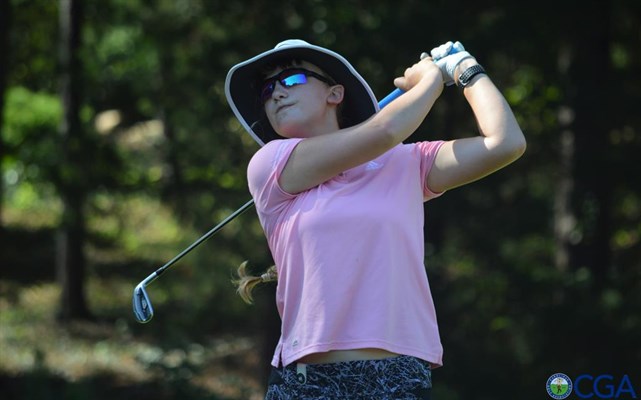 CHAPEL HILL, N.C. (August 8, 2018) -- Second round results of the 14th Dogwood State Girls' Championship at Chapel Hill Country Club in Chapel Hill, N.C. on Wednesday, August 8, 2018 (5,971 yards, Par 36-36--72, Course Rating 74.3/139).
Related: Championship Web Site | Starting Times | Scoring | Championship History | Photos
Nicole Adam of Pinehurst, N.C. maintained her lead in the second round of the 14th Dogwood State Girls' Championship at Chapel Hill Country Club. Adam carded a one-over-par 73 in the second round and is one-over-par for the tournament.
The rising high school junior had an impressive start to her round and birdied the first hole. Having to fight through tough holes, she finished the front nine at two-over-par. Able to steady herself at the turn, the UNC-Chapel Hill commit carded one birdie and no bogeys on the back nine to finish the leader in the clubhouse for the second straight day.
Rachel Kuehn of Asheville, N.C. moved to second position after carding an even-par 72, which was the low score of the round. The rising high school senior, who is committed to Wake Forest, had a rocky start and bogeyed two of her first four holes. Shaking off her start, she carded two birdies to bring herself to even-par and to finish three shots behind Adam.
Six shots behind Adam, Ana Tsiros of Asheville, N.C. finished the second round in the third position after carding a two-over-par 74 with four birdies. Defending champion Sasha Hayes of Winston-Salem, N.C. is seven shots back from the leader after carding a three-over-par 75 in the second round.
The championship format is 54 holes of stroke play competition.
Entry is open to any female golfer ages 12 to 18 as of August 9, 2018, who has not started college, is a legal resident of North Carolina, is a member in good standing of a club which is a member of the Carolinas Golf Association (CGA) and has a current USGA Handicap Index at a CGA member club.
Scoring will be provided by the CGA throughout the championship, offering 9 and 18-hole updates. Live updates will also be available on the CGA's official Twitter account, @cgagolf1909. Continue to visit the CGA website throughout this championship and all year long for complete championship coverage including scores, interviews, photos, and recaps.

14th Dogwood State Girls' Championship
Chapel Hill Country Club | Chapel Hill, N.C.
Second Round Results
| | | | | | | |
| --- | --- | --- | --- | --- | --- | --- |
| Pos. | Player | City, State-Grad Year | | R1 | R2 | Total |
| 1 | Nicole Adam | Pinehurst, NC-2020 | +1 | 72 | 73 | 145 |
| 2 | Rachel Kuehn | Asheville, NC-2019 | +4 | 76 | 72 | 148 |
| 3 | Ana Tsiros | Asheville, NC-2019 | +7 | 77 | 74 | 151 |
| 4 | Sasha Hayes | Winston Salem, NC-2020 | +8 | 77 | 75 | 152 |
| 5 | Sophie Holland | Cornelius, NC-2020 | +9 | 75 | 78 | 153 |
| 6 | Kelley Topiwala | Charlotte, NC-2020 | +11 | 79 | 76 | 155 |
| T7 | Jayla Rogers | Wilmington, NC-2019 | +12 | 81 | 75 | 156 |
| T7 | Mallory Fobes | East Bend, NC-2019 | +12 | 81 | 75 | 156 |
| 9 | Hailey Freedman | Chapel Hill, NC-2018 | +15 | 77 | 82 | 159 |
| 10 | Victoria Ladd | Greensboro, NC-2019 | +17 | 78 | 83 | 161 |
| T11 | Bailee Twiford | Coinjock, NC-2019 | +18 | 85 | 77 | 162 |
| T11 | Muskan Uppal | Cornelius, NC-2019 | +18 | 78 | 84 | 162 |
| T11 | Victoria Cook | Reidsville, NC-2020 | +18 | 82 | 80 | 162 |
| 14 | Maria Atwood | Holly Springs, NC-2022 | +19 | 79 | 84 | 163 |
| T15 | Hannah Rose Bruxvoort | Chapel Hill, NC-2018 | +21 | 85 | 80 | 165 |
| T15 | Ryann Sinclair | Mooresville, NC-2019 | +21 | 80 | 85 | 165 |
| 17 | Lotte Fox | Raleigh, NC-2020 | +22 | 85 | 81 | 166 |
| T18 | Kallie Pavlish | Charlotte, NC-2020 | +23 | 90 | 77 | 167 |
| T18 | Lorin Wagler | Southern Pines, NC-2019 | +23 | 86 | 81 | 167 |
| T20 | Grayson Warren | Washington, NC-2021 | +24 | 84 | 84 | 168 |
| T20 | Morgan Ketchum | Winston-Salem, NC-2022 | +24 | 86 | 82 | 168 |
| T22 | Mara Hirtle | Pinehurst, NC-2020 | +25 | 84 | 85 | 169 |
| T22 | Trinity Muthomi | Kernersville, NC-2022 | +25 | 83 | 86 | 169 |
| T24 | Angelique Seymour | Fayetteville , NC-2019 | +26 | 82 | 88 | 170 |
| T24 | Erin Singleton | Apex, NC-2020 | +26 | 86 | 84 | 170 |
| T26 | Katelyn Kenthack | Pinehurst, NC-2020 | +27 | 89 | 82 | 171 |
| T26 | Toni Blackwell | Fayetteville , NC-2020 | +27 | 88 | 83 | 171 |
| T28 | Carmen Tucker | Fayetteville, NC-2019 | +28 | 89 | 83 | 172 |
| T28 | Kayla Dowell | Mebane, NC-2021 | +28 | 88 | 84 | 172 |
| 30 | Becca Connolly | Winston-Salem, NC-2020 | +29 | 88 | 85 | 173 |
| 31 | Anna Moore | Wilmington, NC-2018 | +33 | 85 | 92 | 177 |
| T32 | Carson Jenkins | Raleigh, NC-2019 | +35 | 91 | 88 | 179 |
| T32 | Grace Holcomb | Wilmington, NC-2021 | +35 | 91 | 88 | 179 |
| 34 | Ainslee Conrad | Lexington, NC-2020 | +37 | 87 | 94 | 181 |
| 35 | Emily Mathews | Mebane, NC-2023 | +44 | 95 | 93 | 188 |
| 36 | Anna Claire Bridge | Raleigh, NC-2021 | +46 | 90 | 100 | 190 |
| 37 | Laney Wessels | Sophia, NC-2021 | +56 | 100 | 100 | 200 |
| 38 | Gaby Tucker | Fayetteville, NC-2021 | +58 | 91 | 111 | 202 |
| 39 | Grace Greene | Apex, NC-2019 | +59 | 93 | 110 | 203 |
| 40 | Mary Kathryn Hederick | Wake Forest , NC-2021 | +60 | 105 | 99 | 204 |
| 41 | Rayne Trent | Pleasant Garden, NC-2021 | +74 | 109 | 109 | 218 |


Schedule of rounds:
Monday, August 6, 2018
Practice rounds available
Tuesday, August 7, 2018
8:00 a.m. - 10:00 a.m.-- Round 1 starting times
12:00 p.m. - 3:00 p.m.-- Lunch available for players
Wednesday, August 8, 2018
8:00 a.m. - 10:00 a.m.-- Round 2 starting times
12:00 a.m. - 3:00 p.m.-- Lunch available for players
Thursday, August 9, 2018
9:00 a.m.-- Shotgun start
1:00 p.m. - 2:30 p.m.-- Awards luncheon for players and spectators