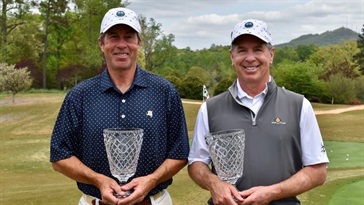 GREENVILLE, S.C. (April 21, 2022) -- Final results of the 54th Carolinas Senior Four-Ball Championship at Green Valley Country Club in Greenville, S.C. on April 21, 2022. The field played at 6,687 yards (par 36-36--72).
Related: Championship Web Site | Full Field | Starting Times | Scoring | History | Photos

Green Valley Country Club provided plenty of peaks this past week, but none were higher than the mountaintop Eddie Hargett of Blythewood, S.C. and Geno Berchiatti of Greenville, S.C. found themselves on aft...
Read Post »