Poole's 69 leads Jimmy Anderson Boys'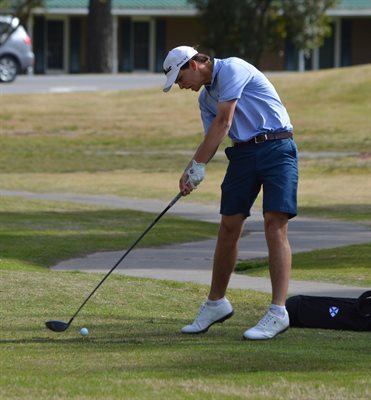 Round one results from the 10th Jimmy Anderson Boys' Invitational at Jacksonville Country Club (6,601 yards, par 72, 72.0/129) in Jacksonville, NC on Saturday, April 14, 2018.
Kenan Poole of Raleigh, NC felt really good after his practice round on Friday afternoon for the 10th Jimmy Anderson Boys' Invitational. That good practice round carried over to Saturday's first round as Poole shot a first round of three under par 69 and he sits a top of the leader board heading into Sunday's final round. "I made five birdies yesterday, and that just gave me a comfortable feeling when I started my round today" said Poole, a high school junior. Poole has three shot lead over four players show each shot even par 72 that include Brandon McBride of Bluffton, SC, Drew Weary of Bluffton, SC, Charlie Barr of Salisbury, NC and Jack Marcotte of Apex, NC.
In an effort to try and beat the forecasted storms approaching the Jacksonville area, the second round will start with an 8:30 am shotgun start.
This annual junior tournament was started by the alumni of the Jacksonville Country Club junior golf program in 2009 to honor their longtime teacher and friend Mr. Jimmy Anderson. Jimmy Anderson was the head golf professional at Jacksonville Country Club for over 25 years. Each Saturday morning, he conducted a junior golf clinic to help spread the game of golf to the next generation. During his tenure at Jacksonville CC, he taught many juniors including Mallory Miller, the 1987 N.C. Junior Champion and numerous future collegiate and golf professionals. Not only did he teach the game of golf, but was always there with a helpful word of encouragement to any young golfer. The tournament began as a boys and girls tournament, but due to the success of the event, the girls have been given their own tournament that is conducted each fall in October.
The Jimmy Anderson Boys' Invitational is a 36-hole stroke play competition. Entry is open to any male amateur golfer 13 to 18 years of age of April 15, 2018, who is a legal resident of NC or SC, who has not started college (class of 2018 and higher) and who has current USGA handicap of 15.0 or lower.
Round one results (6,601 yards, par 72, 72.0/129)
| | | |
| --- | --- | --- |
| Place | Name | Score |
| 1 | Kenan Poole, Raleigh, NC - 2019 | 69 |
| T2 | Brandon McBride, Bluffton, SC - 2018 | 72 |
| T2 | Drew Weary, Bluffton, SC - 2018 | 72 |
| T2 | Charlie Barr, Salisbury, NC - 2021 | 72 |
| T2 | Jack Marcotte, Apex, NC - 2019 | 72 |
| T6 | Graham Chase, Charlotte, NC - 2019 | 73 |
| T6 | Grayson Wotnosky, Wake Forest, NC - 2020 | 73 |
| T6 | Holden Grigg, Myrtle Beach, SC - 2019 | 73 |
| T6 | Ethan Hall, Morehead City, NC - 2019 | 73 |
| T6 | Joey Pritchard, Whispering Pines, NC - 2020 | 73 |
| T11 | Mason Tucker, Lancaster, SC - 2021 | 74 |
| T11 | Walker Isley, Oak Island, NC - 2020 | 74 |
| T11 | Christopher Sperrazza, Raleigh, NC - 2019 | 74 |
| T14 | Brandon Einstein, Clemmons, NC - 2018 | 75 |
| T14 | Dawson Daniels, Greensboro, NC - 2018 | 75 |
| T14 | Keegan Vaugh, Myrtle Beach, SC - 2020 | 75 |
| T14 | Symon Balbin, Pinehurst, NC - 2019 | 75 |
| T14 | Austin Alexander, Rutherfordton, NC - 2020 | 75 |
| T14 | Colin Trahan, North Augusta, SC - 2019 | 75 |
| T14 | Rob Salisbury, Winston-Salem, NC - 2019 | 75 |
| T14 | Tyler Dechellis, Clayton, NC - 2021 | 75 |
| T22 | Austin Scott, Charleston, SC - 2021 | 76 |
| T22 | Chris Kim, Cary, NC - 2019 | 76 |
| T22 | Daniel Azallion, Hilton Head, SC - 2019 | 76 |
| T22 | Kellen Graham, Asheville, NC - 2018 | 76 |
| T22 | Matias La Grutta, Cary, NC - 2020 | 76 |
| T22 | Nathan Franks, Roebuck, SC - 2021 | 76 |
| T22 | Willis Rogers, Charleston, SC - 2019 | 76 |
| T22 | Zach Roberts, Holly Springs, NC - 2020 | 76 |
| T22 | Cade Hancock, Elizabethtown, NC - 2019 | 76 |
| T22 | Colin Browning, Charlotte, NC - 2020 | 76 |
| T22 | Jake Herring, Wilson, NC - 2021 | 76 |
| T33 | Andrew Graham, Asheville, NC - 2021 | 77 |
| T33 | Bronson Myers, Columbia, SC - 2018 | 77 |
| T33 | Connor Jones, Raleigh, NC - 2018 | 77 |
| T33 | Jack Hart, Charlotte, NC - 2020 | 77 |
| T33 | Jared Clontz, Nebo, NC - 2019 | 77 |
| T33 | Palmer Mason, Irmo, SC - 2020 | 77 |
| T33 | Rafe Reynolds, Greenville, SC - 2020 | 77 |
| T33 | Carter Boulia, Cary, NC - 2019 | 77 |
| T33 | Carter Cheek, Cary, NC - 2018 | 77 |
| T33 | Dillon Hite, Lexington, SC - 2019 | 77 |
| T33 | Jonathan Griz, Hilton Head Island, SC - 2022 | 77 |
| T33 | Logan Patrick, Dunn, NC - 2020 | 77 |
| T45 | Garrett Cooper, Cowpens, SC - 2019 | 78 |
| T45 | Harry Reynolds, Greenville, SC - 2018 | 78 |
| T45 | Jackson Brimfield, Chapel Hill, NC - 2021 | 78 |
| T45 | Austin Mosher, Mt Pleasant, SC - 2020 | 78 |
| T45 | Malin Muckenfuss, Charlotte, NC - 2020 | 78 |
| T45 | Nathan Norfleet, Chapel Hill, NC - 2018 | 78 |
| T45 | Ryan Macri, Wake Forest, NC - 2021 | 78 |
| T45 | Tyler Jones, Jacksonville, NC - 2023 | 78 |
| T45 | Zach Gilbert, Davidson, NC - 2019 | 78 |
| T54 | Carlos Garre, Myrtle Beach, SC - 2019 | 79 |
| T54 | Carson Castelli, Greensboro, NC - 2018 | 79 |
| T54 | Josh Lendach, Raleigh, NC - 2021 | 79 |
| T54 | Quinton Metz, Wilkesboro, NC - 2019 | 79 |
| T54 | Blake Brantley, Winston-Salem, NC - 2020 | 79 |
| T54 | Eston Lee, Four Oaks, NC - 2020 | 79 |
| T54 | James Carlin, Raleigh, NC - 2020 | 79 |
| T54 | Karsten Shields, Monroe, NC - 2020 | 79 |
| T54 | Landon Barnes, Pilot Mountain, NC - 2020 | 79 |
| T54 | Randall Hudson, New Bern, NC - 2020 | 79 |
| T54 | Will Hanna, Raleigh, NC - 2018 | 79 |
| T65 | Caleb Henson, Lancaster, SC - 2019 | 80 |
| T65 | Chandler Perry, Clinton, NC - 2018 | 80 |
| T65 | Nicklaus Sutton, Matthews, NC - 2019 | 80 |
| T65 | Christian Jarrell, Davidson, NC - 2020 | 80 |
| T65 | Garrett Clark, Burlington, NC - 2020 | 80 |
| T65 | Garrett Risner, Holly Springs, NC - 2020 | 80 |
| T65 | Luke Gossert, Matthews, NC - 2019 | 80 |
| T72 | Casey Osiecki, New Bern, NC - 2020 | 81 |
| T72 | Danny Planchock, Maggie Valley, NC - 2018 | 81 |
| T72 | Drew Varvell, Jacksonville, NC - 2019 | 81 |
| T72 | Pierce Robinson, Kings Mountain, NC - 2019 | 81 |
| T72 | Harrison Wierse, Wilmington, NC - 2019 | 81 |
| T77 | Jason Crews, Raleigh, NC - 2020 | 82 |
| T77 | Tommy Holloway, Fripp Island, SC - 2018 | 82 |
| T77 | Ian Faulconer, Simpsonville, SC - 2019 | 82 |
| T77 | Kareem Elkassem, Raleigh, NC - 2023 | 82 |
| T77 | Sam Davidson, Asheboro, NC - 2020 | 82 |
| T82 | Jack Towarnicky, New Bern, NC - 2019 | 83 |
| T82 | Nick Rubino, Charlotte, NC - 2021 | 83 |
| 84 | Brady Hooks, Clayton, NC - 2019 | 85 |
| T85 | Michael Blair, Kernersville, NC - 2020 | 86 |
| T85 | Robert Riggs, Jacksonville, NC - 2019 | 86 |
| NS | Grant Smith, Charlotte, NC - 2019 | WD |