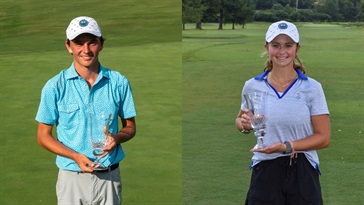 MORGANTON, N.C. (August 28, 2022) -- Final results of the 3rd Mimosa Hills Junior Invitational at Mimosa Hills Golf Club, in Morganton, N.C. on August 29, 2021. The Girls Division competed at 6,048 yards (36-36--72), while the Boys Division competed at 6,648 yards (35-35--70).
Related: Championship Web Site | Full Field | Scoring | Photos

In a picture perfect weekend of golf in the foothills of North Carolina, Anna Howerton of Winston-Salem, N.C. and Davis Wotnosky of Wake Forest, N.C. were crowned champions of the M...
Read Post »