Harwell Takes the Lead into the Final Round of the N.C. Senior Am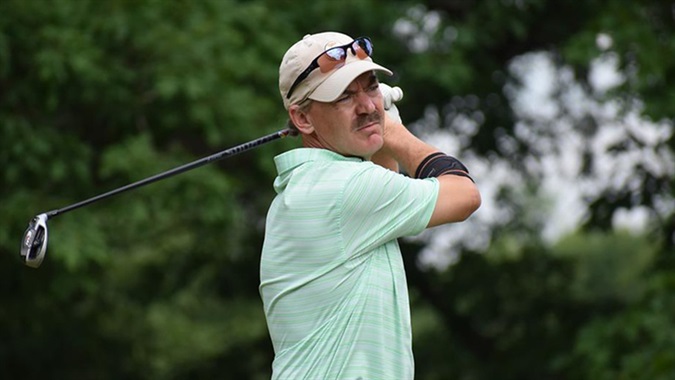 Steve Harwell of Mooresville, N.C. leads by one after round two of the 34th N.C. Senior Amateur.
ADVANCE, N.C. (May 8, 2019) -- Second round results of the Carolinas Golf Association's 34th North Carolina Senior Amateur Championship at Bermuda Run Country Club in Advance, N.C. on Wednesday, May 8.
Related: Championship Website | Full Field of Players | Starting Times | Scoring | History
Steve Harwell of Mooresville continued his dominating play at the N.C. Senior Amateur and will take a one-shot lead going into Thursday's final round. Harwell shot a one-over-par, 73 in the second round making four birdies and five bogeys on Bermuda Run Country Club's East Course. Harwell has made 11 birdies total over the first two rounds.
"The greens are really tricky," Harwell said. "You can have a putt that just gets treacherous but then you might get one going uphill and you forget to hit it. The greens have been perfect but if you don't know them it's hard because they have a bunch of undulation to them."
Two-time CGA champion, Dean Channell of Cary, will start the final round one shot back after an even-par, 72 in the second round. Dean is the only player in the field to shoot even par or better in the first two rounds.
Our round one co-leader, Russ Perry of Winston-Salem, shot a three-over-par, 75 in round two and will start the day two shots back of the lead. Perry is the 2013 N.C. Senior Amateur champion. Lionell Sutton of La Grange tied for the low round of the day with a 2-under-par, 70 and is tied with Perry in third place.
The final grouping has 10 total CGA championships to their names but a win for Harwell or Channell would be their first individual CGA Championship title. Both of their previous wins come from four-ball events. This would be the first CGA championship win for Sutton.
"You just have to try to take care of business. You can't control everybody else," Harwell said. "I can't really over think it. If you start watching the leaderboard, that doesn't usually work out too well. You just want to focus, hit your own shots and hit them solid."
The field has been cut to the low 65 scores who shot 15-over-par or better.
34th North Carolina Senior Amateur Championship
Bermuda Run Country Club | Advance, N.C.
Second Round Results
Pos.

Player

City, State

To Par

R1

R2

Total

1

Steve Harwell

Mooresville, NC

-2

69

73

142

2

Dean Channell

Cary, NC

-1

71

72

143

T3

Lionel Sutton

La Grange, NC

E

74

70

144

T3

Russ Perry

Winston-Salem, NC

E

69

75

144

T5

Doug Owens

Albemarle, NC

+3

76

71

147

T5

Preston Edmondson

Morrisville, NC

+3

74

73

147

T5

Todd Hendley

Columbus, NC

+3

74

73

147

T8

Harrison Rutter

Winston-Salem, NC

+4

72

76

148

T8

James Pearson

Charlotte, NC

+4

77

71

148

T8

Mike Shoffner

Graham, NC

+4

71

77

148

T8

Paul Simson

Raleigh, NC

+4

76

72

148

T12

Mike Kelly

Sanford, NC

+5

77

72

149

T12

Gary Pugh

Asheboro, NC

+5

73

76

149

14

William Jamieson

Cary, NC

+6

75

75

150

T15

Andy Burnette

Raleigh, NC

+7

77

74

151

T15

Buck Hall

Thomasville, NC

+7

76

75

151

T17

Jerry Horton

Wilmington, NC

+8

82

70

152

T17

Macon Moye

Southern Pines, NC

+8

76

76

152

T17

Pat Thompson

Asheville, NC

+8

76

76

152

T17

Dale Bouguennec

Pinehurst, NC

+8

74

78

152

T21

Jim Grainger

Charlotte, NC

+10

75

79

154

T21

Kim Mansfield

High Point, NC

+10

78

76

154

T21

Larry Griffin

Cornelius, NC

+10

79

75

154

T21

Phil Bland

Waynesville, NC

+10

78

76

154

T21

John Fritz

Mint Hill, NC

+10

76

78

154

T21

Neal Morrison

Charlotte, NC

+10

77

77

154

T27

Dave Davis

Pine Level, NC

+11

78

77

155

T27

Keith Knight

Waxhax, NC

+11

77

78

155

T27

Bob Wilson

Archdale, NC

+11

77

78

155

T27

Paul Clark

Charlote, NC

+11

80

75

155

T27

Rick Riddle

Charlotte, NC

+11

76

79

155

T32

John Caulfield

Sunset Beach, NC

+12

77

79

156

T32

John Rudolph

Charlotte, NC

+12

73

83

156

T32

Chip Williamson

Wilmington, NC

+12

79

77

156

T32

Dean Parziale

Whispering Pines, NC

+12

82

74

156

T32

Marc Cox

Greensboro, NC

+12

76

80

156

T32

Patrick Brady

Reidsville, NC

+12

78

78

156

T32

Rick Shaefer

Holly Springs, NC

+12

78

78

156

T32

Trip Gentry

Greensboro, NC

+12

82

74

156

T40

Arlis Pike

Kernersville, NC

+13

80

77

157

T40

Mike Arnold

Mooresville, NC

+13

78

79

157

T40

Ray Womack

Burlington, NC

+13

75

82

157

T40

Ed Donlin

Concord, NC

+13

79

78

157

T44

Chip Hunter

Winston-Salem, NC

+14

80

78

158

T44

David Eaker

Forest City, NC

+14

80

78

158

T44

Jeff Tedder

Advance, NC

+14

76

82

158

T44

Mike Bivins

High Point, NC

+14

79

79

158

T44

Vince Credle

Summerfield, NC

+14

84

74

158

T44

Andy Bower

Greensboro, NC

+14

80

78

158

T44

Bradley Helms

Winston-Salem, NC

+14

80

78

158

T44

Charlie Parks

Asheboro, NC

+14

81

77

158

T44

Eric Ardery

Durham, NC

+14

76

82

158

T44

Jim Gallagher

Charlotte, NC

+14

80

78

158

T44

Penn Compton

Wilmington, NC

+14

81

77

158

T44

Robert Desjardins

Matthews, NC

+14

81

77

158

T56

David Waggoner

Holly Ridge, NC

+15

80

79

159

T56

Dickie Brewer

Winston-Salem, NC

+15

79

80

159

T56

Glenn Sexton

Greensboro, NC

+15

78

81

159

T56

Joe Sumrow

Charlotte, NC

+15

81

78

159

T56

Patrick Smithey

Winston-Salem, NC

+15

83

76

159

T56

Grant Hoffman

Asheboro, NC

+15

81

78

159

T56

Jerome Schott

Holly Springs, NC

+15

75

84

159

T56

Mark Kozel

Chapel Hill, NC

+15

82

77

159

T56

Mark Walker

Greensboro, NC

+15

79

80

159

T56

Randall Sullins

Claremont, NC

+15

79

80

159

The following players did not make the cut

CUT

Robert Shoaf

Concord, NC

+16

85

75

160

CUT

Wayne Moore

Durham, NC

+16

78

82

160

CUT

Donald Detweiler

Raleigh, NC

+16

81

79

160

CUT

Lawrence Hicks

Greensboro, NC

+16

80

80

160

CUT

Tom Fagerli

Yadkinville, NC

+16

79

81

160

CUT

Tommy Jones

Asheboro, NC

+16

81

79

160

CUT

Bill Phillips

Charlotte, NC

+17

82

79

161

CUT

Ernie Newton

Winston-Salem, NC

+17

82

79

161

CUT

Robert Wildner

Hendersonville, NC

+17

81

80

161

CUT

Stacey Anfindsen

Apex, NC

+17

79

82

161

CUT

Benjamin Yeager

Clemmons, NC

+17

81

80

161

CUT

Casey Alexander

Harrisburg, NC

+17

83

78

161

CUT

John Frazier

Burlington, NC

+17

82

79

161

CUT

Mike Wilson

Ocean Isle Beach, NC

+17

80

81

161

CUT

Arch Reed

Pinehurst, NC

+18

81

81

162

CUT

Jim Morgan

Greensboro, NC

+18

78

84

162

CUT

Ronald Carpenter

Creedmoor, NC

+18

83

79

162

CUT

Steve Lassiter

Pinehurst, NC

+18

83

79

162

CUT

John Cleetwood

Carthage, NC

+18

80

82

162

CUT

John Stratton

Greensboro, NC

+18

81

81

162

CUT

Rick Condrey

Nebo, NC

+18

77

85

162

CUT

Tim Andersen

Pinehurst, NC

+18

82

80

162

CUT

Andre Resner

Salisbury, NC

+19

83

80

163

CUT

Charley Hodges

Charlotte, NC

+19

83

80

163

CUT

Bill Long

Southern Pines, NC

+19

82

81

163

CUT

David Ogden

Pinehurst, NC

+19

82

81

163

CUT

Doug Glenn

Kannapolis, NC

+19

81

82

163

CUT

Wesley Clark

Charlotte, NC

+19

86

77

163

CUT

Brandon Godfrey

Marion, NC

+20

84

80

164

CUT

Don White

Winston-Salem, NC

+20

84

80

164

CUT

J. Vann Parker

Emerald Isle, NC

+20

80

84

164

CUT

Mark Bolick

Hickory, NC

+20

85

79

164

CUT

Morris Marshburn

Vass, NC

+20

81

83

164

CUT

Bill Burling

Greensboro, NC

+20

84

80

164

CUT

John Ervin

Hiddenite, NC

+20

75

89

164

CUT

Trip Boinest

Shelby, NC

+20

84

80

164

CUT

Bill Piotti

Lexington, NC

+21

85

80

165

CUT

Jim Arlington

Apex, NC

+21

81

84

165

CUT

Rick Powers

Oxford, NC

+21

86

79

165

CUT

Dave Rosenblatt

Winston-Salem, NC

+22

81

85

166

CUT

Steve Wilson

Wilmington, NC

+22

81

85

166

CUT

Terry Rathman

Gastonia, NC

+22

83

83

166

CUT

Gregor Howard

Winston-Salem, NC

+22

86

80

166

CUT

Larry Wilson

Lake Junaluska, NC

+22

85

81

166

CUT

Randy Beeson

Colfax, NC

+23

81

86

167

CUT

Brad Stoll

Hickory, NC

+23

81

86

167

CUT

Keith Hiller

Clemmons, NC

+23

87

80

167

CUT

Allen Gustafson

Raleigh, NC

+24

83

85

168

CUT

Gene Queen

Advance, NC

+24

78

90

168

CUT

John Rathjen

Clayton, NC

+24

85

83

168

CUT

Tim Whitener

Hickory, NC

+24

84

84

168

CUT

Brad Buxton

Greensboro, NC

+24

83

85

168

CUT

Greg Powell

Charlotte, NC

+24

85

83

168

CUT

Johnny Adams

Cary, NC

+24

84

84

168

CUT

Mike Dowless

Wilmington, NC

+24

80

88

168

CUT

Van Nance

Hickory, NC

+24

80

88

168

CUT

Ken Shelton

Denver, NC

+25

87

82

169

CUT

Stephen Neely

Winston-Salem, NC

+25

82

87

169

CUT

Gary Hull

Huntersville, NC

+26

86

84

170

CUT

Dale King

Winston-Salem, NC

+26

84

86

170

CUT

Eric Taylor

Greensboro, NC

+27

85

86

171

CUT

Mike Johnson

Clayton, NC

+27

89

82

171

CUT

Scott Tyson

New Bern, NC

+27

87

84

171

CUT

Jim Ayersman

Pinehurst, NC

+28

83

89

172

CUT

Todd Boersma

Raleigh, NC

+28

84

88

172

CUT

Chuck Parker

Raleigh, NC

+29

89

84

173

CUT

Todd Turner

West End, NC

+29

87

86

173

CUT

Clint Miller

Mount Pleasant, NC

+31

96

79

175

CUT

Rick Chapman

Granite Falls, NC

+36

87

93

180

CUT

Don McFarland

Raleigh, NC

+40

95

89

184

CUT

Bill Johnson

Granite Falls, NC

+42

92

94

186

WD

Michael Christley

Brown Summit, NC

-

82

WD

WD

WD

Tom Oxholm

Raleigh, NC

-

82

WD

WD

WD

James Tuttle

Pinehurst, NC

-

83

WD

WD

WD

Robert Heavner

Greensboro, NC

-

83

WD

WD

WD

Mickey Pennell

lenoir, NC

-

86

WD

WD

WD

Gary Bell

Mooreville, NC

-

88

WD

WD

WD

Phil Werz

Southern Pines, NC

-

93

WD

WD

WD

Philip Bell

Clemmons, NC

-

96

WD

WD

WD

Robert Vespa

Summerfield, NC

-

WD

WD

WD
Competition Schedule:
Tuesday, May 7
Round 1 –18 holes stroke play
Tee times at 8:00am/12:45pm off #1 and #10 tees
Lunch from all players provided by CGA
Wednesday, May 8
Round 2 –18 holes stroke play
Tee times at 8:00am/12:45pm off #1 and #10 tees
Lunch from all players provided by CGA
Cut to low 60 scores and ties. Field re-paired according to score.

Thursday, May 9
Round 3. Tee times begin at 8:00am off #1 and #10 tees.
Awards ceremony immediately following play at scor