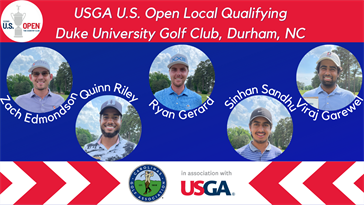 DURHAM, N.C. (May 3, 2022) -- Final results from U.S. Open Local Qualifying at Duke University Golf Club in Durham, N.C. on Tuesday, May 3, 2022. (7,096 yards, par 36-36--72).

Five qualifying spots and two alternate spots were available at this qualifying site.

Zach Edmondson of Morrisville, N.C. and Ryan Gerard of Jupiter, FL shared medalist honors with rounds of six-under-par 66. Warrington Quinn Riley, a member of the Duke Golf Team from Raleigh, N.C. and Sihan Sandhu of Pinehurst, N.C. qualified...
Read Post »