The Creek Golf Association Finishes Season Undefeated and Wins CGA Interclub Championship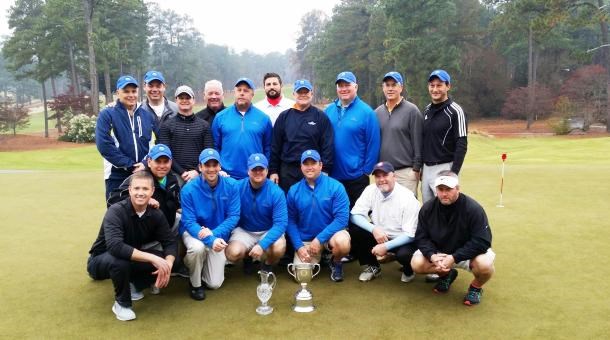 2014 Carolinas Interclub Champions - The Creek Golf Association, Charlotte, NC
Southern Pines, N.C. –– Final Results of the 2014 Carolinas Interclub Championship Finals; Four-Ball matches Saturday November 22nd and Singles matches Sunday November 23rd at the Pine Needles/Mid Pines Resort in Southern Pines, NC.
The 17th annual CGA Interclub concluded this past week-end with the Championship finals played over two days at the Pine Needles/Mid Pines Inn and Golf Resort in Southern Pines, NC. Following regular season play (April thru August) involving 69 teams from both North and South Carolina, single elimination playoff competition began in September with 40 teams earning a playoff spot. The Creek Golf Association (playing out of Highland CC in Charlotte, NC) and Willow Springs Country Club (Wilson, NC) survived and advanced each round up to the final match. As the last two teams standing, both clubs met on Saturday on the Pine Needles course to compete for 8 points in Four-Ball matches. The finals involve 16 competing players for each team. While the Creek was experiencing their first crack at the finals, Willow Springs had been here before and was the runner-up in 2007.
The day began with a 90 minute frost delay but sunny skies prevailed and the temperature reached near 50 with light wind. The Creek's Ron Hooper Jr. and Jerry Broadway teamed up in the lead match against Troy Haynes and Greg Duffy from Willow Springs and played all 18 holes ending with a half point for each team. The round was highlighted with a hole-in-one by Mr. Duffy (his first) on the 13th hole. Willow Springs took the lead as Harry Helmer Jr. and Chance Cox followed with a 1 up win over Jamie Mooney and Mike Refsnider. Michael Bland and Bryon Abel tied the match with a 4 & 3 win over Bo Corn and Jim Boykin in the third pairing. The next two Creek pairings (Steve Cayea with Steven Hilley and Steve Cracovia with Jon Mooney) propelled their team with 2 more points following a 1up and 3&1 win over Danny Brite with Brent Landon and Jimmy Gurkin playing with Scott Hill respectively. Willow Springs countered with their own consecutive 2 point wins as teams Jerry Barnes/Billy Ballard and Randy Garris/Tyler Brantley defeated the Creek teams of Mike Richardson/Ryan Tripp and Justin Wolf/Josh Lyerly by 2&1 and 3&2 margins respectively. With the score tied at 3 ½ each, the final four-ball match saw Matt Beers birdie the 14th hole as he and teammate Chuck Bennett defeated Scott Chandler and Billy Clark (5&4) for a 1 point lead after day 1.
Sunday's round consisted of 16 singles matches with each match again worth one point. The first team to reach twelve and a half (12 ½) points overall would claim the 2014 Carolinas Interclub Championship title. While overnight temps remained above freezing allowing the matches to begin on time at 8am, light rain showers were forecast by mid-morning with heavier rain in the afternoon. To give all singles matches an opportunity to complete all 18 holes (if necessary), the field was split with twosomes going off 1 and 10 simultaneously.
The first singles match saw the Creek's Chuck Bennett (and team captain) jump out to a 7up lead with 8 to go. His opponent, Billy Clark, battled back to win five holes but lost the match 2&1. Teammate Josh Lyerly defeated Scott Chandler (4&3) in match #2 to give the Creek a 3 point overall lead (6 ½ to 3 ½). Tyler Brantley dispatched Bob Selby (5&4) to give Willow Springs their first singles match point and closed the gap to 2 points. The next two matches split with the Creek's Justin Wolf defeating Randy Garris (3&2) and Willow Springs Billy Ballard going the distance for a 1up win over Ryan Tripp. Richardson and Barnes halved the next match followed by Jon Mooney's 3&1 win over Scott Hill. Willow Spring's Brent Landon and Danny Brite brought their team within 1 point in the next two matches which was the closest Willow Springs would get. The Creek then pulled away with three consecutive wins by Steve Cayea (4&3), Bryon Abel (default due to injury) and Michael Bland (5&4) over Jim Boykin, Bo Corn and Butch O'Briant respectively which ensured them a tie. Needing only ½ point to win the championship, Mike Refsnider halved his match with Chance Cox as did Jamie Mooney over Harry Helmer Jr. to secure their first Interclub title. The final two pairings split (Greg Duffy 5&4 over Jerry Broadway and Ron Hooper Jr. 2&1 over Troy Haynes) for a final 14 to 10 score.
The Creek not only won their first Interclub Championship but they were the first Interclub team since the league began in 1997 to complete the season with a perfect record (11 – 0). Jim (OB) O'Brien, the non-competing and long- time captain for Willow Springs, congratulated Chuck Bennett and the Creek players and vowed they would be back. "My players will take a few days to rest up but I assure you they will start discussing the 2015 season next week", said OB. Congratulations to both teams for a successful season!
Complete match results and team pictures can be viewed on the CGA web site (www.carolinasgolf.org) or by clicking on the following link: https://www.carolinasgolf.org/championship/home/14interclub/year/2014.
The CGA Interclub competition begins with team entries in February, with regular season play from April to August. For more information on the 2015 Interclub Championship, please visit the CGA Interclub website or call the CGA at 910-673-1000.