Jim Pearson Wins NC Senior Amateur Championship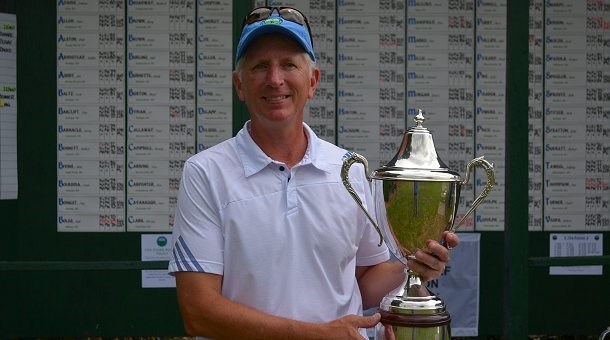 KINSTON, NC - Final round results of the 29th North Carolina Senior Amateur Championship of the Carolinas Golf Association hosted by Kinston Country Club in Kinston, NC on Thursday, May 15, 2014 (6317 yards, par 36-35—71, 71.0/134).
Jim Pearson, a 58-year-old anesthesiologist from Charlotte, NC, carded a final round 69 to finish at seven-under 206 for a three shot win over his good friend and four-ball partner Jim Grainger of Charlotte, NC at Kinston Country Club. The victory is the first CGA individual title for Pearson and second overall. Pearson and Grainger partnered together to win the 2012 North Carolina Senior Four-Ball at Rolling Hills Country Club in Monroe.
"I putted really well and hit the driver in play," Pearson said. "I have been in the lead position other times before but this is the first time that I was able to finish it off."
Grainger finishes in second place finish for the third time in the last three years.
Six-time champion, Paul Simson of Raleigh, NC, posted a two-under par 69 to finish tied for third at 210.
Defending champion Russ Perry of Winston-Salem, NC posted a one-over par 72 to finish in a tie for sixth place at 215.
The top 30 scores received golf shop merchandise and will be exempt for the 2015 North Carolina Senior Amateur Championship slated for May 12-14 at Champion Hills Club in Hendersonville, NC.
For more information on the North Carolina Senior Amateur Championship including hole-by-hole scoring and photos please visit: https://www.carolinasgolf.org/championship/home/14ncsenior/year/2014
This championship is conducted by the Carolinas Golf Association which in its 105th year of serving amateur golf in the Carolinas.
Final Results

Place

Player

Score

Amt Won

1

Jim Pearson, Charlotte, NC

70-67-69--206 (-7)

$600.00

2

Jim Grainger, Charlotte, NC

73-66-70--209 (-4)

$450.00

T3

Paul Simson, Raleigh, NC

69-72-69--210 (-3)

$387.50

T3

Alan Dirk, Sanford, NC

71-68-71--210 (-3)

$387.50

5

Keith Waters, Raleigh, NC

68-71-75--214 (+1)

$350.00

T6

Russ Perry, Winston Salem, NC

71-72-72--215 (+2)

$300.00

T6

Steve Sharpe, Greensboro, NC

66-78-71--215 (+2)

$300.00

T6

Dave Davis, Greensboro, NC

67-73-75--215 (+2)

$300.00

9

Kim Mansfield, High Point, NC

72-70-74--216 (+3)

$250.00

T10

Robert Desjardins, Matthews, NC

76-71-70--217 (+4)

$212.50

T10

John Rudolph, Charlotte, NC

74-71-72--217 (+4)

$212.50

12

Pat Thompson, Asheville, NC

72-69-77--218 (+5)

$190.00

T13

John Walters, Charlotte, NC

73-74-72--219 (+6)

$161.00

T13

Ron Carpenter, Creedmoor, NC

74-74-71--219 (+6)

$161.00

T13

Logan Jackson, Winston-Salem, NC

72-74-73--219 (+6)

$161.00

T13

John DeLuise, Raleigh, NC

75-74-70--219 (+6)

$161.00

T13

Jeff Oplinger, Apex, NC

73-71-75--219 (+6)

$161.00

T18

Andy Burnette, Raleigh, NC

72-74-74--220 (+7)

$132.50

T18

Penn Compton, Wilmington, NC

74-73-73--220 (+7)

$132.50

T18

Bill Boles Jr., Wilson, NC

75-69-76--220 (+7)

$132.50

T18

Ed Byman, Raleigh, NC

75-74-71--220 (+7)

$132.50

T22

Scott Danals, Bryson City, NC

74-73-74--221 (+8)

$115.00

T22

John Fritz, Mint Hill, NC

78-71-72--221 (+8)

$115.00

T22

Gary Robinson, Fayetteville, NC

72-76-73--221 (+8)

$115.00

T25

Dennis Helms, Monroe, NC

79-74-69--222 (+9)

$100.83

T25

Arlis Pike, Kernersville, NC

75-75-72--222 (+9)

$100.83

T25

Dick Hogan, Burlington, NC

76-75-71--222 (+9)

$100.83

T25

Jack Hooks, Wilmington, NC

71-77-74--222 (+9)

$100.83

T25

Jerry Horton, Wilmington, NC

76-75-71--222 (+9)

$100.83

T25

Willis Nance Jr., Clarkton, NC

76-70-76--222 (+9)

$100.83

31

Peter Allen, Southport, N.C.

75-74-74--223 (+10)

T32

Bob Yow, Clinton, N.C.

73-74-77--224 (+11)

T32

Ernie Newton, Wallburg, N.C.

75-73-76--224 (+11)

T34

Robert Bennett, Clayton, N.C.

72-77-76--225 (+12)

T34

Bill Long, Ahoskie, N.C.

72-77-76--225 (+12)

T36

Bill Burling, Greensboro, N.C.

77-77-72--226 (+13)

T36

Jim Pridgen, Jamestown, N.C.

77-75-74--226 (+13)

T36

Bradford Kroll, Charlotte, N.C.

74-74-78--226 (+13)

T36

Preston Edmondson, Morrisville, N.C.

77-74-75--226 (+13)

T40

William Everett, Raleigh, N.C.

73-77-77--227 (+14)

T40

Marc Cox, Greensboro, N.C.

76-77-74--227 (+14)

T40

Trip Boinest, Shelby, N.C.

78-76-73--227 (+14)

T43

Mike Sprouts, Newton, N.C.

75-75-78--228 (+15)

T43

Brad Buxton, Greensboro, N.C.

74-78-76--228 (+15)

T43

Trip Barclift, Raleigh, N.C.

75-78-75--228 (+15)

T43

Dave Moser, Charlotte, N.C.

74-77-77--228 (+15)

T43

Mitch Whitley, Zebulon, N.C.

79-71-78--228 (+15)

T43

Jeffrey Taweel, Wilmington, N.C.

77-77-74--228 (+15)

T49

Wesley Clark, Charlotte, N.C.

79-71-80--230 (+17)

T49

David Eaker, Forest City, N.C.

73-81-76--230 (+17)

T49

Ken Powers, Concord, N.C.

81-73-76--230 (+17)

T49

Tony Hamm, Goldsboro, N.C.

76-76-78--230 (+17)

T53

Robert Vespa, Summerfield, N.C.

78-76-77--231 (+18)

T53

Don Detweiler, Raleigh, N.C.

77-75-79--231 (+18)

T53

Garland Yates, Asheboro, N.C.

75-79-77--231 (+18)

T56

Todd Boersma, Raleigh, N.C.

79-75-78--232 (+19)

T56

James Morgan, Greensboro, N.C.

77-77-78--232 (+19)

T56

Michael Egan, Wilmington, N.C.

75-77-80--232 (+19)

T56

Jeffery Rausch, Charlotte, N.C.

77-77-78--232 (+19)

T60

Lawrence Hicks, Greensboro, N.C.

78-74-81--233 (+20)

T60

Richard Condrey, Nebo, N.C.

76-78-79--233 (+20)

T62

Rock Pickard, Mooresville, N.C.

76-78-80--234 (+21)

T62

Barry DeLapp, Hendersonville , N.C.

79-75-80--234 (+21)

T62

Jay Gardner, Jamestown, N.C.

74-80-80--234 (+21)

T62

Mark Macejko, Vass, N.C.

77-76-81--234 (+21)

T66

Jim Gallagher, Charlotte, N.C.

80-74-81--235 (+22)

T66

Steve Spiegler, Charlotte, N.C.

75-79-81--235 (+22)

T66

Brandon Godfrey, Nebo, N.C.

73-81-81--235 (+22)
Failed to Qualify for Final Round
| | | |
| --- | --- | --- |
| 69 | Johnny Adams, Cary, N.C. | 75-80 (+13) |
| T70 | Tom Fagerli, Yadkinville, N.C. | 79-77 (+14) |
| T70 | Rodney Jones, Apex, N.C. | 83-73 (+14) |
| T72 | Phillip Greene, Charlotte, N.C. | 78-80 (+16) |
| T72 | Bill Phillips, Charlotte, N.C. | 88-70 (+16) |
| T72 | Lennie Younce, Lenoir, N.C. | 79-79 (+16) |
| T72 | Larry Barnacle, Charlotte, N.C. | 79-79 (+16) |
| T72 | Rick Stitzer, Raleigh, N.C. | 79-79 (+16) |
| 77 | Randy Campbell, Asheville, N.C. | 81-78 (+17) |
| T78 | Robert Surratt, Concord, N.C. | 76-84 (+18) |
| T78 | Jim Ashby, Rocky Mount, N.C. | 79-81 (+18) |
| T78 | Larry Culler, Conover, N.C. | 82-78 (+18) |
| T78 | Butch English, Cornelius, N.C. | 78-82 (+18) |
| T78 | Steve Joyce, Denver, N.C. | 78-82 (+18) |
| T83 | Michael Broadway, Chapel Hill, N.C. | 79-82 (+19) |
| T83 | James Brown, High Point, N.C. | 80-81 (+19) |
| T83 | Todd Turner, West End, N.C. | 80-81 (+19) |
| T83 | Scott Baltz, Raleigh, N.C. | 80-81 (+19) |
| T83 | David Millis, High Point, N.C. | 76-85 (+19) |
| T83 | Jerry Evans, Aberdeen, N.C. | 83-78 (+19) |
| T83 | Mike Bivins, High Point, N.C. | 84-77 (+19) |
| T83 | Tom Cavanaugh, Charlotte, N.C. | 79-82 (+19) |
| T83 | Malcom Newberry, Dover, N.C. | 77-84 (+19) |
| T92 | Tom Carbone, Mooresville, N.C. | 79-83 (+20) |
| T92 | Robbie Armistead, Raleigh, N.C. | 82-80 (+20) |
| T94 | Leigh West, Kinston, N.C. | 82-81 (+21) |
| T94 | Jim Guidici, Raleigh, N.C. | 82-81 (+21) |
| T94 | John Pisarek, Wilmington , N.C. | 81-82 (+21) |
| T94 | John Stratton, New London, N.C. | 83-80 (+21) |
| T94 | Joe Joseph, Sherrills Ford, N.C. | 84-79 (+21) |
| 99 | David Williams, Cary, N.C. | 80-84 (+22) |
| T100 | Jack Skolds, Waxhaw, N.C. | 77-88 (+23) |
| T100 | John Hampton, Kernersville, N.C. | 82-83 (+23) |
| 102 | Will Alston, Rocky Mount, N.C. | 83-83 (+24) |
| T103 | Curtis Rudolph, Charlotte, N.C. | 78-89 (+25) |
| T103 | Foster Price, Raleigh, N.C. | 78-89 (+25) |
| 105 | Francis Spadola, Pittsboro, N.C. | 81-87 (+26) |
| 106 | Pat Palmquist, Huntersville, N.C. | 87-82 (+27) |
| T107 | Don Marks, Sanford, N.C. | 85-86 (+29) |
| T107 | Paul Callaway, Mooresville, N.C. | 89-82 (+29) |
| 109 | Mickey Pennell, Lenoir, N.C. | 85-88 (+31) |
| 110 | Robert Wylie, Davidson, N.C. | 83-91 (+32) |
| T111 | Edward Mills, Fairview, N.C. | 85-WD (WD) |
| T111 | Bill Eskridge, Cary, N.C. | 77-WD (WD) |
| 113 | Gary Brown, Charlotte, N.C. | DQ (DQ) |
##30##