Katie Kirk Hangs On to Win By One
Murrells Inlet, SC – Final results of the 88th Carolinas Women's Amateur Championship hosted by Wachesaw Plantation Club on Thursday, May 22, 2014. Par 36-36—72 5842 yards.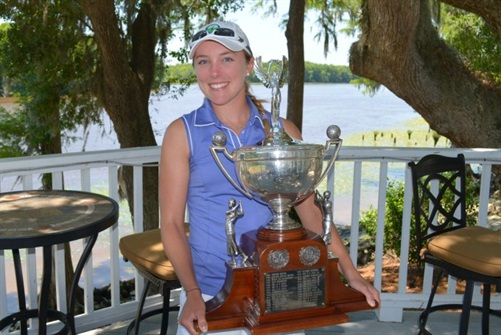 Katie Kirk of Davidson, NC captures her first CGA major championship title by one shot after making birdie on the par 5 18th hole. Kirk, who is a member of the East Carolina University women's golf team hit her approach shot to within a foot for a tap in birdie and the win over medalist Bailey Cocca of Myrtle Beach, SC and Tiffany Robbins of Fort Mill, SC. "When I was standing on the 18th tee I knew I had to make a birdie to win," Kirk said. "I just told myself to play the hole as I've done all week." When asked how Kirk felt after she saw her wedge shot came to rest within inches of the hole, "It was awesome! I've always wanted to win a CGA championship. I've had a great week. I can't wait to come back next year." Back to back defending champion, Katie Rose Higgins of Charleston, SC finished in 4th place.
Pat Brogden of Garner, NC shot a 76—230 to win the senior division by three shots over Patty Moore of Charlotte, NC and Susan Beaupied of Raleigh, NC.
Melissa Sage of Charlotte, NC won the Carolinas Tees division by one shot over Therese St. Peter of Durham, NC and Cynthia Curry of Charlotte, NC captured the Super Senior title.
Players were placed into flights within their division for the final round.
This championship is the premier stroke play event for women from around the Carolinas (North and South Carolina) and is open to all CGA women members from all ages and abilities. This is the most historic women's amateur championship in the Carolinas which was first conducted by the Women's Carolinas Golf Association in 1922. The Women's Carolinas Golf Association turned over the responsibilities of their association and this championship over to the Carolinas Golf Association back in 2012.
For more information on this championship and its history please visit: https://www.carolinasgolf.org/championship/home/14womam/year/2014 or our website at www.carolinasgolf.org
This championship was conducted by the Carolinas Golf Association which is in its 105th year of serving amateur golf in the Carolinas.
Overall Results
Championship
1 Katie Kirk, Davidson, N.C. - 74-73-73--220
T2 Bailey Cocca, Myrtle Beach, S.C. - 76-71-74--221
T2 Tiffany Robbins, Fort Mill, S.C. - 75-73-73--221
4 Katie Rose Higgins, Charleston, S.C. - 71-76-77--224
T5 Dawn Woodard, Greer, S.C. - 73-77-75--225
T5 Sarah Bae, Cary, N.C. - 80-74-71--225
T5 Savannah Hallman, Mt. Pleasant, S.C. - 73-78-74--225
8 Taylor Dodson, Aiken, S.C. - 79-74-74--227
9 Ashley Thompson, Clyde, N.C. - 72-81-75--228
T10 Emily Brooks, Chapel Hill, N.C. - 72-79-78--229
T10 Juliana Sebastian, Columbia, S.C. - 79-74-76--229
T10 Lane Gakeler, Greensboro, N.C. - 75-79-75--229
T10 Sarah Bertram, Concord, N.C. - 76-77-76--229
T14 Mallory Hetzel, Waynesville, N.C. - 82-72-76--230
T14 Pat Brogden, Garner, N.C. - 76-78-76--230
T14 Rachel Jones, Asheboro, N.C. - 74-79-77--230
T14 Torey Johnson, Conway, S.C. - 78-75-77--230
18 Catherine Shealy, Columbia, S.C. - 76-78-78--232
T19 Julie Streng, Greensboro, N.C. - 76-75-82--233
T19 Kathryn Miranda, Lexington, S.C. - 76-77-80--233
T19 Mary Katherine Donovan, Hampstead, N.C. - 76-78-79--233
T19 Patty Moore, Charlotte, N.C. - 80-75-78--233
T19 Susan Beaupied, Raleigh, N.C. - 76-79-78--233
T24 Emily Stinson, Charlotte, N.C. - 78-76-80--234
T24 Victoria Tsurutis, Charleston, S.C. - 78-80-76--234
T26 Ansley Vaughan, Mount Pleasant, S.C. - 80-75-80--235
T26 Danielle Haizlip, Statesville, N.C. - 81-76-78--235
T26 Kristina Blaylock, Cary, N.C. - 76-76-83--235
T26 Lea Venable, Simpsonville, S.C. - 79-77-79--235
30 Ashley Rose, North Augusta, S.C. - 78-78-80--236
31 Lea Anne Brown, Mt. Pleasant, S.C. - 79-82-79--240
T32 Elizabeth Thompson, Charleston, S.C. - 80-82-79--241
T32 Evelyn Dole, Raleigh, N.C. - 84-79-78--241
34 Anne Washington, Myrtle Beach, S.C. - 79-79-84--242
35 Kimberly Case, Rock Hill, S.C. - 76-83-84--243
T36 Angela Stewart, Greenville, N.C. - 80-80-84--244
T36 Emma Marlatt, Chapel Hill, N.C. - 81-84-79--244
T38 Hannah Craver, Winston-Salem, N.C. - 79-83-84--246
T38 Jennifer Adams, Bluffton, S.C. - 84-79-83--246
40 Kim Briele, New Bern, N.C. - 80-85-84--249
T41 Chrissie Spidell, Greenville, S.C. - 84-86-83--253
T41 Mallory Thompkins, Georgetown, S.C. - 85-83-85--253
43 Cecilia Fournil, Columbia, S.C. - 82-87-86--255
T44 Betty Zvarich, Fayetteville, N.C. - 87-84-86--257
T44 Devan Murphy, Charlotte, N.C. - 85-86-86--257
46 Kathy DeVore, High Point, N.C. - 96-85-92--273
Carolinas (shorter course)
1 Melissa Sage, Charlotte, N.C. - 78-78-75--231
2 Therese St. Peter, Durham, N.C. - 79-74-79--232
3 Bonnie Montgomery, Jamestown, N.C. - 77-76-80--233
T4 Cynthia Curry, Charlotte, N.C. - 76-80-78--234
T4 Jackie King, High Point, N.C. - 76-80-78--234
6 Charlotte Twitty, Chapin, S.C. - 74-79-83--236
7 Dianne Yelovich, Pinehurst, N.C. - 81-77-79--237
8 Pam Congelosi, Vass, N.C. - 78-78-85--241
9 Natalie Huff, Elgin, S.C. - 83-77-83--243
T10 Kristen Rooke, Greenville, S.C. - 83-84-78--245
T10 Louise Givens, Columbia, S.C. - 80-81-84--245
12 Mary Chamberlin, Rock Hill, S.C. - 79-85-82--246
T13 Cindy Altieri, Lake Wylie, S.C. - 88-78-82--248
T13 Priscilla Brown, Murrells Inlet, S.C. - 81-83-84--248
T15 Clate Aydlett, Elizabeth City, N.C. - 84-79-86--249
T15 Mary Rhodes, Greensboro, N.C. - 84-78-87--249
T15 Vicki DiSantis, Pinehurst, N.C. - 84-80-85--249
18 Ellen Miller, Pawleys Island, S.C. - 86-82-83--251
19 Brenda Frye, Mt. Pleasant, S.C. - 78-83-91--252
T20 Babs McIntosh, Murrells Inlet, S.C. - 81-86-86--253
T20 Suzanne Moro, Myrtle Beach, S.C. - 82-85-86--253
22 Suzann Bartley, Columbia, S.C. - 88-81-86--255
T23 Julie Shore, Raleigh, N.C. - 78-86-92--256
T23 Lynn Holmes, Chapin, S.C. - 79-88-89--256
T23 Susan Harden, Beaufort, S.C. - 88-85-83--256
T26 Laura Rawl, Charleston, S.C. - 87-85-85--257
T26 Linda Miller, Taylors, S.C. - 84-86-87--257
28 Carole Stone, Blythewood, S.C. - 86-85-88--259
T29 Cass Manley, Charleston, S.C. - 83-91-87--261
T29 Lib Kelly, Sanford, N.C. - 93-84-84--261
T29 Rhan Parham, Murrells Inlet, S.C. - 87-88-86--261
T29 Teddy Stockwell, Charleston, S.C. - 87-86-88--261
33 Julie Maddox, Cary, N.C. - 94-82-86--262
34 Amy Hurst, Myrtle Beach, S.C. - 85-87-91--263
35 Shelly Canals, Raleigh, N.C. - 86-88-90--264
36 Frankie Garber, Florence, S.C. - 89-86-90--265
37 Kyoko Tsuchiya, Mt Pleasant, S.C. - 82-92-92--266
T38 Anne Beirne, Pittsboro, N.C. - 94-84-90--268
T38 Barbara Cleghorn, Surfside Beach, S.C. - 87-89-92--268
T38 Chris Shadoan, Taylors, S.C. - 90-91-87--268
41 Anne Newcomb, Myrtle Beach, S.C. - 92-89-88--269
42 Mary Ann Stiles, Myrtle Beach, S.C. - 99-85-98--282
T43 Elizabeth Griffin, Surfside Beach, S.C. - 92-102-93--287
T43 KC Sorvari, Aberdeen, N.C. - 99-93-95--287
# # # # #
Flighted Results
Championship
1 Katie Kirk, Davidson, N.C. - 74-73-73--220
T2 Bailey Cocca, Myrtle Beach, S.C. - 76-71-74--221
T2 Tiffany Robbins, Fort Mill, S.C. - 75-73-73--221
4 Katie Rose Higgins, Charleston, S.C. - 71-76-77--224
T5 Dawn Woodard, Greer, S.C. - 73-77-75--225
T5 Savannah Hallman, Mt. Pleasant, S.C. - 73-78-74--225
7 Taylor Dodson, Aiken, S.C. - 79-74-74--227
8 Ashley Thompson, Clyde, N.C. - 72-81-75--228
T9 Emily Brooks, Chapel Hill, N.C. - 72-79-78--229
T9 Juliana Sebastian, Columbia, S.C. - 79-74-76--229
T9 Sarah Bertram, Concord, N.C. - 76-77-76--229
T12 Rachel Jones, Asheboro, N.C. - 74-79-77--230
T12 Torey Johnson, Conway, S.C. - 78-75-77--230
T14 Julie Streng, Greensboro, N.C. - 76-75-82--233
T14 Kathryn Miranda, Lexington, S.C. - 76-77-80--233
16 Kristina Blaylock, Cary, N.C. - 76-76-83--235
First Flight
1 Sarah Bae, Cary, N.C. - 80-74-71--225
2 Lane Gakeler, Greensboro, N.C. - 75-79-75--229
T3 Mallory Hetzel, Waynesville, N.C. - 82-72-76--230
T3 Pat Brogden, Garner, N.C. - 76-78-76--230
5 Catherine Shealy, Columbia, S.C. - 76-78-78--232
T6 Mary Katherine Donovan, Hampstead, N.C. - 76-78-79--233
T6 Patty Moore, Charlotte, N.C. - 80-75-78--233
T6 Susan Beaupied, Raleigh, N.C. - 76-79-78--233
9 Emily Stinson, Charlotte, N.C. - 78-76-80--234
10 Ansley Vaughan, Mount Pleasant, S.C. - 80-75-80--235
Second Flight
1 Victoria Tsurutis, Charleston, S.C. - 78-80-76--234
T2 Danielle Haizlip, Statesville, N.C. - 81-76-78--235
T2 Lea Venable, Simpsonville, S.C. - 79-77-79--235
4 Ashley Rose, North Augusta, S.C. - 78-78-80--236
5 Lea Anne Brown, Mt. Pleasant, S.C. - 79-82-79--240
6 Elizabeth Thompson, Charleston, S.C. - 80-82-79--241
7 Anne Washington, Myrtle Beach, S.C. - 79-79-84--242
8 Kimberly Case, Rock Hill, S.C. - 76-83-84--243
9 Angela Stewart, Greenville, N.C. - 80-80-84--244
10 Hannah Craver, Winston-Salem, N.C. - 79-83-84--246
Third Flight
1 Evelyn Dole, Raleigh, N.C. - 84-79-78--241
2 Emma Marlatt, Chapel Hill, N.C. - 81-84-79--244
3 Jennifer Adams, Bluffton, S.C. - 84-79-83--246
4 Kim Briele, New Bern, N.C. - 80-85-84--249
T5 Chrissie Spidell, Greenville, S.C. - 84-86-83--253
T5 Mallory Thompkins, Georgetown, S.C. - 85-83-85--253
7 Cecilia Fournil, Columbia, S.C. - 82-87-86--255
T8 Betty Zvarich, Fayetteville, N.C. - 87-84-86--257
T8 Devan Murphy, Charlotte, N.C. - 85-86-86--257
10 Kathy DeVore, High Point, N.C. - 96-85-92--273
Carolinas Division (Shorter Tees)
Carolinas-1
1 Melissa Sage, Charlotte, N.C. - 78-78-75--231
2 Therese St. Peter, Durham, N.C. - 79-74-79--232
3 Bonnie Montgomery, Jamestown, N.C. - 77-76-80--233
T4 Cynthia Curry, Charlotte, N.C. - 76-80-78--234
T4 Jackie King, High Point, N.C. - 76-80-78--234
6 Charlotte Twitty, Chapin, S.C. - 74-79-83--236
7 Dianne Yelovich, Pinehurst, N.C. - 81-77-79--237
8 Pam Congelosi, Vass, N.C. - 78-78-85--241
9 Natalie Huff, Elgin, S.C. - 83-77-83--243
10 Louise Givens, Columbia, S.C. - 80-81-84--245
11 Brenda Frye, Mt. Pleasant, S.C. - 78-83-91--252
Carolinas-2
1 Kristen Rooke, Greenville, S.C. - 83-84-78--245
2 Mary Chamberlin, Rock Hill, S.C. - 79-85-82--246
T3 Cindy Altieri, Lake Wylie, S.C. - 88-78-82--248
T3 Priscilla Brown, Murrells Inlet, S.C. - 81-83-84--248
T5 Clate Aydlett, Elizabeth City, N.C. - 84-79-86--249
T5 Mary Rhodes, Greensboro, N.C. - 84-78-87--249
T5 Vicki DiSantis, Pinehurst, N.C. - 84-80-85--249
T8 Babs McIntosh, Murrells Inlet, S.C. - 81-86-86--253
T8 Suzanne Moro, Myrtle Beach, S.C. - 82-85-86--253
T10 Julie Shore, Raleigh, N.C. - 78-86-92--256
T10 Lynn Holmes, Chapin, S.C. - 79-88-89--256
Carolinas-4
T1 Lib Kelly, Sanford, N.C. - 93-84-84--261
T1 Rhan Parham, Murrells Inlet, S.C. - 87-88-86--261
3 Julie Maddox, Cary, N.C. - 94-82-86--262
4 Frankie Garber, Florence, S.C. - 89-86-90--265
T5 Anne Beirne, Pittsboro, N.C. - 94-84-90--268
T5 Barbara Cleghorn, Surfside Beach, S.C. - 87-89-92--268
T5 Chris Shadoan, Taylors, S.C. - 90-91-87--268
8 Anne Newcomb, Myrtle Beach, S.C. - 92-89-88--269
9 Mary Ann Stiles, Myrtle Beach, S.C. - 99-85-98--282
T10 Elizabeth Griffin, Surfside Beach, S.C. - 92-102-93--287
T10 KC Sorvari, Aberdeen, N.C. - 99-93-95--287
Carolinas-3
1 Ellen Miller, Pawleys Island, S.C. - 86-82-83--251
2 Suzann Bartley, Columbia, S.C. - 88-81-86--255
3 Susan Harden, Beaufort, S.C. - 88-85-83--256
T4 Laura Rawl, Charleston, S.C. - 87-85-85--257
T4 Linda Miller, Taylors, S.C. - 84-86-87--257
6 Carole Stone, Blythewood, S.C. - 86-85-88--259
T7 Cass Manley, Charleston, S.C. - 83-91-87--261
T7 Teddy Stockwell, Charleston, S.C. - 87-86-88--261
9 Amy Hurst, Myrtle Beach, S.C. - 85-87-91--263
10 Shelly Canals, Raleigh, N.C. - 86-88-90--264
11 Kyoko Tsuchiya, Mt Pleasant, S.C. - 82-92-92--266
# # # # #