Former CGA Juniors Give Back

SOUTHERN PINES, N.C. -- Seven former CGA Junior Girls' players will take time to meet with participants during the 9th Carolinas Junior Girls' 15 & Under Championship to be held at the Country Club of Whispering Pines on July 12-14.
Eden Howard, USC Upstate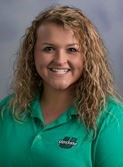 Eden, a rising sophomore at USC Upstate is from Lamar, South Carolina, where she attended Lamar High School but played varsity golf for Hartsville since Lamar did not have a girls' golf team. Eden played in five events during the spring semester at USC Upstate and maintaining a 78.54 stroke average over 13 rounds. Her best finish coming at the Seminole State Invitational where she finished in second place after shooting 78-71. As a junior golfer, Eden claimed first place at the 2012 Peggy Kirk Bell SC University Class @ The Walker Course at Clemson University. Eden's dream job is to teach children about the game of golf.
Allyson Markiewicz, Wofford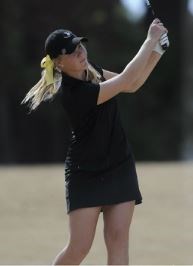 Allyson is a rising junior at Wofford College. She hails from Charlotte, North Carolina where she attended Ardrey Kell High School and played varsity golf all four years. She helped her high school team to four conference championships, two North Carolina State Championships, and a Western Regional Championship her sophomore year. She was state runner-up and regional champion her junior year. Over the past year at Wofford, Allyson played in three tournaments compiling an 84.67 stroke average from 6 rounds. During her freshman season as a Terrier, Allyson played in six tournaments and had an 82.13 stroke average, topped off by a T8th finish at the CC of Spartanburg Spring Invite. Allyson is a business economics major.
Louise Oxner, Louisville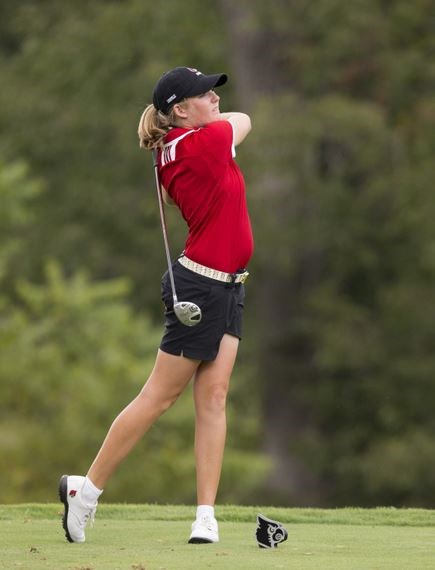 Louise, from Greenville, S.C., is a rising junior at the University of Louisville. Louise played in three events in the fall and seven events in the spring including the ACC championship and the NCAA South Bend Regional tournament. She finished the season with a 75.74 stroke average through 27 rounds of play. Last year, as a freshman, Louise was one of four student-athletes to earn WGCA All-America Scholars honors and compiled three top ten finishes. During her junior golf career, Louise was two-time state champion at Greenville High and named the Palmetto High School Player of the Year as a junior. Louise is majoring in business.
Ashley Sloup, Winthrop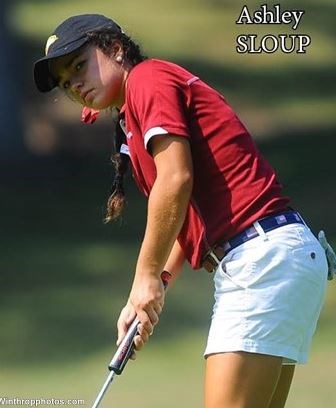 Ashley is a rising sophomore at Winthrop University from Southport, North Carolina where she attended South Brunswick High School. She won the East 3A Regional championship and finished as the state 3A runner-up her senior year. In her last year of junior golf, she won an HJGT event in Myrtle Beach and placed fifth at the Carolinas Dogwood State Junior. Ashley played in all nine events for the Eagles this season which totaled to 21 rounds. She compiled a stroke average of 78.62 with two top ten finishes. She was named to the Big South Conference's All-Freshman team and she earned a spot on the All-Championship team from her 5th place finish at the conference tournament in April. Ashely is majoring in sport management with hopes of one day playing on the LPGA tour like her role model Stacey Lewis.
Emily Stinson, Appalachian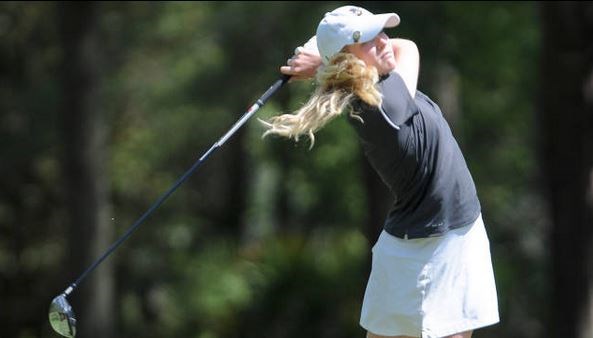 Emily is a rising junior at Appalachian State University. She is from Charlotte, North Carolina and also attended Ardrey Kell High School playing varsity golf for four years. She helped her team to two state championships and was runner up in 2009. During her sophomore year at Appalachian, Emily competed in all 11 events for the Mountaineers and compiled a 78.64 stroke average over 25 total rounds. She totaled five top ten finishes on the way to help her team claim three victories this past season. Her top finish was a T3rd at the Terrier Intercollegiate in the fall where she shot 78-76 and helped her team take home a second place finish. Emily is majoring in business education.
Kayla Thompson, UNC-W
Kayla, a rising sophomore at UNC-Wilmington, hails from Clarkton, North Carolina where she attended West Bladen High School. During her freshman year as a Seahawk, Kayla played in eight events, totaling to 22 rounds with a 79.36 stroke average. She shot a career-best 69 during the second round of The Landfall Tradition during the fall season. Her 69 also ties for the 3rd lowest round in Seahawk history. During her junior golf career, Kayla played on her high school's boys' golf team since West Bladen did not have a girls' team. She won the 2012 Class 2A East Region championship and was named a Waccamaw Conference first-team player as a junior.
Casey Ward, High Point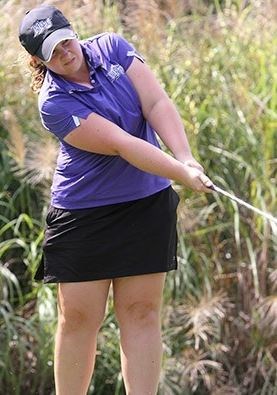 A rising senior at High Point University, Casey comes from Chapel Hill, North Carolina where she went to Cedar Ridge High School. As a junior golfer, Casey claimed first place in the Sub-Junior Flight at the 2007 Vicki DiSantis with a score of 159 and finished T2nd at the 2011 Jimmy Anderson Junior Invitational. She also played on the men's team at her high school and helped the team win a 2A State Championship in 2011. This past year in her junior season as a HPU Panther, Casey played in seven events which totaled 19 rounds and had a stroke a
verage of 79.26. She had two top ten finishes including one at the 2015 Cape Fear National Women's Intercollegiate where she helped lead her team to a second place finish. She saw her best finish during her sophomore season when she finished T2nd