Enter Your Club in the CGA Interclub
SOUTHERN PINES, NC -- Entries for the 2015 Carolinas Interclub competition are now open. The Carolinas Interclub features member clubs from the Carolinas competing amongst neighboring clubs in individual and four-ball net competition. Last year, 69 teams competed for this championship with The Creek Golf Association in Charlotte, NC winning their first title.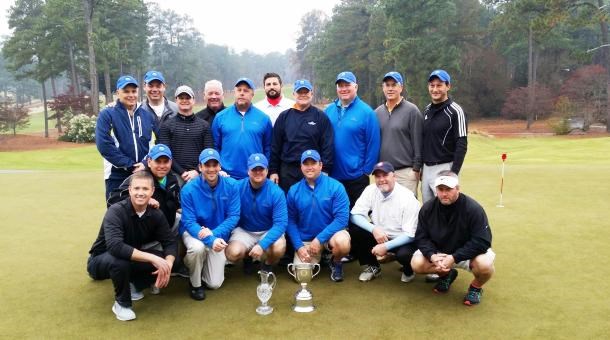 2014 Interclub Champions - The Creek GA, Charlotte, NC
[+] Enlarge
The Carolinas Interclub is a team competition that uses each player's twelve month Low Handicap Index to create an even playing field. 12 person teams play concurrent singles and four-ball match play formats in each match. Points are awarded for each match and the team earning the most points wins the overall match. The Carolinas Interclub is a service of the Carolinas Golf Association and is open to any male member of a CGA member club in both North and South Carolina.
Any of the 700+ CGA member clubs are eligible to enter. Entry forms and on-line sign-up can be accessed on the CGA web site. Click on the TOURNAMENTS tab, then MEN, then INTERCLUB, followed by 2015 ENTRY FORM; or you can click here to go directly to the Interclub website for more information and to register online. The deadline for registration is March 31. Get a team from your club together and enter!
During the regular season (April-August) each team will play 6 matches (three at home and three away within each group). A minimum of 32 teams will earn a spot in a single elimination playoff process. The "Final-Four" teams will compete for the Championship at Grandover Resort (East course) in Greensboro, NC on November 14 & 15. The semi-finals will be played Saturday with the finals on Sunday.
If we can be of further assistance, please don't hesitate to contact us. The CGA is looking forward to another competitive and exciting Interclub season.
##30##