Mills Leads the Way at NC Match Play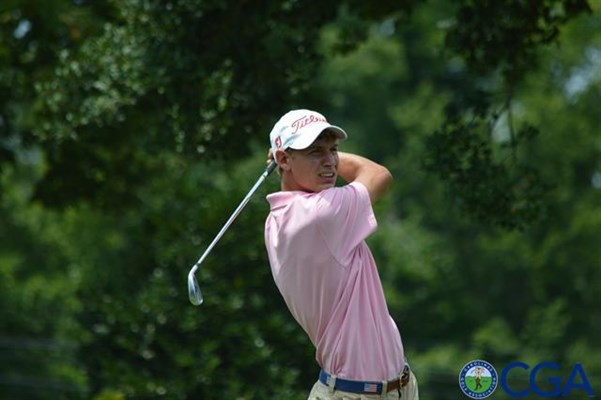 6th North Carolina Amateur Match Play Championship First Round Stroke Play Qualifying Results
HIGH POINT, NC -- First round stroke play qualifying results of the 6th North Carolina Amateur Match Play Championship at High Point Country Club (Willow Creek) in High Point, NC on Wednesday, August 5 (Par 36-36--72, 6890 yards, Course Rating: 74.7/141).

120 players arrived High Point Country Club's Willow Creek course for the 6th playing of the North Carolina Amateur Match Play Championship and were greeted with lightning quick greens and hot temperatures.
Nolan Mills, IV of Charlotte was able to birdie all four par-5s and carded six total birdies and a lone double bogey to pace the field at four-under par 68. He was the only player to break 70 with a total of 14 players under par.
"I just tried to keep it in front of me and aim for the big parts of the green," Mills, IV said. On birdies on all par-5s, "I reached 10 and 17 in two, and hit two good chips on the others." On his mindset trying to get into the 32-man match play bracket. "Keep the same mindset as today and not try to force anything."
2014 North Carolina Amateur Match Play champion Al Dickens, IV of Charlotte will be seeded number one in match play to defend his title. 2014 North Carolina Amateur Match Play runner-up David Donovan, IV of Hampstead shot nine-over par 81 and is T-100.
On Thursday, the field of 120 players will complete the final 18 holes of stroke play qualifying to determine the low 31 players plus the defending champion for match play beginning Friday. The field is competing for the newly enshrined Paul M. Simson Trophy, named for the Carolinas Golf Association's all-time winningest golfer with 29 CGA Championships.
Entry is open to any male amateur golfer who has reached his 13th birthday by August 5, 2015, is a legal resident of North Carolina, is a member in good standing of a club which is a member of the Carolinas Golf Association (CGA) and has an active GHIN USGA Handicap Index at a CGA member club that does not exceed 5.4.
First Round Stroke Play Qualifying Results
August 5, 2015
Place

Competitor

Score

1

Nolan Mills IV, Charlotte, N.C.

34-34--68 (-4)

T2

David Kocher, Charlotte, N.C.

34-36--70 (-2)

T2

Thomas Walsh, High Point, N.C.

34-36--70 (-2)

T2

Jonathan Rector, Hendersonville, N.C.

35-35--70 (-2)

T2

Josh Nichols, Kernersville, N.C.

36-34--70 (-2)

T6

Jeremy Ray, Pfafftown, N.C.

36-35--71 (-1)

T6

Eric Edwards, Salisbury, N.C.

34-37--71 (-1)

T6

Preyer Fountain, Raleigh, N.C.

37-34--71 (-1)

T6

Daniel Neveu, Pinehurst, N.C.

34-37--71 (-1)

T6

Alex Cauble, Belmont, N.C.

35-36--71 (-1)

T6

Blair Bowland, Burlington, N.C.

36-35--71 (-1)

T6

Jackson Spires, Fayetteville , N.C.

37-34--71 (-1)

T6

Matt Elliott, Wilkesboro, N.C.

35-36--71 (-1)

T6

Wade Boteler, Mebane , N.C.

36-35--71 (-1)

T15

Elliott Grayson, Shelby, N.C.

35-37--72 (Even)

T15

Ross Robison, Wilmington, N.C.

35-37--72 (Even)

T15

Preston Edmondson, Morrisville, N.C.

37-35--72 (Even)

T15

Jacob Hicks, Mebane, N.C.

34-38--72 (Even)

T15

Tanner Owen, High Point, N.C.

38-34--72 (Even)

T15

Stephen Lavenets, Rougemont, N.C.

33-39--72 (Even)

T15

Stephen Saleeby, Raleigh, N.C.

37-35--72 (Even)

T22

Jennings Milholen III, Siler City, N.C.

37-36--73 (+1)

T22

William Register, Burlington, N.C.

37-36--73 (+1)

T22

Stanhope Johnson Jr, Greensboro, N.C.

37-36--73 (+1)

T25

James Mishoe IV, Cary, N.C.

35-39--74 (+2)

T25

Tanner Gross, Archdale, N.C.

36-38--74 (+2)

T25

Austin Inman, Wilmington, N.C.

37-37--74 (+2)

T25

Pat Thompson, Asheville, N.C.

37-37--74 (+2)

T25

Paul Fitzgerald, Charlotte, N.C.

38-36--74 (+2)

T25

Jonathan Jackson, Chapel Hill, N.C.

37-37--74 (+2)

T25

Tyler Lail, Conover, N.C.

39-35--74 (+2)

T25

Luke Haithcock, Burlington, N.C.

36-38--74 (+2)

T25

Hunter McCombs, Morganton, N.C.

37-37--74 (+2)

T25

Mark Johnston, Lewisville, N.C.

37-37--74 (+2)

T25

Luke Grogan, Canton, N.C.

38-36--74 (+2)

T36

Joseph Cansler, Clemmons, N.C.

36-39--75 (+3)

T36

Marais Lombard, Charlotte, N.C.

37-38--75 (+3)

T36

Jon Henry, Cornelius, N.C.

37-38--75 (+3)

T36

Will Blalock, Gastonia, N.C.

36-39--75 (+3)

T36

Ben O'Geary, Henderson, N.C.

37-38--75 (+3)

T36

Steven Brame, Henderson, N.C.

39-36--75 (+3)

T36

Hunter Freeman, Raleigh, N.C.

40-35--75 (+3)

T36

Tuck Burkinshaw, Cary, N.C.

37-38--75 (+3)

T36

Thomas Messenheimer, Morganton, N.C.

37-38--75 (+3)

T36

Troy Beaver, Salisbury, N.C.

39-36--75 (+3)

T36

Levi Grogan, Canton, N.C.

37-38--75 (+3)

T36

Conner Sock, High Point, N.C.

37-38--75 (+3)

T36

Daniel Brantley, Asheboro, N.C.

38-37--75 (+3)

T49

Jubal Early, Charlotte, N.C.

40-36--76 (+4)

T49

Kyle Clemmons, Morganton, N.C.

39-37--76 (+4)

T49

Garrett Smith, Hillsborough, N.C.

40-36--76 (+4)

T49

Harrison Frye, Gastonia, N.C.

41-35--76 (+4)

T49

David Fowler, Winston-Salem, N.C.

39-37--76 (+4)

T49

Conner Lewis, Davidson, N.C.

37-39--76 (+4)

T49

Will Stewart, Charlotte, N.C.

37-39--76 (+4)

T49

Jackson Bailey, Matthews, N.C.

39-37--76 (+4)

T49

Ashton Poole Jr., Charlotte, N.C.

36-40--76 (+4)

T49

Matthew Rogers, Huntersville, N.C.

35-41--76 (+4)

T49

Jake Colley, Holly Springs, N.C.

37-39--76 (+4)

T49

Michael Murray Jr, Greensboro, N.C.

38-38--76 (+4)

T49

Bryan Colquitt, High Point, N.C.

35-41--76 (+4)

T49

Joshua Showfety, Greensboro, N.C.

40-36--76 (+4)

T49

Brant Stovall, Asheboro, N.C.

37-39--76 (+4)

T49

Glendon Mabe, Ether, N.C.

38-38--76 (+4)

T65

Walker Cress, Concord, N.C.

37-40--77 (+5)

T65

Brett Waters, Taylorsville, N.C.

39-38--77 (+5)

T65

David Sargent, Cornelius, N.C.

37-40--77 (+5)

T65

Blair Miller, Southern Pines, N.C.

38-39--77 (+5)

T65

Chris Jones, Charlotte, N.C.

38-39--77 (+5)

T65

Jacob Haithcock, Burlington, N.C.

39-38--77 (+5)

T65

Korky Kemp, Greensboro, N.C.

39-38--77 (+5)

T65

Jay Roberts III, Davidson, N.C.

39-38--77 (+5)

T65

Brad Raczenski, Kernersville, N.C.

37-40--77 (+5)

T74

Chris Cassetta, Winston-Salem, N.C.

38-40--78 (+6)

T74

Aaron York, Durham, N.C.

38-40--78 (+6)

T74

Phil Miller, China Grove, N.C.

39-39--78 (+6)

T74

Riley Davis, Kinston, N.C.

40-38--78 (+6)

T74

Colin Kent, Winston Salem, N.C.

37-41--78 (+6)

T74

Clay Brown, Davidson, N.C.

40-38--78 (+6)

T74

Salah Sayess, Statesville, N.C.

39-39--78 (+6)

T74

Tyler Payne, Mt. Airy, N.C.

40-38--78 (+6)

T74

Jordan Taylor, Troy, N.C.

39-39--78 (+6)

T83

Zach Griffis, Winston-Salem, N.C.

37-42--79 (+7)

T83

Henry Shimp, Charlotte, N.C.

37-42--79 (+7)

T83

Harrison Frye, High Point, N.C.

41-38--79 (+7)

T83

Michael Hocker II, Durham, N.C.

41-38--79 (+7)

T83

Jared Chinn, Fayetteville, N.C.

40-39--79 (+7)

T88

David Cho, Chapel Hill, N.C.

38-42--80 (+8)

T88

Anthony Perrino, Mooresville, N.C.

39-41--80 (+8)

T88

Scott Park, Charlotte, N.C.

42-38--80 (+8)

T88

Nicolas Principi, Huntersville, N.C.

41-39--80 (+8)

T88

Brent McKenzie, Wake Forest, N.C.

38-42--80 (+8)

T88

Fraser Van Asch, Raleigh, N.C.

41-39--80 (+8)

T88

Alex Taylor, Gastonia, N.C.

42-38--80 (+8)

T88

Mark Bawden, Apex, N.C.

40-40--80 (+8)

T88

Reid Clark, Raleigh, N.C.

41-39--80 (+8)

T88

Andy Swaim, Kernersville, N.C.

38-42--80 (+8)

T88

Parker Dudley, Burlington, N.C.

41-39--80 (+8)

T88

Justin Marcinkiewicz, Chapel Hill, N.C.

42-38--80 (+8)

T100

Nick Kroustalis, Clemmons, N.C.

40-41--81 (+9)

T100

David Kostyal II, Wilmington, N.C.

42-39--81 (+9)

T100

David Donovan IV, Hampstead, N.C.

41-40--81 (+9)

T100

Brian Phaup, Taylorsville, N.C.

42-39--81 (+9)

T100

Patrick Langdon, Charlotte, N.C.

37-44--81 (+9)

T100

Alex Rubino, Charlotte, N.C.

38-43--81 (+9)

T100

Nathan Young, Oak Ridge, N.C.

41-40--81 (+9)

T107

Jordan Vogler, Pilot Mountain, N.C.

42-40--82 (+10)

T107

Rick Riddle, Charlotte, N.C.

38-44--82 (+10)

T107

Aj Clark, Wilmington, N.C.

41-41--82 (+10)

110

Alex Burris, Greensboro, N.C.

45-38--83 (+11)

T111

Thomas Hodges, Waxhaw, N.C.

42-42--84 (+12)

T111

William Rocchi, Pinehurst, N.C.

43-41--84 (+12)

T111

A. T. Cashwell, Concord, N.C.

38-46--84 (+12)

T114

Mark Absher, Winston Salem, N.C.

43-42--85 (+13)

T114

Jarett Stowe, Matthews, N.C.

43-42--85 (+13)

116

Michael Butler, Apex, N.C.

43-46--89 (+17)

117

Andrew Bridgers, Greenville, N.C.

52-43--95 (+23)

T118

Ray Grant, Charlotte, N.C.

NS-NS--NS (NS)

T118

Ryan Blair, Mooresville, N.C.

WD-WD--WD (WD)

T118

Jack McClelland, Pinehurst, N.C.

WD-WD--WD (WD)