Winner Crowned at Carolinas Net Am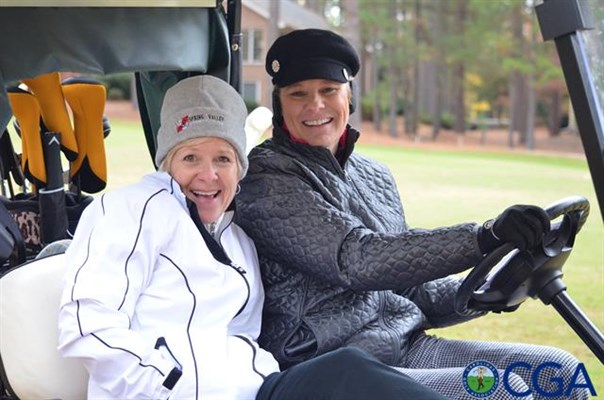 PINEHURST, NC – Final results of the 5th Carolinas Net Amateur Championship hosted by Pinehurst Resort & Country Club (Course No.1) in Pinehurst, NC on Sunday, November 22, 2015 (Men's Par 34-36—70; Women's Par 35-37—72).
Champions were crowned in six divisions (Men, Women, Senior Men, Senior Women, Super Senior Men, Super Senior Women) at Pinehurst Resort & Country Club for the 5th Net Amateur Championship. The field was divided into flights within their division by net score following round one.
Alex Finke of Fort Mill SC carded a final round net score of 71 to finish at two-under 138 to win the overall Men's Division title.
Chrissie Spidell of Anderson, SC played steady golf shooting 71-73 for a one-over par 144 to win the Women's Division.
The Senior Divisions were each decided by a narrow two stroke margin with Jeff Yohn of Kernersville, NC taking the Senior Men's title and Mary Jones of Simpsonville, SC winning the Senior Women's crown.
In Super Senior play, Donald Leatherman from Morehead City, NC won the Super Senior Men's title while Maggie Collins of Greensboro NC nabbed the Super Senior Women's title by two shots over defending champion Barbara Cleghorn of Surfside Beach, SC.
The Carolinas Net Amateur Championship was played at 36 holes of net stroke play using 100% of player's course handicaps. Entry was open to any amateur golfer who had reached his or her 18th birthday by November 21, 2015, is a legal resident of North Carolina or South Carolina, is a member in good standing of a club which is a member of the Carolinas Golf Association (CGA), South Carolina Golf Association (SCGA) or Women's South Carolina Golf Association (WSCGA) and has an active GHIN® USGA Handicap Index® at a CGA/SCGA/WSCGA member club.
For more information on the championship click the below links:
Hole-by-Hole Scoring: https://www.ghintpp.com/carolinasgolf/TPPOnlineScoring/ResultsStroke.aspx?id=1253
Championship Website: https://www.carolinasgolf.org/championship/home/15netam/year/2015

Photo Gallery: https://carolinasgolf.smugmug.com/Championships/2015-CGA-Championships/5th-Carolinas-Net-Amateur/Round-2-Photos/
This championship is co-conducted by the Carolinas Golf Association (CGA), South Carolina Golf Association (SCGA) and Women's South Carolina Golf Association (WSCGA).
Round 2 Scores (Net Score Shown)
| | | |
| --- | --- | --- |
| Women | | |
| 1 *Chrissie Spidell, Anderson, S.C. - 71-73--144 | $250.00 | |
| 2 Marion Bryant, Raleigh, N.C. - 72-76--148 | $150.00 | |
| 3 Jamie McDevitt, Southern Pines, N.C. - 76-78--154 | $100.00 | |
| 4 Carol Dubia, Wake Forest , N.C. - 77-80--157 | | |
| 5 Denise Howe, Mount Pleasant, S.C. - 75-84--159 | | |
| 6 Felicia Nidiffer, Franklin, N.C. - 81-89--170 | | |
| Senior Women A | | |
| 1 *Mary Jones, Simpsonville, S.C. - 72-72--144 | $250.00 | |
| 2 Patti Trzcinski, Sumter, S.C. - 71-75--146 | $150.00 | |
| 3 Leah Bohnen, Inman, S.C. - 74-74--148 | $100.00 | |
| 4 Janet Myers, Charlotte, N.C. - 76-74--150 | $75.00 | |
| 5 Lily Lee, Chapel Hill, N.C. - 76-78--154 | | |
| 6 Rhan Parham, Murrells Inlet, S.C. - 76-80--156 | | |
| 7 Nancy Holcombe, Pickens, S.C. - 75-83--158 | | |
| T8 Betty Reynolds, Fort Mill, S.C. - 75-85--160 | | |
| T8 Karen Harwood, Columbia, S.C. - 75-85--160 | | |
| Senior Women B | | |
| 1 Dawn Klena, Tega Cay, S.C. - 77-70--147 | $150.00 | |
| 2 Tracy Spillane, Harrisburg, N.C. - 79-72--151 | $100.00 | |
| 3 Denice Short, Raleigh, N.C. - 77-75--152 | $75.00 | |
| 4 Connie Chick, Indian Land, S.C. - 77-75--152 | | |
| T5 Diane Lavigne, Pawleys Island, S.C. - 82-75--157 | | |
| T5 Linda Morris, Roebuck, S.C. - 78-79--157 | | |
| T7 Dana Halliday, Spartanburg, S.C. - 77-81--158 | | |
| T7 Jackie Amthauer, Pawleys Island, S.C. - 82-76--158 | | |
| 9 Helen Lundie, Raleigh, N.C. - 82-79--161 | | |
| 10 Tanya Kozlowski, Raleigh, N.C. - 82-82--164 | | |
| Super Sr. Women | | |
| 1 *Maggie Collins, Greensboro, N.C. - 77-73--150 | $250.00 | |
| 2 Barbara Cleghorn, Surfside Beach, S.C. - 75-77--152 | $150.00 | |
| 3 Brenda Bauer, Columbia, S.C. - 78-78--156 | $100.00 | |
| 4 Babs McIntosh, North Myrtle Beach, S.C. - 83-74--157 | $75.00 | |
| 5 Doris Fisher, Simpsonville, S.C. - 82-75--157 | | |
| T6 Jane Webb, Anderson, S.C. - 80-79--159 | | |
| T6 Linda Nix, Liberty, S.C. - 72-87--159 | | |
| 8 Jayne Karim, York, S.C. - 77-87--164 | | |
| T9 Linda Boland, Fort Mill, S.C. - 82-83--165 | | |
| T9 Mary Ann Stiles, Myrtle Beach, S.C. - 86-79--165 | | |
| 11 Jo Ann Sapp, Wake Forest, N.C. - 87-86--173 | | |
| Senior Men A | | |
| 1 *Jeff Yohn, Kernersville, N.C. - 65-71--136 | $250.00 | |
| 2 Tony Parker, Claremont, N.C. - 70-68--138 | $150.00 | |
| 3 Jim Delong, Southern Pines, N.C. - 71-67--138 | $100.00 | |
| 4 Jeffrey Spence, Indian Trail, N.C. - 70-69--139 | $75.00 | |
| 5 John Lavigne, Pawleys Island, S.C. - 72-69--141 | | |
| 6 Chris Chambers, Fayetteville, N.C. - 71-71--142 | | |
| T7 Daniel Haggerty, N. Myrtle Beach, S.C. - 72-74--146 | | |
| T7 Joseph Boyd, Spring Lake, N.C. - 67-79--146 | | |
| 9 Kent Williams, Mount Pleasant , S.C. - 72-76--148 | | |
| 10 Jack Short, Raleigh, N.C. - 71-78--149 | | |
| Senior Men B | | |
| 1 Michael Doody, Morehead City, N.C. - 73-73--146 | $150.00 | |
| 2 Rick Oyervides, Greer, S.C. - 73-76--149 | $100.00 | |
| 3 Bill McGee, Durham, N.C. - 73-76--149 | $75.00 | Pro Shop |
| 4 Roy Bohnen, Inman, S.C. - 73-79--152 | | |
| 5 Bob Newman, Edgefield, S.C. - 75-79--154 | | |
| 6 Patrick O'Hara, Asheboro, N.C. - 75-80--155 | | |
| 7 Raymond Dimm, Southport, N.C. - 75-83--158 | | |
| 8 Paul Amthauer, Pawleys Island, S.C. - 75-88--163 | | |
| Senior Men C | | |
| 1 Mitch Haney, Pickens, S.C. - 78-67--145 | $15.00 | |
| 2 Keith Thomas, Greensboro, N.C. - 78-69--147 | $100.00 | Pro Shop |
| 3 John Baldea III, Myrtle Beach, S.C. - 80-67--147 | $75.00 | Pro Shop |
| 4 Frank Trzcinski, Sumter, S.C. - 78-72--150 | | |
| T5 Earl Bottorff, Raleigh, N.C. - 83-72--155 | | |
| T5 Kirk Atkinson, Camden, S.C. - 78-77--155 | | |
| 7 John Taylor, Pinehurst, N.C. - 79-78--157 | | |
| 8 Gregg Caulder, Harkers Island, N.C. - 85-75--160 | | |
| 9 Mike Herman, Charlotte, N.C. - 81-80--161 | | |
| Men A | | |
| 1 *Alex Finke, Fort Mill, S.C. - 67-71--138 | $250.00 | |
| 2 Rudy Canales, Fayetteville, N.C. - 69-69--138 | $150.00 | |
| 3 Bruce Robertson, Aberdeen, N.C. - 67-72--139 | $100.00 | |
| 4 Ryan Patton, Asheboro, N.C. - 68-74--142 | $75.00 | |
| T5 Daniel Parham, Roebuck, S.C. - 71-73--144 | | |
| T5 Upendra Modak, Concord, N.C. - 71-73--144 | | |
| 7 Derek Gottlich, Raleigh, N.C. - 73-72--145 | | |
| 8 Richard Gill, Wilmington, N.C. - 73-73--146 | | |
| 9 John McNamara, Simpsonville, S.C. - 72-75--147 | | |
| 10 John Clark, Foxfire Village, N.C. - 71-77--148 | | |
| 11 Matthew Blood, Durham, N.C. - 73-77--150 | | |
| T12 Kendell White, High Point, N.C. - 73-85--158 | | |
| T12 Stephen Shad Jr, Rock Hill, S.C. - 72-86--158 | | |
| Men B | | |
| 1 Joey Todd, Bladenboro, N.C. - 77-66--143 | $15.00 | |
| 2 Alan Ryder, Aiken, S.C. - 75-70--145 | $100.00 | |
| 3 Trent Parrish, Wilson, N.C. - 78-69--147 | $75.00 | |
| T4 Jeff Johnson, Charlotte, N.C. - 75-74--149 | | |
| T4 Mark Dey, York, S.C. - 75-74--149 | | |
| T6 John Morris, Roebuck, S.C. - 74-78--152 | | |
| T6 Michael Phan, Cary, N.C. - 76-76--152 | | |
| 8 Randy Debolt, Myrtle Beach, S.C. - 78-76--154 | | |
| 9 Brandon Britt, Benson, N.C. - 75-80--155 | | |
| 10 Kyle Coggins, Spartanburg, S.C. - 75-81--156 | | |
| Men C | | |
| 1 Kevin Johnson, Wilmington, N.C. - 79-74--153 | $150.00 | Pro Shop |
| 2 Jon Gunnison, Summerville, S.C. - 79-74--153 | $100.00 | |
| 3 Jerry Fatkin, Oak Island, N.C. - 82-72--154 | $75.00 | |
| 4 Mitchell Nidiffer, Franklin, N.C. - 83-72--155 | | |
| 5 Devin Cassas, Cary, N.C. - 81-78--159 | | |
| T6 Stephen Warren, Indian Trail, N.C. - 80-80--160 | | |
| T6 Todd Cooper, Indian Trail, N.C. - 83-77--160 | | |
| 8 Tucker Cole, Gastonia, N.C. - 80-87--167 | | |
| 9 John Lawlor, Greenville, S.C. - 88-80--168 | | |
| 10 Ross Brigman, Greenville, S.C. - 89-80--169 | | |
| 11 Ben Pruitt, Harrisburg, N.C. - 89-81--170 | | |
| Super Sr. Men A | | |
| 1 *Donald Leatherman, Morehead City, N.C. - 72-67--139 | $250.00 | |
| 2 Andy Sapp, Wake Forest, N.C. - 71-68--139 | $150.00 | |
| 3 Michael Broadway, Chapel Hill, N.C. - 75-69--144 | $100.00 | |
| 4 Ricky Karim, York, S.C. - 73-72--145 | $75.00 | |
| T5 Jerry Hankins, Hilton Head, S.C. - 74-72--146 | | |
| T5 Mitch Jordan, Myrtle Beach, S.C. - 71-75--146 | | |
| T7 Chip Stone, Raleigh, N.C. - 72-75--147 | | |
| T7 Joe Collins, Greensboro, N.C. - 75-72--147 | | |
| T9 Cordy Worth, Landrum, S.C. - 75-79--154 | | |
| T9 Curtis Miel, Murrells Inlet, S.C. - 75-79--154 | | |
| T9 Glenn Reynolds, Fort Mill, S.C. - 74-80--154 | | |
| 12 Ronald Payne, Little River, S.C. - 74-87--161 | | |
| Super Sr. Men B | | |
| 1 Marshall Stuart, Easley, S.C. - 76-71--147 | $150.00 | |
| 2 Lou Miller, Bluffton, S.C. - 76-73--149 | $100.00 | |
| 3 Ross Bailey, Cornelius, N.C. - 76-78--154 | $75.00 | Pro Shop |
| 4 Larry Westcott, Lancaster, S.C. - 78-77--155 | | |
| 5 Ted Davis, Granite Falls, N.C. - 85-71--156 | | |
| 6 Larry Lewis, Farmville, N.C. - 83-74--157 | | |
| 7 Bob Havelka, Isle of Palms, S.C. - 81-78--159 | | |
| 8 John Riordan, Southport, N.C. - 76-86--162 | | |
| 9 John Messner, Raleigh, N.C. - 78-87--165 | | |
| T10 Jim Hollingsworth, Chapin, S.C. - 76-WD--WD | | |
| T10 Robert Sinatra, Greer, S.C. - 76-WD--WD | | |
| *OVERALL DIVISION CHAMPION | | |
| | | |