Odiorne Atop Carolinas Sr Leaderboard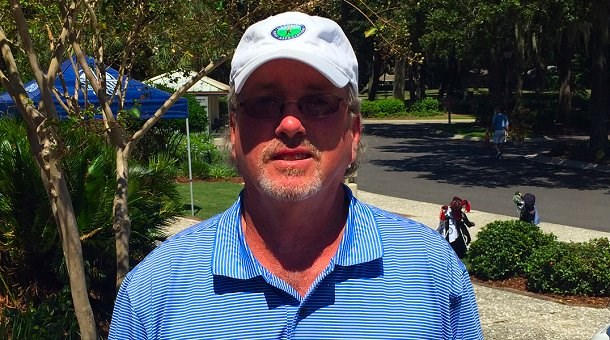 Walter Odiorne
ST. HELENA ISLAND, SC - Second round results of the 54th Carolinas Senior Amateur Championship of the Carolinas Golf Association hosted by Dataw Island Club (Cotton Dike) in St. Helena Island, SC on Monday, September 14, 2015 (6416 yards, par 36-36—72, 71.2/132).
Walter Odiorne of Blythewood, SC carded a four-under 68 (139) to take a one stroke lead after 36 holes at Dataw Island Club. Odiorne is one shot clear of 2010 champion Russ Perry of Winston-Salem, NC. Perry along with Jim Pearson of Charlotte, NC each fired tournament low rounds of 66 to vault up the leaderboard.
Round one leader Matt Grandy of Greenville, SC posted a five-over par 77 to fall back into a tie for eighth at 145.
Defending champion Jim Grainger of Charlotte, NC rebounded with five-under par 67 to climb up into a tie for 20th place at 148.
Only four players were able to break par after 36 holes on the Tom Fazio design with the average score of 77.4 from the field of 115 players in round two.
The field was cut to the low 60 scores and ties for the final round. Cutline fell at 157 (+13) with 65 players qualifying for Tuesday's final round.
Round 3 Starting Times: https://www.ghintpp.com/carolinasgolf/TPPOnlineScoring/Pairings.aspx?id=1210
Carolinas Senior Amateur Championship is a 54-hole stroke play event open to any male amateur golfer who has reached his 55th birthday by September 13, 2015, is a legal resident of North Carolina or South Carolina or owns a residence in either state, is a member in good standing of a club which is a member of the Carolinas Golf Association (CGA) and has an active GHIN® USGA Handicap Index® at a CGA member club that does not exceed 10.4.
For more information on the Carolinas Senior Amateur Championship including hole-by-hole scoring please visit: https://www.carolinasgolf.org/championship/home/15senior/year/2015
Round 2 Scores
| | | |
| --- | --- | --- |
| Place | Competitor | Score |
| 1 | Walter Odiorne, Blythewood, S.C. | 71-68--139 (-5) |
| 2 | Russ Perry, Winston Salem, N.C. | 74-66--140 (-4) |
| T3 | Pat Thompson, Asheville, N.C. | 70-71--141 (-3) |
| T3 | John Rudolph, Charlotte, N.C. | 70-71--141 (-3) |
| T5 | James Pearson, Charlotte, N.C. | 78-66--144 (Even) |
| T5 | Frank Ford III, Charleston, S.C. | 72-72--144 (Even) |
| T5 | Walter Todd Sr, Laurens, S.C. | 72-72--144 (Even) |
| T8 | Bill Palmer Jr, Bluffton, S.C. | 73-72--145 (+1) |
| T8 | Gary Brown, Charlotte, N.C. | 73-72--145 (+1) |
| T8 | Johnny Elam, Charlotte, N.C. | 76-69--145 (+1) |
| T8 | Matt Grandy, Greenville, S.C. | 68-77--145 (+1) |
| T12 | Dale Porter, Leland, N.C. | 72-74--146 (+2) |
| T12 | John Long, Murrells Inlet, S.C. | 74-72--146 (+2) |
| T14 | Jim Gallagher, Charlotte, N.C. | 72-75--147 (+3) |
| T14 | Keith Waters, Raleigh, N.C. | 72-75--147 (+3) |
| T14 | Rick Luzar, Pinehurst, N.C. | 74-73--147 (+3) |
| T14 | Rick Cloninger, Fort Mill, S.C. | 76-71--147 (+3) |
| T14 | Robby Kirby, Charlotte, N.C. | 69-78--147 (+3) |
| T14 | Kevin King, Bluffton, S.C. | 71-76--147 (+3) |
| T20 | Don Detweiler, Raleigh, N.C. | 73-75--148 (+4) |
| T20 | Jim Grainger, Charlotte, N.C. | 81-67--148 (+4) |
| T20 | Gary Robinson, Fayetteville, N.C. | 74-74--148 (+4) |
| T20 | Geno Berchiatti, Greenville, S.C. | 71-77--148 (+4) |
| T20 | Ed Byman, Raleigh, N.C. | 72-76--148 (+4) |
| T25 | Jim Burgess, Murrells Inlet, S.C. | 76-73--149 (+5) |
| T25 | Mike Schmid, Monroe, N.C. | 72-77--149 (+5) |
| T27 | Brad Buxton, Greensboro, N.C. | 78-72--150 (+6) |
| T27 | Ron Carpenter, Creedmoor, N.C. | 72-78--150 (+6) |
| T27 | Bob Edens, Columbia, S.C. | 77-73--150 (+6) |
| T27 | Eric Ardery, Durham, N.C. | 74-76--150 (+6) |
| T31 | Arlis Pike, Kernersville, N.C. | 75-76--151 (+7) |
| T31 | John Fritz, Mint Hill, N.C. | 75-76--151 (+7) |
| T31 | Dev Gregg, Charlotte, N.C. | 77-74--151 (+7) |
| T34 | Bill Long, Ahoskie, N.C. | 80-72--152 (+8) |
| T34 | John Walters, Charlotte, N.C. | 74-78--152 (+8) |
| T34 | Holley Wallace, Columbia, S.C. | 77-75--152 (+8) |
| T34 | Bernie Shealy, Columbia, S.C. | 77-75--152 (+8) |
| T38 | Bill Smunk, Kingstree, S.C. | 77-76--153 (+9) |
| T38 | Todd Hendley, Greer, S.C. | 80-73--153 (+9) |
| T38 | John Smunk, Port Royal, S.C. | 77-76--153 (+9) |
| T38 | Kelly Miller, Southern Pines, N.C. | 76-77--153 (+9) |
| T42 | Tim Pope, Spartanburg, S.C. | 80-74--154 (+10) |
| T42 | Greg Powell, Charlotte, N.C. | 77-77--154 (+10) |
| T42 | Andy Burnette, Raleigh, N.C. | 80-74--154 (+10) |
| T42 | Norman Davis Jr, Charlotte, N.C. | 75-79--154 (+10) |
| T42 | Jeff Jackson, Goldsboro, N.C. | 80-74--154 (+10) |
| T42 | Michael McDowell, Charlotte, N.C. | 76-78--154 (+10) |
| T42 | David Camadine, Charlotte, N.C. | 76-78--154 (+10) |
| T42 | Tim Boynton, Beaufort, N.C. | 76-78--154 (+10) |
| T42 | Farley Davis, High Point, N.C. | 79-75--154 (+10) |
| T51 | Robert Vespa, Summerfield, N.C. | 76-79--155 (+11) |
| T51 | Wayne Rogers, Easley, S.C. | 79-76--155 (+11) |
| T51 | Johnny Adams, Cary, N.C. | 81-74--155 (+11) |
| T51 | Arch Reed, Pinehurst, N.C. | 82-73--155 (+11) |
| T51 | Bradford Kroll, Charlotte, N.C. | 78-77--155 (+11) |
| T51 | Richard Condrey, Nebo, N.C. | 75-80--155 (+11) |
| T51 | Rick Stitzer, Raleigh, N.C. | 77-78--155 (+11) |
| T51 | Brandon Godfrey, Nebo, N.C. | 78-77--155 (+11) |
| 59 | David Eaker, Forest City, N.C. | 79-77--156 (+12) |
| T60 | Hugh Quinn, Lewisville, N.C. | 81-76--157 (+13) |
| T60 | Steve Sharpe, Greensboro, N.C. | 80-77--157 (+13) |
| T60 | Bill Phillips, Charlotte, N.C. | 77-80--157 (+13) |
| T60 | Rick Kline, Davidson, N.C. | 81-76--157 (+13) |
| T60 | John Dennis III, Greenville, S.C. | 80-77--157 (+13) |
| T60 | John Franklin, Saint Helena Island, S.C. | 76-81--157 (+13) |
| | Failed to Qualify for Final Round | |
| T66 | Mike Sprouts, Newton, N.C. | 79-79--158 (+14) |
| T66 | Mike Gravley, Greer, S.C. | 78-80--158 (+14) |
| T66 | Steve Wilson, Wilmington, N.C. | 77-81--158 (+14) |
| T66 | Dennis Helms, Monroe, N.C. | 76-82--158 (+14) |
| T66 | Jim Wise, Columbia, S.C. | 78-80--158 (+14) |
| T66 | Mike Calkins, Columbia, S.C. | 78-80--158 (+14) |
| T72 | Marc Cox, Greensboro, N.C. | 79-80--159 (+15) |
| T72 | Andy Gianoukos, Charleston, S.C. | 78-81--159 (+15) |
| T72 | Chuck Latham, Vass, N.C. | 81-78--159 (+15) |
| T72 | Rodney Jones, Apex, N.C. | 83-76--159 (+15) |
| T72 | Mike Arnold, Mooresville, N.C. | 82-77--159 (+15) |
| T77 | Jack Nance, Pinehurst, N.C. | 79-81--160 (+16) |
| T77 | Jackson Hughes Jr, Greenville, S.C. | 80-80--160 (+16) |
| T77 | Gus Sylvan, Columbia, S.C. | 82-78--160 (+16) |
| T77 | Grant Hoffman, Asheboro, N.C. | 80-80--160 (+16) |
| T77 | Steve Burke, Burlington, N.C. | 80-80--160 (+16) |
| T82 | John L Cottrell Jr, Gilbert, S.C. | 80-81--161 (+17) |
| T82 | Spike Smith, Pinehurst, N.C. | 82-79--161 (+17) |
| T82 | Charles Hall, Hilton Head, S.C. | 79-82--161 (+17) |
| T82 | Kenny Bieschke, Bluffton, S.C. | 80-81--161 (+17) |
| T86 | Steve Spiegler, Charlotte, N.C. | 74-88--162 (+18) |
| T86 | Butch English, Cornelius, N.C. | 77-85--162 (+18) |
| T86 | Glen Subin, Pinehurst, N.C. | 82-80--162 (+18) |
| T86 | Ben Whipple, Marietta, S.C. | 82-80--162 (+18) |
| T86 | George Conekin III, Jacksonville, N.C. | 87-75--162 (+18) |
| T91 | Chip Hunter, Winston Salem, N.C. | 85-78--163 (+19) |
| T91 | Robert Bennett Jr, Cheraw, S.C. | 82-81--163 (+19) |
| T93 | Larry Cowman, Charlotte, N.C. | 85-79--164 (+20) |
| T93 | Charlie Parks, Asheboro, N.C. | 78-86--164 (+20) |
| T93 | Steven Misenheimer, Huntersville, N.C. | 80-84--164 (+20) |
| T96 | Randy Allen, Myrtle Beach, S.C. | 84-81--165 (+21) |
| T96 | Edward Galbavy, Seabrook Island, S.C. | 81-84--165 (+21) |
| 98 | Jim Hunsuck, Statesville, N.C. | 82-84--166 (+22) |
| 99 | Chuck Parker, Raleigh, N.C. | 84-83--167 (+23) |
| T100 | Tom Eberhard, Seabrook Island, S.C. | 82-86--168 (+24) |
| T100 | Darryl Averyhart, Columbia, S.C. | 84-84--168 (+24) |
| T100 | Tom Cunneff, Charleston, S.C. | 88-80--168 (+24) |
| 103 | James Morgan, Greensboro, N.C. | 84-85--169 (+25) |
| 104 | Barry Mullinax, Travelers Rest, S.C. | 87-83--170 (+26) |
| 105 | Rick Finnin, Pinehurst, N.C. | 85-87--172 (+28) |
| 106 | John McCallie, Durham, N.C. | 87-87--174 (+30) |
| 107 | Charley Hodges, Charlotte, N.C. | 88-88--176 (+32) |
| T108 | Terry Ezell, York, S.C. | 78-WD--WD (WD) |
| T108 | Bob Stringer, Blythewood, S.C. | 73-WD--WD (WD) |
| T108 | Russ McLauchlan, Fuquay-Varina, N.C. | 78-WD--WD (WD) |
| T108 | Edward Mills, Fairview, N.C. | 80-WD--WD (WD) |
| T108 | Gordon Gourley, Hilton Head, S.C. | 81-WD--WD (WD) |
| T108 | Phil Bland, Waynesville, N.C. | 80-WD--WD (WD) |
| T114 | Tim Teaster, Columbia, S.C. | DQ (DQ) |
| T114 | Mike Purkey, Charlotte, N.C. | WD (WD) |