Hetzel Hoists Trophy Again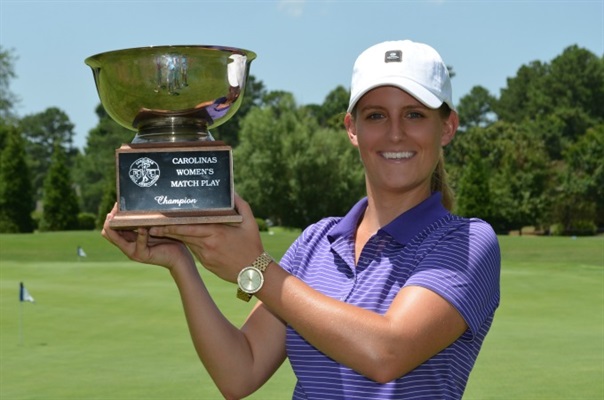 Hetzel Hoists Trophy Again
Final Results
Stanley, N.C. – Final results from the 18th Carolinas Women's Match Play Championship hosted by Cowans Ford Golf Club on July 7-9, 2015. (Yardage 5975, Par 72, Course Rating 75.0/132).
Defending champion Mallory Hetzel of Waynesville, N.C. fought off a faulty driver and a spunky opponent in Annika Bovender of Mt. Pleasant, S.C. Hetzel, who is a multi-time CGA champion, caught a lucky break on the 15th hole after her drive bounced off the rocks of the water hazard and down in the fairway. "I thought I was going to get one back there," Bovender said. "That is a pivotal hole where you can lose a match or win a match." The duo would make it to the 17th tee where Bovender had a hole-in-one on Wednesday to close out Dawn Woodard of Greer, S.C. "No hole-in-one today," Bovender laughed.
In the second semifinal match of the day Emily Brooks of Chapel Hill, N.C. faced off against Kayla Thompson of Whiteville, N.C. Thompson was off to a hot and steady start. At the turn Thompson would find herself 4 up and never let off the gas. "She (Thompson) didn't make any mistakes and I made a lot of mistakes," Brooks said. "Every time I would think I might have a chance to win a hole back, Kayla would just make the putt right behind me." Thompson would eventually close out Brooks by a 6 and 4 margin.
The sweet swinging Kayla Thompson would then find herself facing off against the defending champion Mallory Hetzel in the final championship match.
Both players started off steady halving the first two holes. But then Hetzel would begin to apply the pressure. She won the next two holes and Thompson would look up and find herself three down at the turn. "My putter wasn't as stead this afternoon. I'm not sure what happened," Thompson said. Thompson would bounce back and win the 10th hole to go back to only 2 down. The players would then go on to halve the rest of the holes until Hetzel closed out Thompson 3 and 2 on the tough 16th hole. "I wasn't playing that well today," Hetzel replied. "I think I had some luck on my side today. It feels good to bring the trophy back home with me."
The rest of the field was broken out into flights of eight and will compete at match play for the duration of the championship. The tournament division plays a shorter course.
Match Play Tree and Other Flights
Final Championship Results
Round of 16
Mallory Hetzel, Waynesville, N.C. (1) def. Juliana Sebastian, Columbia, S.C. (16), 5 and 4
Taylor Dodson, Aiken, S.C. (9) def. Louise Oxner, Greenville, S.C. (8), 2 and 1
Annika Bovender, Mt Pleasant, S.C. (4) def. Bethany Galloway, Charlotte, N.C. (13), 2 up
Dawn Woodard, Greer, S.C. (5) def. Rachel Jones, Asheboro, N.C. (12), 2 and 1
Meagan Wallace, Charlotte, N.C. (2) def. Peg Brady, Stanley, N.C. (15), 5 and 4
Emily Brooks, Chapel Hill, N.C. (10) def. Cecily Overbey, High Point, N.C. (7), 1 up
Kayla Thompson, Whiteville, N.C. (3) def. Danielle Haizlip, Statesville, N.C. (14), 3 and 1
Pat Brogden, Garner, N.C. (11) def. Lauren Dunbar, Columbia, S.C. (6), 5 and 4
Quarterfinal
Mallory Hetzel, Waynesville, N.C. (1) def. Taylor Dodson, Aiken, S.C. (9), 3 and 2
Annika Bovender, Mt Pleasant, S.C. (4) def. Dawn Woodard, Greer, S.C. (5), 2 and 1
Emily Brooks, Chapel Hill, N.C. (10) def. Meagan Wallace, Charlotte, N.C. (2), 4 and 3
Kayla Thompson, Whiteville, N.C. (3) def. Pat Brogden, Garner, N.C. (11), 4 and 3
Semifinal
Mallory Hetzel, Waynesville, N.C. (1) def. Annika Bovender, Mt Pleasant, S.C. (4), 2 and 1
Kayla Thompson, Whiteville, N.C. (3) def. Emily Brooks, Chapel Hill, N.C. (10), 6 and 4
Final
Mallory Hetzel, Waynesville, N.C. (1) def. Kayla Thompson, Whiteville, N.C. (3), 3 and 2