Martin and Bae win Young Amateur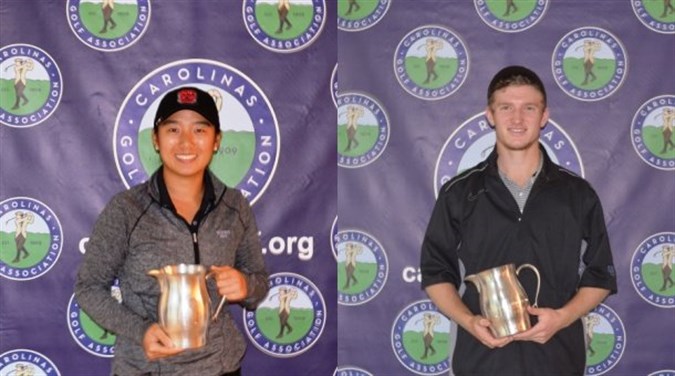 Pictured - Sarah Bae (L) and Josh Martin
PINEHURST, N.C. (December 30, 2015) -- Hometown favorites Sarah Bae and Joshua Martin won their respective divisions of the 7th Carolinas Young Amateur. The tournament was shortened to 18-holes after the second round was canceled due to heavy rain which caused the golf course to flood and become unplayable. Bae, a junior at NC State, scorched her first nine with a six under par 30 on the Magnolia course at Pinewild CC in Pinehurst, NC. Bae continued her great play with a one under par 35 on the back nine to finish with a round of seven under 65. Martin, a freshman at UNC-Chapel Hill, played two great nines of four under par 32 on both sides and ended with a round of 64.
Bae, the 2013 Carolinas Young Amateur champion, finished five shots ahead of Annika Bovender of Mt. Pleasant, SC. Bovender struggled on the front nine, but came back on the back side with a four under par 32 to finish at two under par 70 and a second place finish. Taylor Dodson of Aiken, SC also broke par with her round of 71 which gave her a third place finish. Emily Brooks of Chapel Hill, NC Jaelyn Tindal of Rock Hill, SC both shot even par 72 and finished tied for fourth.
Martin, the 2014 NC Amateur champion, had a tight race with Tim Conover of Holly Springs, NC who finished alone is second place just one shot back after his five under par 65. Alex Smalley of Wake Forest, NC ended two shots back in third place after a round of 67. Defending champion Austin Morrison of Charlotte, NC struggled and finished with a round of 79. Miller Capps of Denver, NC, the 2013 Carolinas Young Amateur champion finished with a round of even 72.
The Carolinas Golf Association's (CGA) Carolinas Young Amateur is a stroke play tournament for male and female amateur golfers ages 18 to 25 from North Carolina or South Carolina who have finished high school and have a current USGA handicap Index at a CGA member club. Trophies will be awarded to the top five spots in each division. Due to NCAA regulations, gift certificates will not be awarded.
Women's Division (5732 yards, par 72, 73.4/123)

Place

Name

Score

1

Sarah Bae, Pinehurst, NC

30-35--65

2

Annika Bovender, Mt Pleasant, SC

38-32--70

3

Taylor Dodson, Aiken, SC

37-34--71

T4

Emily Brooks, Chapel Hill, NC

35-37--72

Jaelyn Tindal, Rock Hill, SC

37-35--72

T6

Killian Casson, Greenville, NC

35-38--73

Maddisen Cox, Easley, SC

40-33--73

T8

Alexis Kershaw, Winston-Salem, NC

38-37--75

Courtney McKim, Raleigh, NC

38-37--75

Jacqueline Twitty, Chapin, SC

39-36--75

Louise Oxner, Greenville, SC

37-38--75

T12

Savanna Mackie, Greensboro, NC

38-38--76

Tiffany Robbins, Fort Mill, SC

39-37--76

T14

Catherine Ashworth, Fuquay-Varina, NC

42-35--77

Makenna Hammer, Clayton, NC

41-36--77

Savannah Hallman, Mt. Pleasant, SC

40-37--77

17

Sammie Buchanan, Bluffton, SC

38-40--78

18

Kasidy Beckel, Okatie, SC

39-40--79

T19

Annika Winebarger, State Road, NC

42-39--81

Madeline MacClurg, Cary, NC

42-39--81

Mary Katherine Donovan, Hampstead, NC

38-43--81

22

Carley Cox, China Grove, NC

43-40--83

T23

Lydia Randell, Walnut Cove, NC

43-43--86

Maria Cassas, Cary, NC

44-42--86

T25

Kristin Powers, Greensboro, NC

45-42--87

Rachel Jones, Asheboro, NC

45-42--87

Men's Division (6835 yards, par 72, 73.4/129)

Place

Name

Score

1

Joshua Martin, Pinehurst, NC

32-32--64

2

Tim Conover, Holly Springs, NC

33-32--65

3

Alex Smalley, Wake Forest, NC

34-33--67

4

Luke Haithcock, Burlington, NC

36-33--69

T5

Davis Morrison, Charlotte, NC

38-33--71

Davis Womble, High Point, NC

36-35--71

Jonathan Diianni, Kernersville, NC

35-36--71

T8

Matt Elliott, Wilkesboro, NC

35-37--72

Michael McKee, Ware Shoals, SC

35-37--72

Miller Capps, Denver, NC

36-36--72

Nick Thompson, Southern Pines, NC

36-36--72

Wesley Conover, Holly Springs, NC

36-36--72

T13

AJ Clark, Wilmington, NC

36-37--73

Blake Fiest, Huntersville, NC

35-38--73

Daniel Brantley, Asheboro, NC

36-37--73

David Germann, Clayton, NC

37-36--73

Keenan Huskey, Greenville, SC

37-36--73

Preston Cole, Greer, SC

34-39--73

Riley Davis, Kinston, NC

36-37--73

Thomas Walsh, High Point, NC

38-35--73

T21

Brett McLamb, Coats, NC

36-38--74

Drew Johnson, Oak Ridge, NC

38-36--74

Ian Locklear, Pembroke, NC

37-37--74

James Gammon, Eden, NC

39-35--74

Jon Henry, Cornelius, NC

39-35--74

Ryan Reynolds, Camden , SC

39-35--74

Seth Gandy, Charlotte, NC

36-38--74

Zachary Martin, Pinehurst, NC

37-37--74

T29

AT Cashwell, Concord, NC

38-37--75

Caleb Keck, Reidsville, NC

38-37--75

Elliott Grayson, Shelby, NC

39-36--75

Harrison Rhoades, Raleigh, NC

40-35--75

Joseph Cansler, Clemmons, NC

37-38--75

William Rainey, Charlotte, NC

38-37--75

Zachary Bishop, Travelers Rest, SC

39-36--75

T36

Austin Zoller, Summerville, SC

38-38--76

Spencer Skiff, Aiken, SC

38-38--76

T38

Alex Handy, Aiken, SC

39-38--77

Griffin Cryan, Pinehurst, NC

42-35--77

Kyle Austin, Mebane, NC

41-36--77

Luke Grogan, Canton, NC

39-38--77

Matthew Spak, Cary, NC

40-37--77

Press Clark, Charlotte, NC

38-39--77

T44

Jordan Smith, Summerfield, NC

37-41--78

Matt McDonagh, Winston-Salem, NC

39-39--78

Parker Dudley, Charleston, SC

39-39--78

Patrick Talledo, Blythewood, SC

41-37--78

Will Stewart, Charlotte, NC

39-39--78

T49

Aaron Abts, Oak Ridge, NC

38-41--79

Austin Morrison, Charlotte, NC

41-38--79

Chris Jones, Charlotte, NC

40-39--79

Hayden Ploeger, Aiken, SC

39-40--79

Joe Wood, State Road, NC

40-39--79

Joshua Chandler, Washington , NC

39-40--79

Vijay Mishra, N Myrtle Beach, SC

41-38--79

T56

Alex Burris, Greensboro, NC

42-38--80

Andrew Carowan, Lewisville, NC

40-40--80

David Kostyal II, Wilmington, NC

39-41--80

Garrett Smith, Hillsborough, NC

40-40--80

Jackson Spires, Fayetteville, NC

40-40--80

Nickolaus Beecroft, Bolivia, NC

40-40--80

Robert Knight, Greenville, SC

39-41--80

T63

Anthony Perrino, Mooresville, NC

47-34--81

Chandler White, Clemmons, NC

44-37--81

Levi Grogan, Canton, NC

39-42--81

Patrick Langdon, Charlotte, NC

41-40--81

T67

David Donovan IV, Hampstead, NC

38-44--82

Harrison Ashworth, Fuquay-Varina, NC

41-41--82

Zachary Herold, Lexington, SC

40-42--82

T70

Clay Brown, Davidson, NC

43-40--83

George Kilgore, Raleigh, NC

42-41--83

Jay Minter, Sanford, NC

45-38--83

T73

Alex Taylor, Gastonia, NC

42-42--84

Austin Northern, Blowing Rock, NC

45-39--84

Dalton Scott, Canton, NC

42-42--84

Dalton Thompson, Canton, NC

44-40--84

Thomas Hodges, Waxhaw, NC

41-43--84

78

Caleb Hensley, Monroe, NC

48-41--89

79

Nicholas Gunnell, Hamptonville, NC

49-41--90

80

Preston Mangum, Charlotte, NC

WD

T81

Brandon Grzywacz, Charlotte, NC

WD

Tanner Gross, Archdale, NC

NS