Coharie CC Captures Carolinas Interclub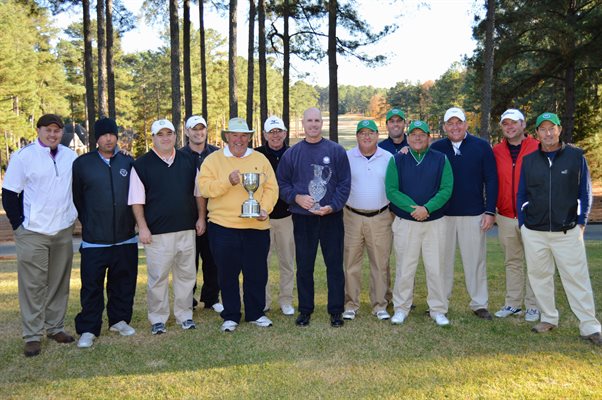 Carolinas Interclub champion Coharie Country Club is presented with the Ben Payne trophy
PINEHURST, N.C. (November 20, 2016) – Coharie Country Club of Clinton, N.C. claims the 19th Carolinas Interclub title, with an 11 - 7 victory over Verdict Ridge Golf & Country Club on Sunday at Pinewild Country Club's Magnolia Course (Par 36-36--72, 6460 Yards). The format of the Carolinas Interclub is 12 player team competition with concurrent "singles" and "four-ball" match play formats in each match.
Related: Photo Gallery | Finals Scoring | History
The 2010 champions, Coharie Country Club was excited to be back in the finals. "We have a flag commemorating the last win hanging over the bar at the club," said team captain Randy Wiggins. "We wanted to add another championship to that wall." Although they only went 3-3 in the regular season, Coharie was dominate in its five playoff matches leading up to Sunday's final against Verdict Ridge.
Two groups for Coharie earned all three points available in the concurrent singles and four-ball matches. Michael Mason rolled in a twenty foot putt on No. 18 to earn a 1up victory in his singles match and a 2 and 1 win in four-ball with partner John Spell. The final Coharie Country Club group, Brent Parrish and Dickie Walters, won their four-ball match 4 and 3 and each won their singles bouts. The match-clinching point was secured with Bob Yow's 1up singles win.
"We have a lot of low handicappers for a small club," Wiggins said. "Big hearts, lot of guts. I'm glad to be associated with these guys."
With 83 teams competing in the 19th season of the Carolinas Interclub, the Carolinas Golf Association enjoys providing this championship to its member clubs. "It's the greatest thing to bring people together," Wiggins said of the Carolinas Interclub season. "You meet great people like those from Verdict Ridge. Some of the best people I have ever met. I recommend every club in the Carolinas try it."
"The Interclub made this possible," said Verdict Ridge captain Glenn Carter with his arm around Wiggins. "Two older gentlemen enjoying the game. How special is that?"

Final Match Result

East Region Finals
Coharie Country Club 11 Verdict Ridge Golf & Country Club 7
About the Carolinas Golf Association (CGA)
The CGA is a 501(c)(3) not-for-profit educational organization that was founded in 1909 to promote and to protect the game of golf in the Carolinas by providing competitions, education, support and benefits to golf clubs and golfers. The CGA is the second largest golf association in the country with over 700 member clubs represented by nearly 150,000 individuals.
The CGA annually conducts 43 championships and five team match competitions for men, women, juniors, and seniors. It also runs over 140 One-Day (net and gross) events and qualifying for USGA national championships. The CGA serves golf in the Carolinas with numerous programs such as: the USGA Handicap System; tournament management software and support; course measuring and course/slope ratings; agronomy consultation; answers about the Rules of Golf, Rules of Amateur Status, and Handicapping; Carolinas Golf Magazine; Interclub series; Tarheel Youth Golf Association; Carolinas Golf Hall of Fame; expense assistance for USGA Junior and Girls' Junior qualifiers from the Carolinas; and the Carolinas Golf Foundation (CGF). The CGF has distributed more than $1,500,000 since 1977 to benefit Carolinas' golf initiatives including junior and women's programs.
For more information about the CGA, visit www.carolinasgolf.org.
##30##