Final 4 to Face Off at NC Junior Boys'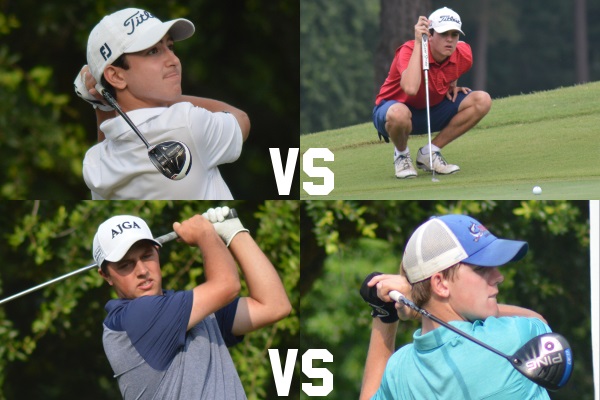 Meet the Final Four Players

WILSON, N.C. (June 23, 2016) -- Match play rounds of 16 and quarterfinal results from the 49th North Carolina Junior Boys' Championship hosted by Wilson Country Club in Wilson, NC on Thursday, June 23rd (6774 yards, Par 36-36—72, Rating: 73.0/135).
Related: Photos | Interviews | Scoring & Matches | Championship History

From 132 North Carolina junior boys who began the championship Tuesday at Wilson Country Club, four remain for the final day on competition Friday.
Ben Woodruff of Huntersville vs. Alex Goff of Kings Mountain
Grant Powell of Colfax vs. Rhodes Karriker of Matthews

Semifinal matches will begin Friday morning at 8:00am. The championship match is scheduled to begin at approximately 12:30pm.
Meet the semi-finalists:
Ben Woodruff of Huntersville
Woodruff is a 16-year-old rising high school junior. He is currently ranked 46th on the North Carolina junior boys rankings. After shooting a 75, he qualified to advance to match play as the No. 41 seed.
In the Round of 16 match play, Woodruff took on his good friend Matthew Sharpstene of Asheville. Going into the match, he knew Sharpstene was a "great player" so he had to play well in order to advance to the quarterfinals. During the match, he "played steady, not making many birdies or bogeys," which allowed Woodruff to "get on top" and advance to the quarterfinals.
During the quarterfinals match, Woodruff faced off against the No. 1 seed and 48th NC Junior Boys' champion, Jack Massei of Cary. He "was not nervous" going into his match with Massei. Woodruff knew he "had to put together a good round to have a chance" at defeating the defending champ.
After a back-and-forth battle on the outward nine that ended with Massei 1 up, Woodruff came out firing on the inward nine. On the par-4 10th, which had been moved up to 275 yards, Woodruff nailed his tee shot for a tap-in eagle. The players again exchanged a few holes before Woodruff birdied 16 and 17 for a 2&1 victory. "I gave it my all, I just ran into a buzzsaw on the back nine," said Massei.
Going into the semifinals Woodruff says he has "nothing to lose." He plans to "keep the same mindset" that he has had throughout match play thus far and is going to try to "make as many birdies" as possible to have the best possible chance to advance to the final match.


Alex Goff of Kings Mountain
Goff is a 16-year-old rising junior, currently ranked 62nd among North Carolina junior boys. After shooting an impressive round of 70, 2-under par, he qualified to advance as the No. 5 seed in match play. Goff fine-tunes his game at his home course at Gaston Country Club located in Gastonia, NC.
In the Round of 16, Goff went head-to-head with Lansdon Robbins of Davidson, whose short game was impressive throughout the week. He was able to get on top and hold off Robbins, ultimately winning 2&1 to advance to the quarterfinals. Once the Round of 16 was complete, Goff soon discovered he would once again have to dig deep to defeat his next opponent, Nicholas Lyerly of Salisbury.
Nicholas Lyerly is currently the No. 1 ranked junior golfer in North Carolina, the 2015 North Carolina Junior Golfer of the Year, and last week won the North Carolina Amateur. During the quarterfinals match against Lyerly, Goff was able to make "a few big putts to set the tone and get the momentum." On the 15th hole he had a "good look at birdie to go back to 1 up but ran it by and luckily made it coming back," for par. On the 16th and 17th holes Goff was "able to make birdies" and "two putt for par on the 18th," defeating Nicholas Lyerly and advanced to the semifinals.
Goff stated that keys to his success on the course was being "able to keep the ball in play" as well as how "soft" the greens were, "making it easier to get good looks for birdies." Goff had five birdies during his quarterfinals match.


Grant Powell of Colfax
Powell found himself in a battle from the start of his Round of 16 match against Grant Smith of Charlotte. "Grant is a really good player, I knew before the round it was going to be a tight match. I told people we would play extra holes," Powell said. Powell had some work to do to make his prediction come to fruition. Smith claimed a two-up lead with five holes to play. "I told myself to trust my swing. I had a great caddie [medalist Tripp Summerlin] help me through it all." The No. 10 seed evened the match on the 18th to push the match to a 19th hole. Smith put the pressure on by knocking his approach on No. 1, the 19th hole, to twenty feet. Powell stepped up to the plate and hit it inside of Smith, giving himself a great look at birdie. Smith was unable to convert and Powell seized the opportunity. "I knew a birdie to finish him on the first hole would be huge, giving me all the momentum going into the next round." Powell said after converting his birdie putt to win one up.
Dalton Mauldin of Sanford was waiting for Powell in the quarterfinals. Mauldin controlled his morning match with upset minded Joey Funderburg of Wilmington, eventually closing him out 3&2. However, he ran into a confident Powell. "My mentality definitely changed. That winning putt gave me tons of confidence," Powell said. Mauldin continued his impressive play into the quarterfinals taking a one-up lead after birding the par-3 3rd. Powell squared the match with a birdie of his own on the 4th and built a 2 up lead at the turn. "I know Dalton is a good player and it was going to take a tough round to knock him off. I knew I had to put my foot down and come back early," the recent high school graduate said. Powell turned in an excellent round, rarely missing a fairway and finding all but two greens in regulation. The consistent play eventually wore down Mauldin, as Powell won 5&4. The Greensboro College commit had a frustrating end to his high school career, making this run to the semifinals all the more meaningful. "I did not make the state tournament as an individual this year. The confidence I've gained all week has helped my so much. I thank all of the guys I have played this week. Specifically this will help me mentally and physically heading to Greensboro College," Powell said. The plan to keep the run going tomorrow is simple, "fairways and greens," he added.


Rhodes Karriker of Matthews

Karriker earned the No. 43 match play seed with a qualifying score of 3-over-par 75. Karriker is a rising senior at Charlotte Christian School and after squeezing under the cut line by one shot, the 17-year-old has proven that he can hold his own in match play.
His quarterfinals match with Alex Huml of Cary was close for most of the afternoon, as neither player was ever more than 2 up. Together, Karriker and Huml converted 11 birdies in just 16 holes. As a testament to the level of golf that was played between the two, par was never good enough to win a hole. Each hole victory was claimed with a birdie. Huml jumped out to an early lead, birding the first two holes and going 2 up. Karriker quickly battled back and once he took the lead on the 7th, he never lost another hole. Karriker closed Huml out in style by draining a 30 foot birdie putt on the 16th to win 3&2. He credits his chipping to the success he has had so far this week. "My chipping has been great all week and it has really kept my momentum going." Although Huml proved to be a tough opponent, Karriker was able to outlast the 15-year-old and advance to the semifinals.
Karriker is currently ranked 109th among junior boys in North Carolina.

Scoring will be provided by the CGA throughout the championship, offering hole-by-hole scoring updates of the final matches. Live updates will also be available on the CGA's official Twitter accounts, @cgagolf1909 and @CarolinasJunior. Continue to visit the CGA website throughout this championship and all year long for complete championship coverage including scores, interviews, photos, and recaps.
49th North Carolina Junior Boys' Championship
Wilson Country Club
June 23, 2016

(Round of 16)
Jack Massei, Cary, N.C. (1) def. Tim Bunten, Concord, N.C. (16), 3 and 2
Ben Woodruff, Huntersville, N.C. (41) def. Matthew Sharpstene, Asheville, N.C. (8), 1 up
Nicholas Lyerly, Salisbury, N.C. (45) def. Avery Price, Gastonia , N.C. (4), 6 and 5
Alex Goff, Kings Mountain, N.C. (5) def. Lansdon Robbins, Davidson, N.C. (12), 2 and 1
Dalton Mauldin, Sanford, N.C. (15) def. Joey Funderburg, Wilmington, N.C. (31), 3 and 2
Grant Powell, Colfax, N.C. (10) def. Grant Smith, Charlotte, N.C. (7), 19 holes
Alex Huml, Cary, N.C. (51) def. Michael Childress, Salisbury, N.C. (3), 1 up
Rhodes Karriker, Matthews, N.C. (43) def. Zach Caudill, Wilkesboro, N.C. (6), 1 up
(Quarterfinal)
Ben Woodruff, Huntersville, N.C. (41) def. Jack Massei, Cary, N.C. (1), 2 and 1
Alex Goff, Kings Mountain, N.C. (5) def. Nicholas Lyerly, Salisbury, N.C. (45), 1 up
Grant Powell, Colfax, N.C. (10) def. Dalton Mauldin, Sanford, N.C. (15), 5 and 4
Rhodes Karriker, Matthews, N.C. (43) def. Alex Huml, Cary, N.C. (51), 3 and 2
NC Junior Boys' Match Play -- (Semifinal)
Matches Starting on Tee: 1
Time
Seed
Player A
Seed
Player B
8:00 am
41
(75) Ben Woodruff, Huntersville, N.C. (2018)
vs.
5
(70) Alex Goff, Kings Mountain, N.C. (2018)
8:10 am
10
(71) Grant Powell, Colfax, N.C. (2016)
vs.
43
(75) Rhodes Karriker, Matthews, N.C. (2017)
CHAMPIONSHIP SCHEDULE
Friday, June 24
8:00 a.m. – 8:10 a.m. Semifinal matches
12:30 p.m. Championship match
*Schedule subject to change.

About Wilson Country Club
Wilson Country Club was opened in May 1915 on the site that is currently known as Willow Springs Country Club. The club grew at a rapid rate following WWII and the size of the membership eventually grew too large for its initial home. Unable to expand the facilities, the club moved across town to its current site in 1973. Mr. William Byrd designed the new layout that we are so proud of today. Mr. Byrd designed and remodeled over 100 golf courses during his career which panned nearly five decades. His Wilson Country Club design still receives rave reviews for its beauty and overall playability. We have hosted eight Carolinas Golf Association majors: 2010 NC Men's Amateur, 2009 NCWGA Ladies' State Amateur, several US Open qualifiers, Web.Com Tour qualifiers, our annual Two Ball Invitational and The Buddy, our annual Pro-Am Invitational.
Wilson Country Club underwent a renovation in 2005 to modernize the course and improve the putting surfaces. The renowned architect Mr. John Lafoy was chosen to do the renovation and work began in May, 2005. John Lafoy has redesigned over 100 golf courses throughout the country and has redesigned many classic layouts, including those of architects A.W. Tillinghast, Alistair Mackenzie, Seth Raynor, Charles Blair MacDonald and numerous Donald Ross designs. The redesign of Wilson Country Club has certainly made it one of the finest golf courses in North Carolina.
About the Carolinas Golf Association (CGA)
The CGA is a 501(c)(3) not-for-profit educational organization that was founded in 1909 to promote and to protect the game of golf in the Carolinas by providing competitions, education, support and benefits to golf clubs and golfers. The CGA is the second largest golf association in the country with over 700 member clubs represented by nearly 150,000 individuals.
The CGA annually conducts 43 championships and five team match competitions for men, women, juniors, and seniors. It also runs over 140 One-Day (net and gross) events and qualifying for USGA national championships. The CGA serves golf in the Carolinas with numerous programs such as: the USGA Handicap System; tournament management software and support; course measuring and course/slope ratings; agronomy consultation; answers about the Rules of Golf, Rules of Amateur Status, and Handicapping; Carolinas Golf Magazine; Interclub series; Tarheel Youth Golf Association; Carolinas Golf Hall of Fame; expense assistance for USGA Junior and Girls' Junior qualifiers from the Carolinas; and the Carolinas Golf Foundation (CGF). The CGF has distributed more than $1,500,000 since 1977 to benefit Carolinas' golf initiatives including junior and women's programs.
For more information about the CGA, visit our website.
##30##