Hawkins wins 20th NC Junior Girls'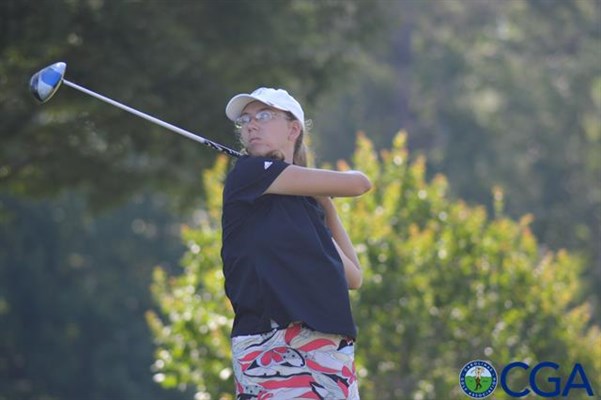 Final results of the 20th NC Junior Girls' Championship hosted by Country Club of Salisbury in Salisbury, NC on Friday, June 17, 2016 (5,923 yards, Par 36-36--72, (74.8/130).
Emily Hawkins of Lexington, NC had a tough road to the championship, but defeated the qualifying medalist Riley Smyth of Cary, NC and the defending champion Grace Massengill of Hickory, NC to win the 20th NC Junior Girls' Championship at CC of Salisbury in Salisbury, NC. Hawkins, a high school junior, beat Smyth 2 and 1 in the morning's semifinal's match and then captured her first CGA junior championship title defeating Massengill 4 and 3 in the championship match. "It was a lot of fun, lot of pressure but lots of fun and I really like the format. I just tried to keep pushing and just keep winning holes" said Hawkins. Massengill reached the finals by defeating 2014 NC Junior Girls' champion Grace Yatawara of Salisbury, NC 3 and 1.
In the championship match, Hawkins never trailed in her match with Massengill. A par on the second hole gave Hawkins a one up lead and then went two up through seven with a two putt birdie on the converted par five. Another birdie on the par four eighth hole pushed Hawkins's lead to three up. On the tenth hole Massengill's drive found the right trees leading to a bogey and Hawkins moved to four up. Massengill got one back with a birdie on 12, but Hawkins answered on 13 with a birdie on the par five and went back four up. Massengill again found trouble off the tee on the par three 15, but was able to get up and down for par from the water hazard to halve the hole. Hawkins then closed out the match in style winning the par five with a text book birdie.
With the win Hawkins earns an invitation to represent the Carolinas in the Mid-Atlantic Girls' Team matches at Williamsburg GC in Williamsburg, VA on July 30-31, 2016.
Match Play Results
Finals
(151) Emily Hawkins, Lexington, N.C. (2018) def. (DC) Grace Massengill, Hickory, N.C. (2016), 4 and 3
Semifinals
(DC)Grace Massengill, Hickory, N.C. (2016) def. (147) Grace Yatawara, Salisbury, N.C. (2016), 3 and 1
(151)Emily Hawkins, Lexington, N.C. (2018) def. (141) Riley Smyth, Cary, N.C. (2018), 2 and 1
Quarterfinals
(DC) Grace Massengill, Hickory, N.C. (2016) def. (149) Callista Rice, Mars Hill, N.C. (2017), 4 and 2
(147) Grace Yatawara, Salisbury, N.C. (2016) def. (143) Rachel Kuehn, Asheville, N.C. (2019), 22 holes
(141) Riley Smyth, Cary, N.C. (2018) def. (148) Katherine Schuster, Kill Devil Hills, N.C. (2021) 20 holes
(151) Emily Hawkins, Lexington, N.C. (2018) def. (142) Madison Isaacson, Greensboro, N.C. (2018), 4 and 3
Round of 16
(DC) Grace Massengill, Hickory, N.C. (2016) def. (154) Anna McDonald, Hickory, N.C. (2019), 1 up
(149) Callista Rice, Mars Hill, N.C. (2017) def. (148) Kathryn Carson, Mooresville, N.C. (2017), 2 and 1
(143) Rachel Kuehn, Asheville, N.C. (2019) def. (157) Nicole Adam, Pinehurst, N.C. (2020), 4 and 3
(147) Grace Yatawara, Salisbury, N.C. (2016) def. (152) Elizabeth Nguyen, Pinehurst, N.C. (2017), 2 and 1
(141) Riley Smyth, Cary, N.C. (2018) def. (155) Ryann Sinclair, Mooresville, N.C. (2019), 2 and 1
(148) Katherine Schuster, Kill Devil Hills, N.C. (2021) def. (160) Muskan Uppal, Cornelius, N.C. (2019), 4 and 3
(142) Madison Isaacson, Greensboro, N.C. (2018) def. (154) Haeley Wotnosky, Wake Forest, N.C. (2018), 3 and 2
(151) Emily Hawkins, Lexington, N.C. (2018) def. (148) Samantha Vodry, Mooresville, N.C. (2016), 1 up
Round of 32
(DC) Grace Massengill, Hickory, N.C. (2016) def. (165) Rachael Mast, Lexington, N.C. (2017), 3 and 2
(154) Anna McDonald, Hickory, N.C. (2019) def. (155) Hailey Joy, Reidsville, N.C. (2018), 6 and 5
(148) Kathryn Carson, Mooresville, N.C. (2017) def. (160) Hannah Rose Bruxvoort, Chapel Hill, N.C. (2018), 8 and 6
(149) Callista Rice, Mars Hill, N.C. (2017) def. (160) Sasha Hayes, Winston Salem, N.C. (2020), 5 and 4
(143) Rachel Kuehn, Asheville, N.C. (2019) def. (162) Channing Hensley, Wake Forest, N.C. (2018), 4 and 3
(157) Nicole Adam, Pinehurst, N.C. (2020) def. (153) Parker Melting, Mint Hill, N.C. (2018), 19 holes
(147) Grace Yatawara, Salisbury, N.C. (2016) def. (162) Janie Gooch, Raleigh, N.C. (2017), 7 and 6
(152) Elizabeth Nguyen, Pinehurst, N.C. (2017) def. (158) Taylor Hinson, Belmont, N.C. (2017), 23 holes
(141) Riley Smyth, Cary, N.C. (2018) def. (165) Alexis Jarrell, Davidson, N.C. (2018), 3 and 2
(155) Ryann Sinclair, Mooresville, N.C. (2019) def. (154) Natalie Petersen, Holly Springs, N.C. (2017), 3 and 2
(148) Katherine Schuster, Kill Devil Hills, N.C. (2021) def. (162) Mackenzie Battle, Aberdeen, N.C. (2018), 2 up
(160) Muskan Uppal, Cornelius, N.C. (2019) def. (151) Hailey Freedman, Chapel Hill, N.C. (2018), 3 and 2
(142) Madison Isaacson, Greensboro, N.C. (2018) def. (164) Riley Hamilton, Reidsville, N.C. (2020), 20 holes
(154) Haeley Wotnosky, Wake Forest, N.C. (2018) def. (156) Michelle Harn, Charlotte, N.C. (2019), 1 up
(148) Samantha Vodry, Mooresville, N.C. (2016) def. (162) Keri Kenkel, Charlotte, N.C. (2017), 3 and 2
(151) Emily Hawkins, Lexington, N.C. (2018) def. (159) Sophie Holland, Cornelius, N.C. (2020), 4 and 2
Stroke Play Qualifying Results (5,923 yards, par 72, 74.8/130)
| | | |
| --- | --- | --- |
| 1 | Riley Smyth (2018) Cary, NC | 69-72--141 |
| 2 | Madison Isaacson (2018) Greensboro, NC | 70-72--142 |
| 3 | Rachel Kuehn (2019) Asheville, NC | 69-74--143 |
| 4 | Grace Yatawara (2016) Salisbury, NC | 78-69--147 |
| T5 | Kathryn Carson (2017) Mooresville, NC | 74-74--148 |
| | Samantha Vodry (2016) Mooresville, NC | 71-77--148 |
| | Katherine Schuster (2021) Kill Devil Hills, NC | 76-72--148 |
| 8 | Callista Rice (2017) Mars Hill, NC | 78-71--149 |
| T9 | Emily Hawkins (2018) Lexington, NC | 78-73--151 |
| | Hailey Freedman (2018) Chapel Hill, NC | 77-74--151 |
| 11 | Elizabeth Nguyen (2017) Pinehurst, NC | 76-76--152 |
| 12 | Parker Melting (2018) Mint Hill, NC | 77-76--153 |
| T13 | Haeley Wotnosky (2018) Wake Forest, NC | 82-72--154 |
| | Anna McDonald (2019) Hickory, NC | 77-77--154 |
| | Natalie Petersen (2017) Holly Springs, NC | 79-75--154 |
| T16 | Ryann Sinclair (2019) Mooresville, NC | 78-77--155 |
| | Hailey Joy (2018) Reidsville , NC | 76-79--155 |
| 18 | Michelle Harn (2019) Charlotte, NC | 82-74--156 |
| 19 | Nicole Adam (2020) Pinehurst, NC | 82-75--157 |
| 20 | Taylor Hinson (2017) Belmont, NC | 81-77--158 |
| 21 | Sophie Holland (2020) Cornelius, NC | 83-76--159 |
| T22 | Muskan Uppal (2019) Cornelius, NC | 86-74--160 |
| | Hannah Rose Bruxvoort (2018) Chapel Hill, NC | 80-80--160 |
| | Sasha Hayes (2020) Winston Salem, NC | 77-83--160 |
| T25 | Mackenzie Battle (2018) Aberdeen, NC | 77-85--162 |
| | Janie Gooch (2017) Raleigh , NC | 81-81--162 |
| | Channing Hensley (2018) Wake Forest, NC | 81-81--162 |
| | Keri Kenkel (2017) Charlotte, NC | 84-78--162 |
| 29 | Riley Hamilton (2020) Reidsville, NC | 83-81--164 |
| T30 | Alexis Jarrell (2018) Davidson, NC | 78-87--165 |
| | Rachael Mast (2017) Lexington, NC | 86-79--165 |
| | DID NOT ADVANCE TO MATCH PLAY | |
| 33 | Lauren Martin (2020) Mooresville, NC | 82-85--167 |
| T34 | Mary Slade White (2019) Winston Salem, NC | 85-83--168 |
| | Ana Tsiros (2019) Asheville, NC | 82-86--168 |
| 36 | Nicole Kramer (2018) Charlotte, NC | 85-85--170 |
| 37 | Charleigh Hodges (2018) Mooresville, NC | 78-93--171 |
| 38 | Taylor Williams (2017) Lincolnton, NC | 87-85--172 |
| 39 | Mallory Fobes (2019) East Bend, NC | 95-78--173 |
| 40 | Taylor Cozart (2016) Taylorsville, NC | 89-85--174 |
| 41 | Samantha DeBusk (2017) Lexington, NC | 88-87--175 |
| 42 | Shalie Williams (2018) Shawboro, NC | 91-85--176 |
| T43 | Danielle Mirovich (2017) Mount Pleasant, NC | 89-89--178 |
| | Erica Boyd (2020) Charlotte, NC | 86-92--178 |
| | Morgan Ketchum (2022) Winston-Salem, NC | 93-85--178 |
| 46 | Michaela Cox (2017) Greensboro, NC | 90-91--181 |
| 47 | Madison Harriman (2017) High Point, NC | 99-84--183 |
| 48 | Anna Bonifay (2017) Pfafftown, NC | 94-92--186 |