NC Match Play Q Pilot Knob Results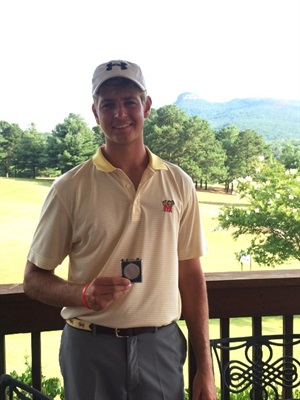 Reilly Erhardt, Greensboro, NC
PILOT MOUNTAIN, NC – Sectional qualifying results of the 7th North Carolina Amateur Match Play Championship hosted by Pilot Knob Park Golf Club in Pilot Mountain, NC on Saturday, July 30, 2016 (6,400 yards, Par 35-35—70, (69.5/130).
Reilly Erhardt of Greensboro, NC and shot 4-under par 66 to earn medalist honors.
The cut line fell to 6-over par 76 as 18 players advanced to the 7th NC Match Play Championship to be hosted on August 10-14 at Mid-Pines Golf and Inn in Southern Pines, NC.
Qualifying Results
Place

Competitor

Score

1

Reilly Erhardt, Greensboro, N.C.

34-32--66 (-4)

2

Caleb Keck, Reidsville, N.C.

33-37--70 (Even)

T3

Anthony Perrino, Mooresville, N.C.

36-36--72 (+2)

T3

Thomas Setzer, Winston-Salem, N.C.

35-37--72 (+2)

T3

Matt McDonagh, Winston-Salem, N.C.

36-36--72 (+2)

T3

Jordan Ford, Cary, N.C.

38-34--72 (+2)

T7

Mr. Austin Northern, Blowing Rock, N.C.

40-33--73 (+3)

T7

Dalton Tyler Berry, Pine Hall, N.C.

35-38--73 (+3)

T9

Jordan Vogler, Pilot Mountain, N.C.

38-36--74 (+4)

T9

Austin Harrill, Hickory, N.C.

36-38--74 (+4)

T9

Brent McKenzie, Wake Forest, N.C.

38-36--74 (+4)

T9

Michael A Oliverio, Charlotte, N.C.

39-35--74 (+4)

T9

Richard Youden, Winston-Salem, N.C.

35-39--74 (+4)

T14

Dylon Wooten, Sparta, N.C.

36-39--75 (+5)

T14

Peter Melvin, Charlotte, N.C.

37-38--75 (+5)

T16

Matthew Spruill, Elizabeth City, N.C.

38-38--76 (+6)

T16

Tyler Payne, Mt. Airy, N.C.

35-41--76 (+6)

T16

Matthew Canavan, Raleigh, N.C.

39-37--76 (+6)

Failed to Qualify

19

Justin Lambiase, Raleigh, N.C.

37-40--77 (+7)

T20

Zack Learned, Wake Forest, N.C.

41-37--78 (+8)

T20

Reagan Fitzgibbons, Mt. Airy, N.C.

41-37--78 (+8)

T22

Zach Joines, Wilkesboro, N.C.

38-41--79 (+9)

T22

Michael Cowley, Cary, N.C.

38-41--79 (+9)

T22

Garrett Simpson, Shelby, N.C.

37-42--79 (+9)

T25

Scott Neely, Pfafftown, N.C.

43-39--82 (+12)

T25

Austin Stout, Ramseur, N.C.

39-43--82 (+12)

27

Harvey Allen, Fayetteville , N.C.

42-41--83 (+13)

28

John Derrick, Greensboro, N.C.

44-41--85 (+15)

29

Brooks Golba, Huntersville, N.C.

40-49--89 (+19)

T30

Tom Nolan, Greensboro, N.C.

NS-NS--NS (NS)

T30

Tim Gambrell, Davidson, N.C.

WD-WD--WD (WD)