NC Match Play Q Pinewood Results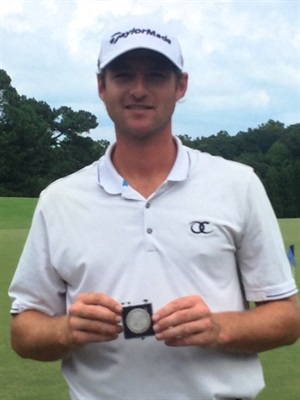 Nathan Young from Oak Ridge, NC
ASHEBORO, NC – Sectional qualifying results of the 7th North Carolina Amateur Match Play Championship hosted by Pinewood Country Club in Asheboro, NC on Wednesday, August 3, 2016 (6,789 yards, Par 36-36—72, (73.5/137).
Nathan Young of Oak Ridge, NC and shot 3-under par 69 to earn medalist honors.
The cut line fell to 6-over par 78 as 20 players advanced to the 7th NC Match Play Championship to be hosted on August 10-14 at Mid-Pines Golf and Inn in Southern Pines, NC.
Qualifying Results
Place

Competitor

Score

1

Nathan Young, Oak Ridge, N.C.

37-32--69 (-3)

2

Michael Freeman, Asheville, N.C.

35-35--70 (-2)

3

Riley Davis, Kinston, N.C.

37-34--71 (-1)

T4

Kyle Clemmons, Morganton, N.C.

36-36--72 (Even)

T4

Aaron York, Durham, N.C.

34-38--72 (Even)

6

Jake Golliday, Pinehurst, N.C.

39-34--73 (+1)

T7

Tanner Gross, Archdale, N.C.

38-36--74 (+2)

T7

Joseph Cansler, Clemmons, N.C.

37-37--74 (+2)

T7

Alex Burris, Greensboro, N.C.

36-38--74 (+2)

T7

Attie Giles, Pinehurst, N.C.

37-37--74 (+2)

T11

Drew Johnson, Oak Ridge, N.C.

39-36--75 (+3)

T11

Ben O'Geary, Henderson, N.C.

36-39--75 (+3)

T11

Michael Murray Jr, Greensboro, N.C.

37-38--75 (+3)

T14

Thomas Hodges, Waxhaw, N.C.

38-38--76 (+4)

T14

Nick Kroustalis, Clemmons, N.C.

37-39--76 (+4)

T16

Brad Dawson, Mebane, N.C.

40-38--78 (+6)

T16

Alex Cauble, Belmont, N.C.

38-40--78 (+6)

T16

Steven Dougherty, Pinehurst, N.C.

39-39--78 (+6)

T16

Kevin Womack, Burlington, N.C.

38-40--78 (+6)

T16

Justin Lewis, High Point, N.C.

40-38--78 (+6)

Failed to Qualify

T21

Blair Bowland, Burlington, N.C.

36-43--79 (+7)

T21

Brantley Phillips, Greensboro, N.C.

43-36--79 (+7)

T21

William Carter, Laurinburg, N.C.

43-36--79 (+7)

24

Anthony Johnson, Goldston, N.C.

39-41--80 (+8)

T25

Candler Rice, Asheville, N.C.

39-42--81 (+9)

T25

Todd Owens, Cary, N.C.

42-39--81 (+9)

T27

Griffin Cryan, Pinehurst, N.C.

44-38--82 (+10)

T27

Harrison Frye, High Point, N.C.

43-39--82 (+10)

T27

Jordan Taylor, Troy, N.C.

42-40--82 (+10)

30

Christian Cichan, Charlotte, N.C.

47-38--85 (+13)

T31

Wesley Lineberry, Walnut Cove, N.C.

46-40--86 (+14)

T31

Brad Raczenski, Kernersville, N.C.

45-41--86 (+14)

T33

Matt Ellzey, Apex, N.C.

46-41--87 (+15)

T33

Will Beischer, Durham, N.C.

46-41--87 (+15)

35

Mr. Dara P O'Neill, Wilmington , N.C.

NS-NS--NS (NS)