Edmondson/Byman Wire to Wire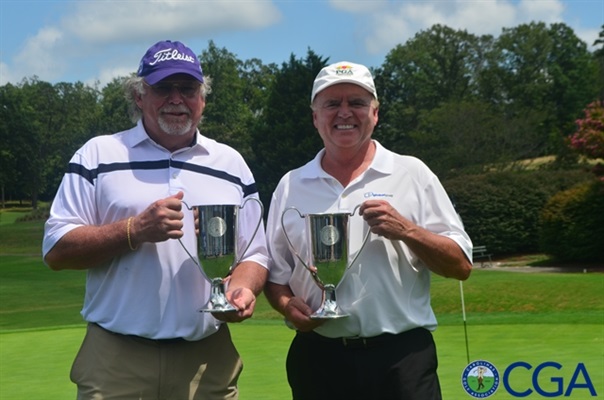 Preston Edmondson of Morrisville and Ed Byman of Raleigh went wire-to-wire to win the 16th NC Senior Four-Ball Championship hosted by Mimosa Hills Golf Club in Morganton. Edmondson and Byman fired a tournament low 62 in the first round and never looked back as they both captured their first CGA Championship.
"What a great week, it was not the greatest weather but the course was in great shape so everyone had fun," Byman said. After a second round 66 the duo led by four over John Fritz and Doug Meggs both of Mint Hill and Tom Fagerli of Yadkinville and Bill Long of Ahoskie. The second round leaders quickly saw their lead shrink to one stroke as Fritz and Meggs came out hot birding four of their first five holes. "It took us awhile to get going and those two came at us with all those birdies to start," Byman said. The leaders were to make birdies on No. 7, 9, 10, 12, and 14. "We really got it going during that middle stretch. Once we found our rhythm we kept it going and created some separation," Byman continued. With his partner in trouble off the tee on No. 18, Edmondson hit his approach to six feet and rolled in the birdie putt for a round of seven-under-par 65. That gave the tandem a championship total of 23-under-par 197 which was more than enough to claim their first CGA championship.
There were a host of teams that finished at 19-under-par, tied for second. Frank Golden of Charlotte and Macon Moye of Pinehurst used a round of 64 to join the group sharing runner-up honors. Paired along with Golden and Moye were Robby Kirby and Nolan Mills III both Charlotte. Kirby and Mills made their way around the course in 64 strokes as well, to place them in a tie for second. Charlie Parks of Asheboro and Doug Owens of Albemarle posted the second lowest round of the day to also vault into the tie for second.
Joe Stepp and Vic Glenn both of Hickory had the round of the day, tying the tournament low with a 62, which was capitalized with an ace on the ninth hole by Joe Stepp as he hit a 5-iron from 176 for the hole-in-one. Their 62 propelled them into 5th place. Another ace was recorded by Joe Davis of Gastonia as he hit an 8-iron from 158 yards on No. 6. Davis and his partner Joel Campanella of Huntersville finished 8th.
The CGA would like to thank the members at Mimosa Hills for their generosity. We would also like to thank Head Professional Jimmy Piercy, Head Superintendent Dan Winters, Professional Emeritus Dan Dobson and their staffs for their help throughout the week. Next year's championship is scheduled at Benvenue Country Club in Rocky Mount, N.C.
The North Carolina Senior Four-Ball Championship is open to any male amateur golfer who has reached his 55th birthday by August 3, 2016, is a resident of North Carolina, is a member in good standing of a club which is a member of the Carolinas Golf Association and has an active USGA Handicap Index® at a CGA member club.
Final Results
Place

Team

Score

1

Preston Edmondson, Morrisville, N.C. - Ed Byman, Raleigh, N.C.

62-66-65--193 (-23)

T2

Frank Golden, Charlotte, N.C. - Macon Moye, Pinehurst, N.C.

66-67-64--197 (-19)

T2

Charlie Parks, Asheboro, N.C. - Doug Owens, Albemarle, N.C.

67-67-63--197 (-19)

T2

Robby Kirby, Charlotte, N.C. - Nolan Mills III, Charlotte, N.C.

66-67-64--197 (-19)

5

Joe Stepp, Hickory, N.C. - Vic Glenn, Hickory, N.C.

68-68-62--198 (-18)

6

John Fritz, Mint Hill, N.C. - Doug Meggs, Mint Hill, N.C.

66-66-67--199 (-17)

7

Bill Plyler, Charlotte, N.C. - Neal Morrison, Charlotte, N.C.

63-71-66--200 (-16)

8

Joe Davis, Gastonia, N.C. - Joel Campanella, Huntersville, N.C.

68-70-63--201 (-15)

9

David Eaker, Forest City, N.C. - Steve Wilson, Wilmington, N.C.

68-65-69--202 (-14)

T10

Brian Reep, Morganton, N.C. - Jim Johnson, Newton, N.C.

68-70-65--203 (-13)

T10

Keith Waters, Raleigh, N.C. - John Rudolph, Charlotte, N.C.

67-69-67--203 (-13)

T10

Phil Bland, Waynesville, N.C. - Kim Russell, Pinehurst, N.C.

68-66-69--203 (-13)

T10

Ron Carpenter, Creedmoor, N.C. - Gary Brown, Charlotte, N.C.

65-68-70--203 (-13)

T10

Tom Fagerli, Yadkinville, N.C. - Bill Long, Ahoskie, N.C.

66-66-71--203 (-13)

T10

Randy Beeson, Colfax, N.C. - Arlis Pike, Kernersville, N.C.

66-69-68--203 (-13)

T16

Cliff Seastrunk, Raleigh, N.C. - Lennie Barton, Raleigh, N.C.

69-66-69--204 (-12)

T16

Keith Bowers, Morganton, N.C. - Jerry Baker, Valdese, N.C.

66-67-71--204 (-12)

T18

Mark Stephens, Troutman, N.C. - Russ Perry, Winston Salem, N.C.

69-71-65--205 (-11)

T18

Ernie Newton, Winston Salem, N.C. - Larry Boswell, Jamestown, N.C.

69-69-67--205 (-11)

T18

Jerry Sennett, Stanley, N.C. - Bradford Kroll, Charlotte, N.C.

73-66-66--205 (-11)

T18

Steve Lambert, Greensboro, N.C. - Garland Yates, Asheboro, N.C.

65-71-69--205 (-11)

T18

Lawrence Hicks, Greensboro, N.C. - Bob Yow, Clinton, N.C.

68-67-70--205 (-11)

T18

Kim Mansfield, High Point, N.C. - David Millis, High Point, N.C.

67-69-69--205 (-11)

T18

Ed Donlin, Concord, N.C. - Rick Kline, Pinehurst, N.C.

66-69-70--205 (-11)

T25

Robbie Armistead, Raleigh, N.C. - David Craig, Wake Forest, N.C.

67-70-69--206 (-10)

T25

David Watterworth, Charlotte, N.C. - Greg Powell, Charlotte, N.C.

69-69-68--206 (-10)

27

Dave Davis, Pinehurst, N.C. - Rodney Brecheisen, Pinehurst, N.C.

69-71-67--207 (-9)

T28

Andy Burnette, Raleigh, N.C. - Don Detweiler, Raleigh, N.C.

68-69-71--208 (-8)

T28

Johnny Elam, Charlotte, N.C. - Stephen Grice, Charlotte, N.C.

72-66-70--208 (-8)

T28

Steve Joyce, Denver, N.C. - David Boaz, Denver, N.C.

67-70-71--208 (-8)

T31

Rick LaFata, Raleigh, N.C. - Bill Martinson, Chapel Hill, N.C.

66-74-70--210 (-6)

T31

Mike Twilley, Greensboro, N.C. - Mark Hawley, New London, N.C.

69-71-70--210 (-6)

T31

Terry Rathman, Gastonia, N.C. - Richard Condrey, Nebo, N.C.

71-69-70--210 (-6)

T31

Terry Mcgowan, Charlotte, N.C. - Jere Vodenicker, West Jefferson, N.C.

70-70-70--210 (-6)

35

Phil Blake, Asheville, N.C. - Edward Mills, Fairview, N.C.

70-68-75--213 (-3)

T36

Alan Dirk, Sanford, N.C. - Stephen Glaser, Sanford, N.C.

71-69-WD

T36

Gene Queen, Advance, N.C. - Mark Robinson, Winston-Salem, N.C.

69-71-WD

Failed to Qualify for Final Round

T38

Robert Desjardins, Matthews, N.C. - Bill Boles Jr., Wilson, N.C.

71-70 (-3)

T38

Jim Gallagher, Charlotte, N.C. - Wesley Clark, Charlotte, N.C.

71-70 (-3)

T38

Butch English, Cornelius, N.C. - Jeff Rausch, Charlotte, N.C.

69-72 (-3)

T38

Lennie Younce, Lenoir, N.C. - Tim Whitener, Hickory, N.C.

68-73 (-3)

T38

Roger Taylor, Conover, N.C. - Jim Pridgen, Jamestown, N.C.

70-71 (-3)

T38

Johnny Adams, Cary, N.C. - Eric Ardery, Durham, N.C.

73-68 (-3)

T44

Van Pernell, Hickory, N.C. - Dr. Kevin Brown, Hickory, N.C.

74-68 (-2)

T44

Steven Johnson, Jefferson, N.C. - David G Lane, Advance, N.C.

68-74 (-2)

T44

Elton Trent, Reidsville, N.C. - Arch Reed, Pinehurst, N.C.

74-68 (-2)

T44

Jim Hunsuck, Statesville, N.C. - Michael McDowell, Charlotte, N.C.

72-70 (-2)

T48

Phil Chamberlain Sr., Hickory, N.C. - Bill Beuttell, Newland, N.C.

71-72 (-1)

T48

Mark Miller, Morganton, N.C. - Chris Stephens, Morganton, N.C.

71-72 (-1)

T48

Rick Chapman, Granite Falls , N.C. - Marvin Everett, Hickory , N.C.

73-70 (-1)

T48

David Simpson, Morganton, N.C. - Terry Rogers, Morganton, N.C.

74-69 (-1)

T48

Rick Clanton, Valdese, N.C. - Chip Black, Valdese, N.C.

72-71 (-1)

T48

Mark Wagner, Statesville, N.C. - Dr Dick Hogan, Burlington, N.C.

74-69 (-1)

T48

Rob Campbell, Charlotte, N.C. - Michael Jones, Charlotte, N.C.

71-72 (-1)

T48

Grant Hoffman, Asheboro, N.C. - John Helms, Mt. Holly, N.C.

67-76 (-1)

T56

Ray Novicki, Southern Pines, N.C. - Jack Nance, Pinehurst, N.C.

73-71 (Even)

T56

Tom Parker, Stanley, N.C. - Ron Vincent, Sherrills Ford, N.C.

74-70 (Even)

58

Robert Surratt, Concord, N.C. - Steve Misenheimer, Huntersville, N.C.

75-70 (+1)

59

Arnold Edwards, Charlotte , N.C. - Allen Prichard, Charlotte, N.C.

71-75 (+2)

T60

Tom Kearns, Charlotte, N.C. - Ray Killian Jr, Charlotte, N.C.

76-71 (+3)

T60

James Brown, High Point, N.C. - Jim Keever, High Point, N.C.

77-70 (+3)

62

Hugh Quinn, Lewisville, N.C. - Gregor Howard, Winston-Salem, N.C.

74-74 (+4)

63

Bob Norman, Rocky Mount, N.C. - Ray Jackson, Rocky Mount, N.C.

73-76 (+5)

64

Todd Turner, West End, N.C. - Norman Davis Jr, Charlotte, N.C.

75-75 (+6)

T65

Billy Poteat, Hickory, N.C. - John Fellenz, Mars Hill, N.C.

73-78 (+7)

T65

Mike Bivins, High Point, N.C. - David Tuttle, High Point, N.C.

73-78 (+7)

67

Phillip Greene MD, Charlotte, N.C. - Steve Spiegler, Charlotte, N.C.

72-80 (+8)