New Face at N.C. Super Senior Amateur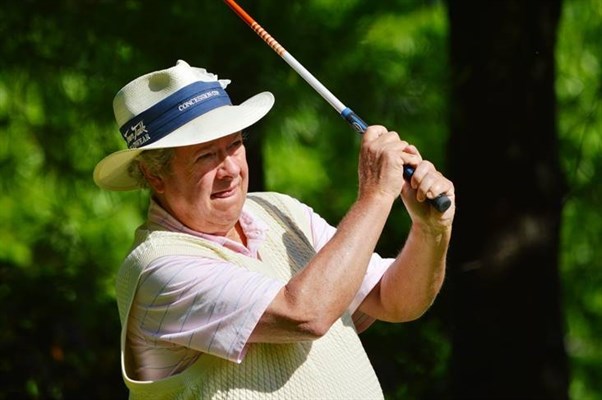 #1 ranked senior Paul Simson puts aim on claiming first super senior title
SOUTHERN PINES, N.C. (September 23, 2016) -- The Carolinas Golf Association (CGA) will conduct the 9th North Carolina Super Senior Championship at Kinston Country Club on September 27-28. The championship is conducted at 36 holes of stroke play. This will be the fourth CGA championship held at the club. Most recently, the 2014 N.C. Senior was held on its Ellis Maples designed course.
Related: Tee Times & Pairings | Hole-by-hole Scoring | Championship History
In last year's championship Bob Desjardins of Mathews made clutch putts on the final two holes at Chapel Hill Country Club to capture his second CGA Championship. Desjardins was three strokes behind first round co-leader Bob Yow of Clinton heading to the back nine but shot one-under-par to complete the comeback.
Players to Watch:
Having turned 65 in May, this is the first year that Paul Simson of Raleigh is eligible for the championship. The most decorated golfer in CGA history, Simson has not slowed down. Already this year he won the Durham Senior Am, defended his title at the N.C. Senior Amateur and claimed a record seventh Putter Boy trophy after winning the Senior Men's North & South Amateur. Last week he advanced to the Round of 16 at the U.S. Senior Amateur (an event he has won twice).
Arlis Pike of Kernersville is a three-time Carolinas Super Senior champion. Pike finished runner-up in this championship in 2013.
Ernie Newton of Winston-Salem was runner-up to Davis in this year's Carolinas Super Senior. A five-time CGA champ, Newton earned runner-up in 2014 at this championship.
Jim Pridgen of Jamestown was runner-up in 2010. A five-time CGA winner, Pridgen and Newton have teamed to win the past four Carolinas Super Senior Four-Ball titles.
Raymond Davis of Apex used back-to-back rounds of 68 to claim his first CGA championship at this year's Carolinas Super Senior.
Mark Stephens of Troutman won the Carolinas Amateur championship in 1978. Having won the 2014 N.C. Senior Four-Ball, he is looking to claim his first individual CGA senior title.
Past Champions in the Field:
Robert Desjardins, Matthews (2015)
Ron Carpenter, Creedmoor (2014)
Rick Luzar, Pinehurst (2013)
Mike Sprouts, Newton (2011)
John DeLuise, Raleigh (2009)

Entry is open to any male amateur golfer who has reached his 65th birthday by September 27, 2016, is a legal resident of North Carolina, is a member in good standing of a club which is a member of the Carolinas Golf Association and has an active GHIN® USGA Handicap Index® that does not exceed 15.4.

Full Field of Players:
| | | | |
| --- | --- | --- | --- |
| Allen, Peter, Southport, NC | | | McLauchlan, Russ, Fuquay-Varina, NC |
| Beal, Bill, Matthews, NC | | | McQueen, Bob, Fayetteville, NC |
| Beasley, Bob, Greensboro, NC | | | Messner, John, Raleigh, NC |
| Beebe, Monte, Raleigh, NC | | | Mitchell, John Jr, New Bern, NC |
| Blankenhorn, Dee, Raleigh, NC | | | Morris, Frank, Winston-Salem, NC |
| Boles, Bill Jr., Wilson, NC | | | Moser, Dave, Charlotte, NC |
| Brown, James, High Point, NC | | | Nance, Cliff, Lumberton, NC |
| Bunn, John, Raleigh, NC | | | Nevins, Joe, Chapel Hill, NC |
| Burling, Bill, Greensboro, NC | | | Newton, Ernie, Winston Salem, NC |
| Burns, Dusty, Marshallberg, NC | | | Ohrn, David, Chocowinity, NC |
| Carbone, Tom, Mooresville, NC | | | Olsen, Bob, Monroe, NC |
| Carpenter, Ron, Creedmoor, NC | | | Parks, Charlie, Asheboro, NC |
| Collins, Terry, Pinehurst, NC | | | Parrott, Jimmy, Kinston, NC |
| Couch, Lea, Bahama, NC | | | Pike, Arlis, Kernersville, NC |
| Crawford, Robert, Winston Salem, NC | | | Powell, Greg, Charlotte, NC |
| Dail, Robert, Wendell, NC | | | Pridgen, Jim, Jamestown, NC |
| Davis, Raymond, Apex, NC | | | Ross, Tom, Chocowinity, NC |
| DeLapp, Barry, Hendersonville , NC | | | Seastrunk, Cliff, Raleigh, NC |
| DeLuise, John, Raleigh, NC | | | Shannon, Gary, Southern Pines, NC |
| Desjardins, Robert, Matthews, NC | | | Simson, Paul, Raleigh, NC |
| Dirk, Alan, Sanford, NC | | | Slater, Don, Durham, NC |
| Dorsett, Brad, Mount Airy, NC | | | Smith, Spike, Pinehurst, NC |
| Edwards, Arnold, Charlotte , NC | | | Smith, Steve, Pinehurst, NC |
| Egan, Michael, Wilmington, NC | | | Smothers, Larry, Wilmington, NC |
| Eichele, Kenneth, Pinehurst, NC | | | Spiegler, Steve, Charlotte, NC |
| Eimers, Larry, Durham, NC | | | Sprouts, Mike, Newton, NC |
| Golden, Frank, Charlotte, NC | | | Stephens, Mark, Troutman, NC |
| Greene, Phillip MD, Charlotte, NC | | | Stott, Drayton, Greensboro, NC |
| Gurney, Paul, Fuquay Varina, NC | | | Stroup, Paul, Charlotte, NC |
| Hamilton, Jeff, Wilmington, NC | | | Taylor, Roger, Conover, NC |
| Hiner, William, Pinehurst, NC | | | Toothman, Dennis, Raleigh, NC |
| Hodges, Charles, Charlotte, NC | | | Turner, Todd, West End, NC |
| James, Bill, Leland, NC | | | Walters, John, Charlotte, NC |
| Kassay, Charles, New Bern, NC | | | Watterworth, David, Charlotte, NC |
| Kline, Rick, Davidson, NC | | | Westlin, Peter, Durham, NC |
| LaFata, Rick, Raleigh, NC | | | Whitmore, Larry, Charlotte, NC |
| Latham, Chuck, Vass, NC | | | Williams, David, Cary, NC |
| Leight, George Jr., Apex, NC | | | Wunsch, Chuck, Pinehurst, NC |
| Long, Dr. Evan, Charlotte, NC | | | Yates, Garland, Asheboro, NC |
| Luzar, Rick, Pinehurst, NC | | | Yow, Bob, Clinton, NC |
| Marks, Don, Leland, NC | | | Zatorski, John, Pinehurst, NC |
| McLamb, Joe, Goldsboro, NC | | | Zwicknagel, Rick, Charlotte, NC |

Competition Schedule:
Tuesday, September 27
Round 1 – 18 holes stroke play
(10:00am shotgun start)

Wednesday, September 28
Round 2 – 18 holes stroke play
(10:00am shotgun start)
Lunch and awards immediately following play for players
##30##