Moore Makes NC Sr. Women's 18th Title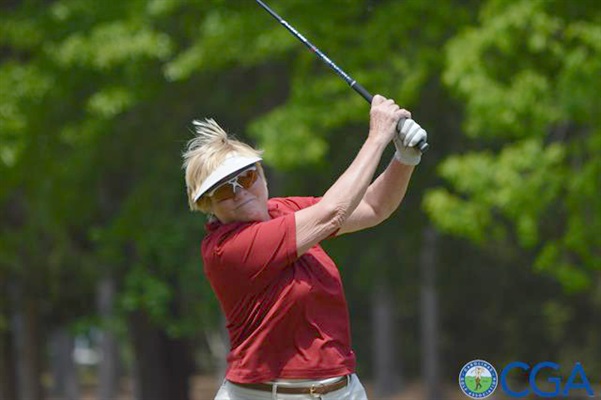 Final Results


SANFORD, N.C. (April 20, 2016) -- Final results from the 13th North Carolina Senior Women's Championship conducted by the Carolinas Golf Association (CGA) on Wednesday, April 20 at Carolina Trace Country Club's Lake Course in Sanford.

The all-time winningest women's golfer in CGA history, Patty Moore of Charlotte, added to her list of accolades Wednesday by winning the North Carolina Senior Women's Championship for a record fourth time (2004, 2008, 2014). Her twelve foot birdie putt on the final hole sealed a one shot victory for her 18th overall CGA title.
First round leader Angela Stewart of Greenville helped Moore erase the five shot deficit she faced starting the day. On the par-3 6th, Stewart's ball found the hazard three times, leading to a 13. "As soon as [Angela] did that, both mine and Pat [Brogden]'s ears perked up, like 'Oh, we are back in it'," said Moore. Stewart would finish T-4 at 17-over for the championship.
Pat Brogden of Garner has claimed this championship three times. Also playing in the final group with Stewart and Moore, she took the lead after Stewart's mishap. However, Brogden's triple bogey on hole 12 gave Moore a two shot lead. Moore would later relinquish that lead on the 17th hole, hitting her second shot over the green, making double bogey. With the players tied on the final green, Brogden would be first to putt for birdie from 15 feet. Her ball missed falling the cup by half an inch from the left edge.
Moore's converted birdie on the final hole was her fourth on Wednesday, part of the day's best round of one-over-par 73. "When [the putt] went in I felt relief, joy, satisfaction, luck, you know, all of that," she said after finishing with a two-day total of six-over 150.
Being an 18-time CGA champion, Moore is familiar with hitting putts for a chance at victory. "There are times when you are in the position to make a shot to win and you don't," said Moore, a member of the Carolinas Golf Hall of Fame. "So to be able to be in that situation and make it is special."
Defending champion Kim Briele of New Bern finished T-6 in the Championship Division at 18-over 162.
In the Carolinas Division, Sook Hee Yang of Jamestown successfully defended her title by five over Carole Jones of Hillsborough. The Carolinas Division plays a shorter course. Jones, the 2005 Carolinas Senior Women's champion, was able to repeat in the Super Senior category.

13th North Carolina Senior Women's Championship
Final Results
April 20, 2016
Championship Division (approximately 5600 yards)
1 Patty Moore, Charlotte, N.C. - 77-73--150
2 Pat Brogden, Garner, N.C. - 75-76--151
3 Peg Brady, Stanley, N.C. - 81-78--159
T4 Angela Stewart, Greenville, N.C. - 72-89--161
T4 Susan Beaupied, Pittsboro, N.C. - 86-75--161
T6 Kim Briele, New Bern, N.C. - 77-85--162
T6 Ramona Jackson, Wilmington, N.C. - 81-81--162
8 Jackie King, High Point, N.C. - 82-88--170
T9 June Wang, Huntersville, N.C. - 82-89--171
T9 Maria Malone, Greensboro, N.C. - 85-86--171
T11 Jennifer Hjalmquist, Cary, N.C. - 87-87--174
T11 Therese St Peter, Pittsboro, N.C. - 85-89--174
T13 Betty Zvarich, Fayetteville, N.C. - 91-84--175
T13 Kathy DeVore, High Point, N.C. - 91-84--175
15 Robin Gallagher, Hillsborough, N.C. - 93-86--179
16 L Bissonnette, Durham, N.C. - 95-102--197
Carolinas Division (approximately 4900 yards)
1 Sook Hee Yang, Jamestown, N.C. - 71-76--147
2 Carole Jones, Hillsborough, N.C. - 76-76--152
3 Julie Shore, Raleigh, N.C. - 78-75--153
4 Dianne Yelovich, Pinehurst, N.C. - 78-76--154
5 Ellen Ollett, Sanford, N.C. - 77-79--156
6 Cynthia Curry, Charlotte, N.C. - 81-82--163
7 Vicki DiSantis, Pinehurst, N.C. - 80-85--165
8 June Lee, Durham, N.C. - 90-78--168
9 Barbara Munnett, Winston Salem, N.C. - 84-86--170
10 Nancy Cooper, Burlington, N.C. - 78-93--171
T11 Bonnie Montgomery, Jamestown, N.C. - 88-84--172
T11 Clate Aydlett, Elizabeth City, N.C. - 87-85--172
T13 Em Clifford, Sanford, N.C. - 92-87--179
T13 Mary Rhodes, Greensboro, N.C. - 87-92--179
15 Jackie Edmunds, Greensboro, N.C. - 88-93--181
T16 Betsey Mitchell, Pinehurst, N.C. - 89-94--183
T16 Carmen Andia, Kernersville, N.C. - 91-92--183
T16 Debbie Arbogast, Chapel Hill, N.C. - 92-91--183
19 Kathy Mulligan, Mooresville , N.C. - 102-83--185
20 Dotty Lawrence, Sanford, N.C. - 94-97--191
21 Beverly Cassels, Charlotte, N.C. - 94-98--192
T22 Kay Reardon, Greensboro, N.C. - 97-96--193
T22 Lisa Bomkamp, Pinehurst, N.C. - 100-93--193
24 Peggy Hall, Belmont, N.C. - 93-101--194
25 Dollie Watson, Lexington, N.C. - 103-95--198
26 Kc Sorvari, Aberdeen, N.C. - 108-93--201
27 Misuk Bailey, Marshall, N.C. - 100-107--207

Championship Quick Facts
Event: 13th North Carolina Senior Women's Championship
Playing Dates: April 19-20
Host Site: Carolina Trace Country Club (Lake), Sanford
5,421 yards (Championship), 4,829 (Carolinas) Par 36-36--72
Format: 36-holes stroke play.
Eligibility: Any female amateur golfer who has reached her 50th birthday by April 19, 2016, is a legal resident of North Carolina, is a member in good standing of a club which is a member of the Carolinas Golf Association (CGA) and has an active GHIN® USGA Handicap Index® at a CGA member club.
About the Carolinas Golf Association (CGA)
The CGA is a 501(c)(3) not-for-profit educational organization that was founded in 1909 to promote and to protect the game of golf in the Carolinas by providing competitions, education, support and benefits to golf clubs and golfers. The CGA is the second largest golf association in the country with over 700 member clubs represented by nearly 150,000 individuals.
The CGA annually conducts 43 championships and five team match competitions for men, women, juniors, and seniors. It also runs over 140 One-Day (net and gross) events and qualifying for USGA national championships. The CGA serves golf in the Carolinas with numerous programs such as: the USGA Handicap System; tournament management software and support; course measuring and course/slope ratings; agronomy consultation; answers about the Rules of Golf, Rules of Amateur Status, and Handicapping; Carolinas Golf Magazine; Interclub series; Tarheel Youth Golf Association; Carolinas Golf Hall of Fame; expense assistance for USGA Junior and Girls' Junior qualifiers from the Carolinas; and the Carolinas Golf Foundation (CGF). The CGF has distributed more than $1,500,000 since 1977 to benefit Carolinas' golf initiatives including junior and women's programs.
For more information about the CGA, visit our website.
##30##