Holliday-Bruns Advance in SC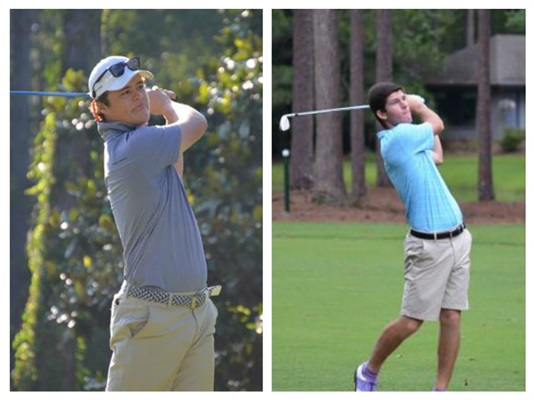 44th South Carolina Amateur Match Play Championship
Quarterfinals and Semifinals Match Play Results
HILTON HEAD ISLAND, S.C. (June 18, 2016) – Quarterfinals and Semifinals results of the 44th South Carolina Amateur Match Play Championship at Bear Creek Golf Club in Hilton Head Island on Saturday, June 18 (Par 36-36--72, 6804 yards, Course Rating: 74.2/139).
Related: Photos | Hole-by-hole Scoring | History
The top two seeds failing to reach the quarterfinals proved to foreshadow the resilience shown by lower seeds. The No. 24 seed Jarrett Grimes of Columbia won holes four through six to take control of his match against fellow Columbian John O'Brien. The No. 16 seed used strong play on the back nine to upend the medalist in his match Friday, but it was Grimes who won back-to-back holes after the turn to push his lead to five-up. O'Brien won the par-3 11th but it proved to be too little too late as Grimes won 6&5.
Parker Dudley of Charleston, the No.14 seed, continued the trend of lower seeds winning by knocking off the No.11 seed Austin Zoller of Summerville. Zoller took a one-up lead to the 10th tee but Dudley quickly evened the match by winning the 10th. Dudley did not lose a hole on the back nine and closed out the match 3&2. Connor Bruns of Duncan and Jd Hoft of Bluffton needed extra holes to decide the match. Bruns, the No. 12 seed ultimately prevailed on the 21st hole, eliminating the No. 4 seed.
Johnson Holliday of Aynor was the only higher seed to win. The No. 10 seed outlasted the No. 15 seed Tripp French of Columbia. French staved off elimination nine different times Friday so being two-down on No. 17 was no reason to worry. French did everything he could to extend the match by making birdie on No. 17 but Holliday delivered the decisive blow by matching French's birdie on No. 17 to claim a 2&1 victory.
After winning on the 21st hole Bruns moved right into his semifinal match against Grimes. The back and forth affair began with four halved holes. Grimes continued his steady play into semifinals but never grabbed a lead. However, the 2009 Carolinas Mid-Amateur champion won the next hole every time Bruns took a one-up lead. "I had so many good looks today, every now and then I converted," Bruns said. After Grimes squared the match on No. 13 the match remained squared until Bruns won the par-4, 16th. Grimes once again squared the match after Bruns hit a wayward drive on No. 17. It was Grimes who lost his drive on the 18th which eventually led to him conceding Bruns' birdie putt giving the Furman product a 1-up victory and a ticket to the Finals. Bruns admittedly lacked match play experience heading into the week, "I discussed this with my brother, I haven't played a match play event since back in high school. I have definitely learned a lot this week." Bruns explained. "In the final I plan on going for the middle of the green and take advantage when I hit a good shot."
Holliday raced out of the gate picking up the first two holes of his semifinal match against Dudley. The USC Aiken golfer extended his lead to four-up after winning the eighth. Dudley began to climb back in the match by winning the ninth. The Charleston resident continued his comeback on the back nine, eventually squaring the match with a win on No. 16. "After losing nine I knew I was still three up. It got tough when the wind kicked up. It was tough to get up and down. I got a little tired and my mental game slipped a little bit for a while." Holliday explained. Holliday regained the lead by winning the par-4,17th. That brought the match to the 18th, a hole Dudley was not very familiar with, "I closed out most of my matches before 18 so I hadn't been there much," Dudley said. That may have proved costly as Dudley hit his lay up from the fairway bunker into the water. Holliday's par was conceded giving him a 2-up victory. "I knew I could finish coming down the stretch. Tomorrow I plan on just playing the course, I know I can come out here and hang with any of these guys," Holliday said.

Tomorrow's Final Round match between Connor Bruns of Duncan and Johnson Holliday of Aynor will begin 8:00 a.m.

Scoring will be provided by the CGA throughout the Final Round, hole-by-hole scoring. Live updates and video will also be available on the CGA's official Twitter, @cgagolf1909. Continue to visit the CGA website throughout this championship and all year long for complete championship coverage including scores, interviews, photos, and recaps.
44th South Carolina Amateur Match Play Championship
Bear Creek Golf Club, Hilton Head Island, S.C.

Round -- (Quarterfinal)

Jarrett Grimes, Columbia, S.C. (24) def. John O'Brien, Columbia, S.C. (9), 5 and 4

Connor Bruns, Duncan, S.C. (12) def. Jd Hoft, Bluffton, S.C.(4) 21 holes

Johnson Holliday, Aynor, S.C. (10) def. Tripp French, Columbia, S.C. (15), 2 and 1

Parker Dudley, Charleston, S.C. (14) def. Austin Zoller, Summerville, S.C. (11) 3 and 2
| | | |
| --- | --- | --- |
| | | Round--(Semifinal) |
| | | Connor Bruns, Duncan, S.C. (12) def. Jarrett Grimes, Columbia, S.C. (24), 1 up |
| | | Johnson Holliday, Aynor, S.C. (10) def. Parker Dudley, Charleston, S.C. (14) 2 up |
Championship Schedule

Wednesday, June 15

Stroke Play Qualifying Round 1.

Thursday, June 16

Stroke Play Qualifying Round 2. Cut to low 32 scores for match play.

Friday, June 17

Round of 32 (AM) and Round of 16 (PM) match play. (18 holes each round).

Saturday, June 18

Quarterfinal (AM) and semifinal (PM) rounds of match play. (18 holes each round).

Sunday, June 19

Championship match (18 holes).
Awards ceremony immediately following play.