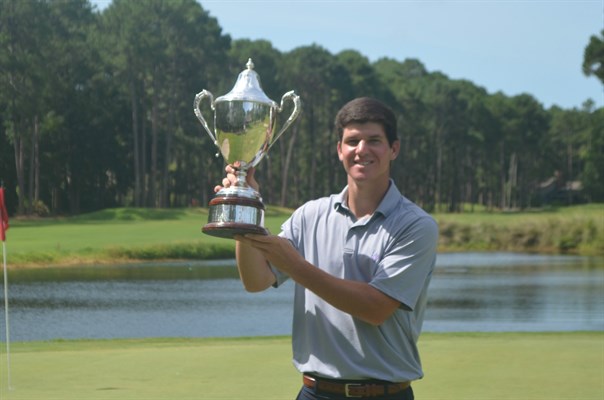 44th South Carolina Amateur Match Play Championship
Final Round Match Play Results
By Nathaniel Easton, CGA Intern
HILTON HEAD ISLAND, S.C. (June 19, 2016) – Final Round results of the 44th South Carolina Amateur Match Play Championship at Bear Creek Golf Club in Hilton Head Island on Sunday, June 19 (Par 36-36--72, 6804 yards, Course Rating: 74.2/139).
Related: Photos | Hole-by-hole Scoring | History
After a one-up victory in the semifinals Connor Bruns of Duncan decided to patiently play to the middle of the green during Sunday's Final Round match against Johnson Holliday of Aynor. The two rising college sophomores maintained their composure early in the match, each waiting for the other to make a mistake. No mistakes were made and Bruns' commitment to the center of the green paid dividends when his approach on the par-4th hole crept within six feet of the back-left hole location. The Furman product knocked in his birdie putt and took a one-up lead. Holliday hit a marvelous bunker shot on the par-3 8th that was nullified when Bruns, who was in the middle of the green again, rolled in his second birdie putt of the match to double his lead. The Duncan resident kept his foot on the gas and made yet another birdie on No. 9 to finish the front nine three-up. "Making birdies is not something that comes easy out here. I don't expect it on every hole but I kept hitting one shot at a time hoping to get good looks on the green," Bruns said.
The No. 12 seed was able to extend his lead to four-up after Holliday made a bogey that was a result of a wayward tee shot on No. 11. The USC Aiken golfer turned to his driver to help stage a comeback. Holliday piped a drive down the left side of the par-5 13th which led to a birdie which was good enough to win the hole. Both players had around ten feet for par on the 14th. Burns was away and missed, opening the door for Holliday to seize the momentum and cut the deficit to two-down. However his par putt also slipped by the hole. Bruns was within two feet for par on No. 15, essentially forcing Holliday to make his 8-footer for par to extend the match. The No. 10 seed did just that pushing the match to the par-4 16th. Holliday left a downhill slider for birdie above the hole, which did not end up mattering when Bruns sunk his birdie putt to win 4&2 and become the 44th South Carolina Amateur Match Play champion. "It was a great way to end it. I wanted to see one last putt go in, and it did," Bruns said. Winning this championship required Bruns to advance through 36 holes of stroke play and win five 18 hole matches, which left the champion, as he put it, "exhausted."
Bruns went on to thank his brother for caddying all week as well as his parents, including his father who was in attendance Sunday, giving Father's Day a special meaning. With the win Bruns gets his name engraved on the trophy and an exemption into the 102nd Carolinas Amateur Championship hosted by Country Club of Charleston July 14-17.
The Carolinas Golf Association would like to thank the members and staff at Bear Creek Golf Club for their hospitality. The CGA would especially like to thank Head Superintendent, Tommy Keating, and his staff for their hard work throughout the week.