Top Players in Field at Carolinas Sr.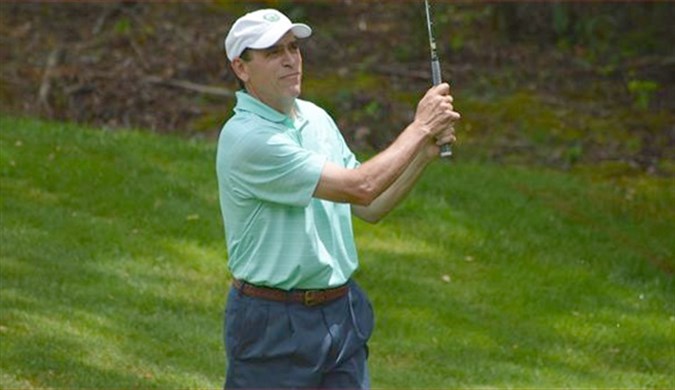 Defending champion Pat Thompson of Asheville, N.C.

SOUTHERN PINES, N.C. (September 9, 2016) -- The Carolinas Golf Association will conduct the 55th Carolinas Senior Amateur Championship at Gaston Country Club in Gastonia, N.C. from September 12-14, 2016.
Related: Tee Times & Pairings | Hole-by-hole Scoring | Championship History
120 players are expected to compete in the 55th edition of the championship. Exempt players were automatically accepted while others were required to qualify through one of five 18 hole qualifiers. The championship is conducted at 54 holes of stroke play. After 36 holes, there will be a cut to the low 60 scores and ties.
Top-ranked players in the field (as of 9/1/16):
Paul Simson of Raleigh, N.C., the number one ranked senior in the Carolinas, is the all-time winningest golfer in CGA history with 30 titles. Having registered more than 200 wins globally, in 2010 he won the British Amateur, the Canadian Amateur and the U.S. Senior Amateur. A two-time Carolinas Senior champ, Simson looks to win this event for the first time since 2008. Earlier this year he captured his eighth N.C. Senior title. Last month, Simson won his sixth North & South Senior Amateur - his eighth North & South Amateur championship - to become the all-time winningest golfer at Pinehurst.

Defending champion Pat Thompson of Asheville, N.C. is ranked 2nd among senior golfers in the Carolinas. This year Thompson captured the Carolinas PGA Senior Open and has had top-three finishes at the Chanticleer National Senior, Low Country Senior Invitational, and CPGA Senior Championship.

Gary Robinson of Fayetteville, N.C. is the 3rd ranked senior in the Carolinas. A five-time CGA champion, Robinson earned runner-up honors at the 2016 Dave King Invitational and third place at the 2016 North & South Senior Amateur.

Walter Todd, Sr. of Laurens, S.C., a four-time CGA winner, is ranked 5th. The runner-up at this year's South Carolina Golf Association Senior, Todd captured the SCGA Senior Four-Ball in March.

Ed Byman of Raleigh, N.C. is ranked 6th in the Carolinas. Byman won his first CGA championship at this year's North Carolina Senior Four-Ball.

Past champions in the field (5):
Pat Thompson, Asheville, N.C. - 2015
Jim Grainger, Charlotte, N.C. - 2014
Russ Perry, Winston-Salem, N.C. - 2010
John Walters, Charlotte, N.C. - 2009
Paul Simson, Raleigh, N.C. - 2007, 2008


Medalist
Score
Site
Bill Baker
Raleigh, N.C.
70
Brier Creek Country Club
Raleigh, N.C.
Steve Misenheimer
Huntersville, NC
71
Ballantyne County Club
Charlotte, N.C.
Mike Forrest
Rock Hill, S.C.
Ken Taylor
Columbia, S.C.
74
Spring Valley Country Club
Columbia, S.C.
Gerald Harrington
Nakina, N.C.
68
Carolina Trace (Lakes)
Sanford, N.C.
Gary Hull
Vale, N.C.
70
Rock Barn Golf and Spa
Conover, N.C.
Entry is open to any male amateur golfer who has reached his 55th birthday by September 12, 2016, is a legal resident of North Carolina or South Carolina, is a member in good standing of a club which is a member of the Carolinas Golf Association (CGA) and has an active GHIN® USGA Handicap Index® at a CGA member club that does not exceed 10.4.
Scoring will be provided by the CGA throughout the championship, offering 9 and 18-hole updates. Live updates will also be available on the CGA's official Twitter account, @cgagolf1909. Continue to visit the CGA website throughout this championship and all year long for complete championship coverage including scores, interviews, photos, and recaps.