Grainger-Pearson Win Senior Four-Ball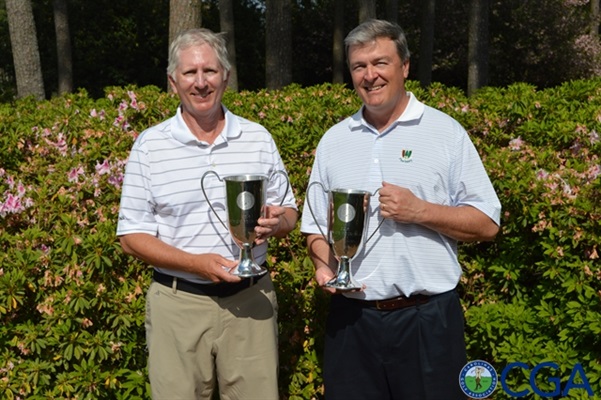 RALEIGH, NC – Final results of the 48th Carolinas Senior Four-Ball Championship hosted by North Ridge Country Club in Raleigh, NC on Thursday, April 21, 2016 (6,291 yards, par 36-36—72, 70.5/126).
Jim Grainger of Charlotte, N.C. and Jim Pearson of Charlotte, NC torched a stellar field at the 48th Carolinas Senior Four-Ball Championship on the Oaks Course at North Ridge Country Club in Raleigh, NC. With a three day total of 192 Grainger and Pearson won by a total of five shots The pair went wire to wire never looking back after starting off with a first round twelve under par, 60.
For Grainger this makes back-to-back wins at the Carolinas Senior Four-Ball and his sixth CGA Championship Title. "I know how to pick my partners," jokingly said Grainger who made 15 birdies of his own in three days to hold his own. Pearson has now collected three CGA Championship Titles including the 2012 NC Senior Four-Ball that he won with Grainger. Pearson was ecstatic to be back in the winning circle, "366 days ago I was laid up in the ICU, so I am happy to be back on the team," kidded the winning partner.
Grainger won this title in 2015 with Rick Cloninger, from Fort Mill, SC while Pearson was on the mend. Cloninger teamed up with John Rudolph from Charlotte, NC to finish in a tie for 4th with the 2014 champions, Ron Carpenter from Creedmoor, NC and Gary Brown from Charlotte, NC.
Preston Edmondson of Morrisville, NC and Ed Byman of Raleigh, NC shot low round of the day, 64, to place them in solo second, one shot ahead of Roy Hunter of Pawleys Island, SC and John Long of Murrells Inlet, SC.
The championship was contested over 54-holes of four-ball stroke play. After Wednesday's second round, the field of was cut to the low 30 teams for the final round on Thursday.
Hole-by-Hole Scoring: https://www.ghintpp.com/carolinasgolf/TPPOnlineScoring/ResultsStroke.aspx?id=1599
Photo Gallery: https://carolinasgolf.smugmug.com/Championships/2016-CGA-Championship/Carolinas-Senior-FourBall
Final Results
Place

Team

Score

1

Jim Grainger, Charlotte, N.C. - Jim Pearson, Charlotte, N.C.

60-67-65--192 (-24)

2

Preston Edmondson, Morrisville, N.C. - Ed Byman, Raleigh, N.C.

65-68-64--197 (-19)

3

John Long, Murrells Inlet, S.C. - Roy Hunter, Pawleys Island, S.C.

68-63-67--198 (-18)

T4

Ron Carpenter, Creedmoor, N.C. - Gary Brown, Charlotte, N.C.

67-67-65--199 (-17)

T4

Rick Cloninger, Fort Mill, S.C. - John Rudolph, Charlotte, N.C.

67-65-67--199 (-17)

6

Randy Beeson, Colfax, N.C. - Arlis Pike, Kernersville, N.C.

65-68-68--201 (-15)

T7

Dean Channell, Cary, N.C. - Scott McClellan, Cary, N.C.

68-66-69--203 (-13)

T7

Walter Todd Sr, Laurens, S.C. - Jack Nance, Pinehurst, N.C.

66-67-70--203 (-13)

T9

Walter Odiorne, Blythewood, S.C. - Bernie Shealy, Columbia, S.C.

67-69-68--204 (-12)

T9

Robby Kirby, Charlotte, N.C. - Nolan Mills, Charlotte, N.C.

66-66-72--204 (-12)

T9

Frank Golden, Charlotte, N.C. - Macon Moye, Pinehurst, N.C.

68-68-68--204 (-12)

T9

Robert Bennett, Clayton, N.C. - Ben Collins, Raleigh, N.C.

69-65-70--204 (-12)

T13

Keith Waters, Raleigh, N.C. - Gary Robinson, Fayetteville, N.C.

70-68-67--205 (-11)

T13

Billy Williford, Durham, N.C. - David Kelley, Pinehurst, N.C.

68-70-67--205 (-11)

T13

Buck Hall, Thomasville, N.C. - Ernie Newton, Winston Salem, N.C.

67-69-69--205 (-11)

T13

Kent Kluba, Cary, N.C. - Jerry Schott, Cary, N.C.

64-71-70--205 (-11)

T13

John Bunn, Raleigh, N.C. - Julian Bunn, Raleigh, N.C.

72-67-66--205 (-11)

T18

Russ Perry, Winston Salem, N.C. - Mark Stephens, Troutman, N.C.

69-67-70--206 (-10)

T18

Johnny Adams, Cary, N.C. - Eric Ardery, Durham, N.C.

65-71-70--206 (-10)

T20

Johnny Elam, Charlotte, N.C. - Kelly Miller, Southern Pines, N.C.

70-66-71--207 (-9)

T20

Gary Roderick, Monroe, N.C. - Mike Schmid, Monroe, N.C.

68-71-68--207 (-9)

T20

Don Detweiler, Raleigh, N.C. - William Everett, Raleigh, N.C.

70-69-68--207 (-9)

T20

Rick LaFata, Raleigh, N.C. - Dennis Howard, Raleigh, N.C.

70-68-69--207 (-9)

T24

Mark Kozel, Chapel Hill , N.C. - Steve Smith, Chapel Hill, N.C.

70-67-71--208 (-8)

T24

Bill Long, Ahoskie, N.C. - Gray Yancey, Oxford, N.C.

69-70-69--208 (-8)

T26

David Eaker, Forest City, N.C. - Steve Wilson, Wilmington, N.C.

70-68-71--209 (-7)

T26

Jack Hooks, Wilmington, N.C. - Penn Compton, Wilmington, N.C.

69-69-71--209 (-7)

T26

Robbie Armistead, Raleigh, N.C. - Steve Lubbers, Raleigh, N.C.

71-68-70--209 (-7)

T26

George Leight Jr., Apex, N.C. - Lee Morris, Raleigh, N.C.

70-69-70--209 (-7)

T30

Robert Desjardins, Matthews, N.C. - Bill Boles Jr., Wilson, N.C.

69-70-71--210 (-6)

T30

Bob Yow, Clinton, N.C. - Cliff Seastrunk, Raleigh, N.C.

68-70-72--210 (-6)

32

Andy Burnette, Raleigh, N.C. - Tim Andersen, Pinehurst, N.C.

67-71-73--211 (-5)

Failed to Qualify for Final Round

33

Rick Luzar, Pinehurst, N.C. - Arch Reed, Pinehurst, N.C.

71-69 (-4)

T34

Lawrence Hicks, Greensboro, N.C. - Gus Sylvan, Columbia, S.C.

73-68 (-3)

T34

Doug Owens, Albemarle, N.C. - Charlie Parks, Asheboro, N.C.

73-68 (-3)

T34

Frank Wrenn III, Greenville, S.C. - John Dennis III, Greenville, S.C.

74-67 (-3)

T34

Tim Pope, Spartanburg, S.C. - T.D. Todd Jr., Laurens, S.C.

69-72 (-3)

T34

Rodney Jones, Apex, N.C. - Rick Stitzer, Raleigh, N.C.

71-70 (-3)

T34

Lee Keesler, Charlotte, N.C. - Doug Buchanan, Charlotte, N.C.

72-69 (-3)

T40

Brian Reep, Morganton, N.C. - Keith Bowers, Morganton, N.C.

72-70 (-2)

T40

Dave Davis, Pinehurst, N.C. - Garland Yates, Asheboro, N.C.

71-71 (-2)

T42

Vance Whicker, Summerfield, N.C. - Bob Klug, Pinehurst, N.C.

73-70 (-1)

T42

David Watterworth, Charlotte, N.C. - Greg Powell, Charlotte, N.C.

70-73 (-1)

T42

Jerry Baker, Valdese, N.C. - Gene Rapelye, Mooresville, N.C.

72-71 (-1)

T42

Dee Blankenhorn, Raleigh, N.C. - Jack Blankenhorn, Raleigh, N.C.

72-71 (-1)

T42

Michael Broadway, Chapel Hill, N.C. - Raymond Davis, Apex, N.C.

73-70 (-1)

T47

Holley Wallace, Columbia, S.C. - Tim Teaster, Columbia, S.C.

71-73 (Even)

T47

David Millis, High Point, N.C. - Mike Bivins, High Point, N.C.

72-72 (Even)

T47

David Williams, Cary, N.C. - Stacey Anfindsen, Apex, N.C.

71-73 (Even)

T47

Rick Sears, Leland, N.C. - Michael Egan, Wilmington, N.C.

70-74 (Even)

T47

Tom Carbone, Mooresville, N.C. - Michael Ringuette, Davidson, N.C.

71-73 (Even)

T52

Ed Donlin, Concord, N.C. - Jim Hunsuck, Statesville, N.C.

72-73 (+1)

T52

Russ McLauchlan, Fuquay-Varina, N.C. - Terry Rathman, Gastonia, N.C.

70-75 (+1)

T52

Ray Novicki, Southern Pines, N.C. - Mike Fields, Southern Pines, N.C.

76-69 (+1)

T52

Bob Norman, Rocky Mount, N.C. - Ray Jackson, Rocky Mount, N.C.

73-72 (+1)

T52

Randy Kivett, Bear Creek, N.C. - Mike Burns, Bear Creek, N.C.

74-71 (+1)

T52

Phillip Greene MD, Charlotte, N.C. - Bill Thaxton, Monroe, N.C.

71-74 (+1)

T58

Jerry Sennett, Stanley, N.C. - David Boaz, Denver, N.C.

73-73 (+2)

T58

Mark Wagner, Statesville, N.C. - Dick Hogan, Burlington, N.C.

75-71 (+2)

T60

Charles Kane, Raleigh, N.C. - Chuck Parker, Raleigh, N.C.

73-74 (+3)

T60

John Stratton, Greensboro, N.C. - Bill Burling, Greensboro, N.C.

71-76 (+3)

T60

John DeLuise, Raleigh, N.C. - Spike Smith, Pinehurst, N.C.

71-76 (+3)

T60

Berwyn Sasek, Murrells Inlet, S.C. - Bob Buie, Columbia, S.C.

74-73 (+3)

T60

James Brown, High Point, N.C. - Jim Keever, High Point, N.C.

74-73 (+3)

T65

Dickie Brewer, Winston Salem, N.C. - Todd Turner, West End, N.C.

76-72 (+4)

T65

Pete Clough, Columbia, S.C. - Steve Pachol, Columbia, S.C.

72-76 (+4)

T67

Robert Hoffman, Greenville , S.C. - Scott Kabas, Greenville, S.C.

75-75 (+6)

T67

Don Moore, Raleigh, N.C. - Mickey McCord, Apex, N.C.

76-74 (+6)

T67

David Shackelford, Cary, N.C. - David Kinnard, Holly Springs, N.C.

72-78 (+6)

70

Mallory McDaniel, Kannapolis, N.C. - David Bogedain, Cary, N.C.

78-73 (+7)

T71

Lennie Younce, Lenoir, N.C. - Dan Anderson, Lenoir, N.C.

73-79 (+8)

T71

Chip Hunter, Winston Salem, N.C. - Russell Kornegay, Charlotte, N.C.

79-73 (+8)

T71

Barry DeLapp, Hendersonville , N.C. - Edward Mills, Fairview, N.C.

75-77 (+8)

74

Sid Aldridge, Raleigh, N.C. - Brad Burris, High Point, N.C.

80-73 (+9)

75

Sam Poston, Raleigh, N.C. - Foster Price, Raleigh, N.C.

77-77 (+10)

76

John McCallie, Durham, N.C. - Clay Thomas, Durham , N.C.

79-78 (+13)