Schuster and Oxendine win Hope Valley Junior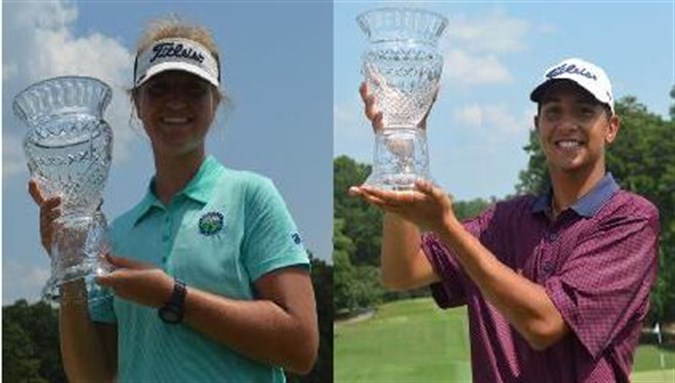 Final round results from the Hope Valley Junior Invitational hosted by Hope Valley Country Club in Durham, NC on Thursday, August 16, 2018. Boys yardage - 6,720 yards, par 70 (72.9/136) Girls yardage - 5,844 yards, par 70 (73.5/139)
The first two Hope Valley Junior Invitational champions were crowned in two completely different ways. Katherine Schuster of Kill Devil Hill, NC cruised to the girls' title while Spencer Oxendine of Fayetteville, NC had to tie the Hope Valley Country Club's competitive course record to win the boys' division.
Schuster, a high school sophomore, started the final round with a five shot lead and finished with an eight shot lead. "I am so honored to be the first girls' champion of the Hope Valley Junior and I can't wait to come back next year to defend my title" said Schuster. Schuster's final round of over over par 71 gave her a 54-hole total of even par 210. Julia McLaughlin of Princeton, NJ finished in second place at 218 while Emily Dunlap of Greenville, SC placed third at 219.
Oxendine, a high school senior, quickly caught up to the leader by shooting a front nine of three under par 32 and held a one shot lead with nine holes left. A back side of three under par 32 gave Oxendine a round of 64 and a three day total of 202. "The greens were so good today, you just had to get the ball started on line and it went in the hole" said Oxendine. Peter Fountain of Raleigh, NC made a late charge, but Oxendine birdied the last two holes to secure the victory. Fountain, a high school junior, finished in third place at six under 204. First and second round leader Bronson Myers of Columbia, SC finished in third place at 2015.
This junior golf tournament is conducted by Hope Valley CC and the Carolinas Golf Association
Girls' Division - 5,844 yards, par 70 (73.5/139)

Place

Player

City, State-Class

Round One

Round Two

Round Three

Total

To Par

1

Katherine Schuster

Kill Devil Hills, NC-2021

71

68

71

210

E

2

Julia McLaughlin

Princeton, NJ-2019

75

71

72

218

8

3

Emily Dunlap

Greenville, SC-2019

70

74

75

219

9

4

Kayla Smith

Burlington, NC-2019

70

77

73

220

10

5

Ana Tsiros

Asheville, NC-2019

76

77

76

229

19

6

Lauren Freyvogel

Gibsonia, PA-2019

78

73

79

230

20

7

Sarah Boteler

Greenville, SC-2021

79

75

77

231

21

8

Elle Johnson

Inman, SC-2019

76

76

80

232

22

9

Alexia Siehl

Fort Mill, SC-2022

75

81

80

236

26

10

Anna McDonald

Hickory, NC-2019

80

77

86

243

33

11

Lexi Bennett

Santee, SC-2021

78

85

82

245

35

12

Lotte Fox

Raleigh, NC-2020

82

86

83

251

41

13

Kayla Dowell

Mebane, NC-2021

81

89

82

252

42

Boys' Division - 6,720 yards, par 70 (72.9/136)

Place

Player

City, State-Class

Round One

Round Two

Round Three

Total

To Par

1

Spencer Oxendine

Fayetteville, NC-2019

68

70

64

202

-8

2

Peter Fountain

Raleigh, NC-2020

72

65

67

204

-6

3

Bronson Myers

Columbia, SC-2019

66

70

69

205

-5

4

Luke Hackworth

Charlotte, NC-2019

69

72

66

207

-3

5

Nick Dunlap

Birmingham, AL-2022

66

71

72

209

-1

T6

Christopher Sperrazza

Raleigh, NC-2019

69

73

71

213

3

T6

Nathan Franks

Roebuck, SC-2021

70

71

72

213

3

T8

Brady Hooks

Clayton, NC-2019

71

73

70

214

4

T8

Drew Hackett

Charlotte, NC-2019

67

73

74

214

4

T8

Jake Herring

Wilson, NC-2021

73

72

69

214

4

T8

Thomas Morrison

Pinehurst, NC-2023

73

72

69

214

4

T12

Carlos Garre

Myrtle Beach, SC-2019

72

72

71

215

5

T12

Charlie Hanson

Henrico, VA-2020

73

74

68

215

5

T12

Nicholas Mayfield

Rock Hill, SC-2019

71

68

76

215

5

T15

Chris Kim

Cary, NC-2019

73

70

73

216

6

T15

Eston Lee

Four Oaks, NC-2020

73

72

71

216

6

17

Austin Mosher

Mt Pleasant, SC-2020

72

70

76

218

8

T18

Randall Hudson

New Bern, NC-2020

77

71

72

220

10

T18

Dawson Daniels

Greensboro, NC-2018

78

73

69

220

10

T20

Garrett Clark

Burlington, NC-2020

70

74

77

221

11

T20

Graham Chase

Charlotte, NC-2019

74

76

71

221

11

T20

Kenan Poole

Raleigh, NC-2019

73

73

75

221

11

23

Tyler Dechellis

Clayton, NC-2021

75

75

72

222

12

24

Pierce Robinson

Kings Mountain, NC-2019

73

75

75

223

13

T25

Connor Jones

Raleigh, NC-2018

76

72

77

225

15

T25

Jack Marcotte

Apex, NC-2019

79

75

71

225

15

T25

Nicholas Mathews

Mebane, NC-2020

83

69

73

225

15

T28

Ben Morehead

Charlotte, NC-2020

78

70

78

226

16

T28

Benny Haggin

Lexington, KY-2021

81

77

68

226

16

T28

Mason Tucker

Lancaster, SC-2021

78

74

74

226

16

T31

Will Hawley

Raleigh, NC-2019

72

73

82

227

17

T31

Casey Osiecki

New Bern, NC-2020

74

78

75

227

17

T31

Symon Balbin

Pinehurst, NC-2019

71

80

76

227

17

T31

Austin Alexander

Rutherfordton, NC-2020

76

77

74

227

17

T35

Frank Gilliam

Raleigh, NC-2020

74

75

79

228

18

T35

Zach Roberts

Holly Springs, NC-2020

73

78

77

228

18

T35

Thomas Eubanks

Charlotte , NC -2019

79

74

75

228

18

T38

Clayson Good

Durham, NC-2020

76

75

78

229

19

T38

Jackson Brimfield

Chapel Hill, NC-2021

78

76

75

229

19

40

Griffin Tarver

Tega Cay, SC-2021

75

78

77

230

20

T41

Caleb Henson

Lancaster, SC-2019

73

80

78

231

21

T41

Zach Brown

Bermuda Run, NC-2019

72

78

81

231

21

43

Landon Barnes

Pilot Mountain, NC-2020

74

80

79

233

23

T44

Cole Pollard

Manakin Sabot, VA-2022

82

74

79

235

25

T44

Trey Crenshaw

Lancaster, SC-2021

77

77

81

235

25

T44

Walker Isley

Oak Island, NC-2020

77

78

80

235

25

T47

Alex Rubino

Charlotte, NC-2019

81

81

75

237

27

T47

Blake Brantley

Winston-Salem, NC-2020

80

79

78

237

27

T47

James Carlin

Raleigh, NC-2020

81

76

80

237

27

50

Zach Gilbert

Davidson, NC-2019

78

78

83

239

29

51

Ethan Lukes

Chapel Hill, NC-2020

76

88

78

242

32

52

Minor Hinson

Charlotte, NC-2021

82

87

80

249

39

53

Jack Morrison

Pinehurst, NC-2021

86

95

82

263

53