Matthew Crenshaw-Jonathan Jackson Prevail at Carolinas Four-Ball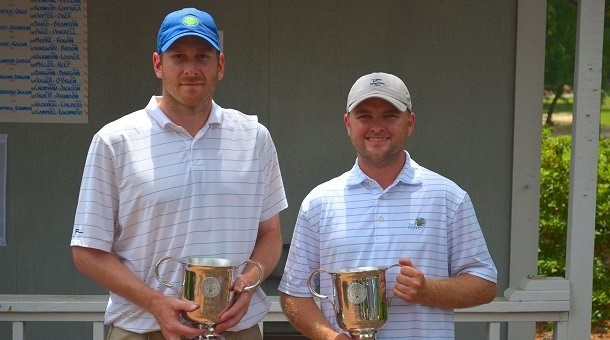 CAMDEN, SC – Final match play results of the 63rd Four-Ball Championship of the Carolinas Golf Association hosted by Camden Country Club in Camden, SC on Sunday, May 11, 2014 (6455 yards, par 35-35—70, 71.6/128).
Matthew Crenshaw, 32, of Burlington, NC and Jonathan Jackson, 32, of Chapel Hill, NC needed 20 holes to defeat defending champions, Paul Tucker of Waxhaw, NC and Brent Roof of Columbia, SC.
Crenshaw holed a 12 foot birdie putt on the 20th hole to win his second Carolinas Four-Ball Championship title and sixth overall CGA crown. Crenshaw partnered this year with college teammate at UNC-Chapel Hill Jonathan Jackson of Chapel Hill, NC who takes home his first CGA title.
Crenshaw won the 2012 title with Blair Bowland of Burlington, NC who was unable to play this year due to a work commitment. The win marks the second CGA title for Crenshaw in 2014 as he won the Carolinas Mid-Amateur Championship back in early April.
"We have been wanting to play in a four-ball together since we were in college at (North) Carolina", stated Crenshaw. "It just has not worked out until this year when Blair (Bowland) was unable to play."
Tucker and Roof were seeking to become the fifth team to successfully defend their Four-Ball title which they won last year in 19 holes over Scott Harvey and Brian Westveer.
No team held greater than a 1 up lead at any point during the match. Below is a re-cap of the match highlights.
Crenshaw-Jackson won the third hole with a birdie 4 for a 1 up lead.
Tucker-Roof won the seventh hole with an eagle 3 to square the match.
Crenshaw-Jackson won the eighth hole with a birdie 2 to take a 1 up lead.
Tucker-Roof won the 12th hole with a par 3 to square the match.
Tucker-Roof made a birdie 4 on the 13th hole to take a 1 up lead.
Crenshaw-Jackson made a birdie 3 at the 15th hole to square the match.
Coming to the 18th hole all square, Crenshaw hit his approach shot to 8 feet. Roof then played his second shot to within a foot for a conceded birdie. Crenshaw sank his putt to extend the match into extra holes.
Both teams halved the 19th hole with par 4.
Crenshaw holed a 12 foot birdie putt to win the match on the 20th hole.
With the win, Crenshaw and Jackson have qualified for the Carolinas team that will compete against the Virginias in the Captain's Putter Team Matches slated for October 17-18 at the Club at Creighton Farms in Aldie, VA.
For more information including hole-by-hole scoring of the Carolinas Four-Ball Championship please visit:
https://www.carolinasgolf.org/championship/home/144ball/year/2014
This championship is conducted by the Carolinas Golf Association which is its 105th year of serving amateur golf in the Carolinas.
Championship Match Final Result
Matthew Crenshaw, Burlington, NC -Jonathan Jackson, Chapel Hill, NC def. Paul Tucker, Waxhaw, NC - Brent Roof, Columbia, SC, 20 Holes
Complete 63rd Carolinas Four-Ball Match Play Results
Round of 32
Paul Tucker / Brent Roof def. Eddie Hargett / Whit Suber 3 and 2
Thomas Addison III / Bret Boulware def. Braxton McLennan / Nolan Mills 2 and 1
Taylor Dickson / James Chapman def. Taylor Ingle / Brandon Truesdale 2 and 1
Tommy Hurst / John Ferguson def. Lance Waggener / Dennis Long 3 and 2
Chad Meldrum / Tom Wyatt def. Walter Todd Sr. / Walt Todd Jr 3 and 2
Justin Roof / Rion Moore def. David Eaker / Patrick Waters 4 and 2
Luke Sampson / Greg Norris def. Benji McCall / Jason Meadows 1 up
Sam Jackson / Dalton Olawsky def. Austin Terry / John Duke 2 and 1
Jarrett Grimes / Chris Mitchell def. Matthew McIntyre / Mac McClure 4 and 3
Matthew Hopper / Richard Oref def. Ryan Reynolds / Brandon Cemprola 3 and 2
Matt Davis / Josh Branyon def. Andrew Price / Logan Harrell 1 up
Jackson Moore / Shane Rogan def. Bern Gregory / Nick Brown 1 up
Ryan Wilkinson / Nick Lussier def. Mark Miller / Brian Reep 22 holes
Robert Dargan / David Dargan def. Bryan Tucker / John O'Brien 6 and 5
Matthew Crenshaw / Jonathan Jackson def. Sammy Truett / Bert Atkinson 5 and 3
Chris Campbell / Kyle Eckenroth def. Matthew Glowacki / Austin Childers 2 up
Round of 16
Paul Tucker / Brent Roof def. Thomas Addison III / Bret Boulware 1 up
Tommy Hurst / John Ferguson def. Taylor Dickson / James Chapman 1 up
Justin Roof / Rion Moore def. Chad Meldrum / Tom Wyatt 4 and 2
Luke Sampson / Greg Norris def. Sam Jackson / Dalton Olawsky 2 and 1
Jarrett Grimes / Chris Mitchell def. Matthew Hopper / Richard Oref 6 and 4
Jackson Moore / Shane Rogan def. Matt Davis / Josh Branyon 2 and 1
Robert Dargan / David Dargan def. Ryan Wilkinson / Nick Lussier 4 and 3
Matthew Crenshaw / Jonathan Jackson def. Chris Campbell / Kyle Eckenroth 2 up
Quarterfinal
Paul Tucker / Brent Roof def. Tommy Hurst / John Ferguson 1 up
Luke Sampson / Greg Norris def. Justin Roof / Rion Moore 19 holes
Jackson Moore / Shane Rogan def. Jarrett Grimes / Chris Mitchell 4 and 3
Matthew Crenshaw / Jonathan Jackson def. Robert Dargan / David Dargan 3 and 2
Semifinal
Paul Tucker / Brent Roof def. Luke Sampson / Greg Norris 5 and 4
Matthew Crenshaw / Jonathan Jackson def. Jackson Moore / Shane Rogan 3 and 2
Championship Match
Matthew Crenshaw, Burlington, NC -Jonathan Jackson, Chapel Hill, NC def. Paul Tucker, Waxhaw, NC - Brent Roof, Columbia, SC, 20 Holes
##30##