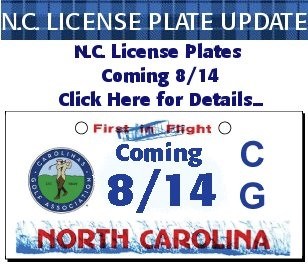 Update on the CGA license plate program.
The NC legislature is back in session and Senator Harry Brown will reintroduce our application for a Carolinas Golf Association specialty license plate.
The CGA plate will be part of a larger bill and we hope to have it approved by the end of June. We do not know at this time which bill it will be attached to, but will pass that along when we hear something.
Once approved, it must be signed by the Governor. The next day we plan to be at the DMV headquarters in Raleigh with the applications we have been collecting over the past few years.
At this time we have 378 applications. We are in the process of going through each application and double checking the information to ensure all applications will be approved.
Once we submit the applications, the DMV has estimated it will take approximately 4-6 six weeks to have the plates printed and mailed to you.
If you have any questions, please feel free to contact the CGA office at 910-673-1000 or email: admin@carolinasgolf.org.

Thank you for your patience and support of the CGA!

CGA License Plate Campaign Website: https://www.carolinasgolf.org/license-plate-campaign