Kevin and Jodee Tindal Crowned Carolinas Parent-Child Champions
SEVEN LAKES, NC – Final results of the 17th Carolinas Parent-Child Championship of the Carolinas Golf Association hosted by Seven Lakes Country Club in Seven Lakes, NC on Friday, July 25, 2014 (Par 36-36—72, Males=6094 yards; Females=4967 yards).

Kevin and Jodee Tindal of Rock Hill, SC fired a five-under par 67 to win the 17th Carolinas Parent-Child Championship by two strokes.

"Jodee drove it dead straight all day," stated Kevin Tindal. "We then had a spurt where we made a few birdies."

The win marks the first CGA championship title for both the 44-year-old Kevin Tindal and daughter Jodee who is a rising sophomore at South Pointe High School in Rock Hill, SC.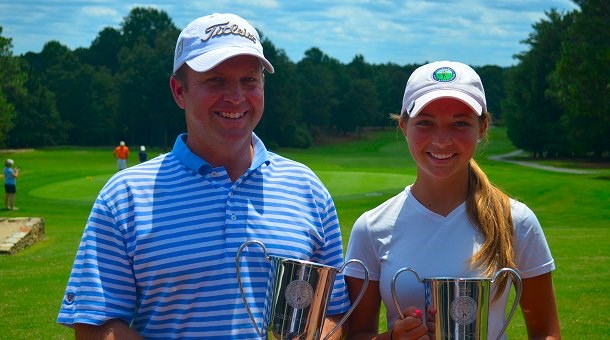 Carolinas Parent-Child format is modified alternate shot where both team members may play from the teeing ground, then select the ball to be played and alternate shot(s) from there until the ball is holed.

Flight results and merchandise amounts won are listed at bottom.

Teams are placed into divisions by adding 2/3 of the low handicap plus 1/3 of the high handicap.

For more information on the Carolinas Parent-Child Championship including hole-by-hole scoring visit: https://www.carolinasgolf.org/championship/home/14parentchild/year/2014

This championship is conducted by the Carolinas Golf Association which is in its 105th year of serving amateur golf in the Carolinas.

Championship Results
Place
Team
Score
Amt Won
P-C Division A
1
Tindal, Kevin / Tindal, Jodee
35-32--67 (-5)
$250.00
T2
Haizlip, Danielle / Haizlip, Chris
36-33--69 (-3)
$87.50
T2
Hammond, Kevin / Hammond, Hayley
36-33--69 (-3)
$87.50
4
Mayer, Michael / Mayer, Virginia
34-37--71 (-1)
5
Burroughs, Scott / Burroughs, Casey
41-36--77 (+5)
6
Stinson, Martin / Stinson, Emily
40-38--78 (+6)
7
Waggoner, David / Waggoner, Claudia
39-41--80 (+8)
8
Ireland, Howard / Ireland, Susannah
45-39--84 (+12)
P-C Division B
1
Zavada, Chris / Sandor, Andy
35-35--70 (-2)
$150.00
T2
Shackelford, David / Shackelford, Sydney
40-36--76 (+4)
$87.50
T2
Harwell, Steve / Harwell, Haley
39-37--76 (+4)
$87.50
4
White Jr, Don / White, Mary Slade
37-41--78 (+6)
5
Fisher, Neil / Fisher, Hannah
42-40--82 (+10)
6
McMichael, Sue / McMichael, Chris
43-40--83 (+11)
7
Davison, Pete / Davison, Pam
45-42--87 (+15)
8
Stanley, Wes / Marsh, Sherry
48-45--93 (+21)
P-C Division C
1
Cummings, Steve / Cummings, Caroline
40-41--81 (+9)
$150.00
T2
Kaler, James Jr / Kaler, Lindsey
44-38--82 (+10)
$87.50
T2
Elliott, William III / Elliott, Kathryn
40-42--82 (+10)
$87.50
4
Treece, Mary / Treece, Hunter
44-44--88 (+16)
5
Jenkins, Cynthia / Jenkins, John II
49-44--93 (+21)
6
Ruotolo, Victor / Ruotolo, Ali
48-50--98 (+26)
7
Carnes, Jim / Harwell, Heather
55-46--101 (+29)
8
Cartret-Jenkins, Judy / Jenkins, Carson
59-61--120 (+48)

##30##