Murphy and Cloninger Claim SCGA Player of the Year Awards
USC standout Murphy captures Player of the Year;
Cloninger claims third straight Senior Player of the Year
written by James Park, SCGA Director of Member Services
Representing SC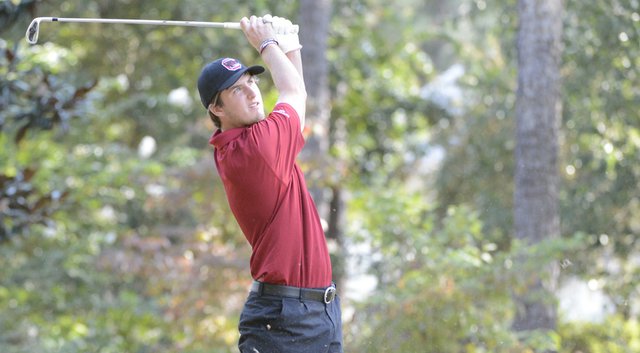 Will Murphy - photo by South Carolina Athletics
Although he didn't gain any points from South Carolina Golf Association conducted events in 2014, Will Murphy of Columbia played so well in other nationally recognized events that he has earned the SCGA Player of the Year Award for 2014. A senior on the University of South Carolina golf team, Murphy captured two prominent amateur championships early in the year: the Azalea Invitational held at SCGA member club, Country Club of Charleston (Charleston, SC) in March; and the Sunnehanna Amateur held at Sunnehanna Country Club (Johnstown, PA) in June. Those victories, paired with a top-5 finish at the SEC Championship, a top-15 finish at the NCAA Division I Championship, and a top-10 at the Palmetto Amateur (held at another SCGA member club, Palmetto Golf Club in Aiken, SC), gave Murphy a sizeable lead in the Player of the Year standings as of mid-June. Murphy continued his stellar play throughout the rest of summer, notching another top-10 finish at the Northeast Amateur (competed at Wannamoisett CC in Rumford, RI); qualifying for the US Amateur held at the Atlanta Athletic Club; and finishing in the top-20 at the Porter Cup Amateur competed at Niagara Falls Golf and Country Club in Lewiston, NY. All of Murphy's points were earned by late July, giving him enough of a lead to withstand second place finisher, Andrew Novak (Mt. Pleasant) after Novak's victory in the SCGA Amateur held at the Reserve Golf Club at Pawley's Island in early August. Murphy proudly represented the SCGA and the state of South Carolina in 2014, competing and earning points at events held in 6 different states (SC, PA, GA, KS, RI, NY). This is Will Murphy's first SCGA Player of the Year Award.
Three in a Row

Rick Cloninger - photo by USGA
Rick Cloninger of Fort Mill joined the senior amateur ranks in 2012 and hasn't looked back since, now adding a third straight SCGA Senior Player of the Year Award to his resume. Cloninger began the year much like he did in his first campaign as a senior competitor, winning the SCGA Senior Championship in May, this time at Old Tabby Links in Okatie, SC. The construction equipment sales representative and SCGA Board Member then took his game to the national level, earning a top-5 finish at the Chanticleer National Senior Invitational held at Greenville Country Club's Chanticleer Course; and finishing tied for 6th in the National Senior Hall of Fame championship held at Willow Creek Golf Club in High Point, NC. In September, Cloninger made an even bigger splash nationally as he played his way into the Semifinals of the US Senior Amateur Championship competed at Big Canyon Country Club in Newport Beach, CA; losing to eventual champion, Patrick Tallent of Vienna, VA in a closely contested 3&1 match. Just a week after the US Senior Amateur, Cloninger returned to the Carolinas and finished 2nd in the Carolinas Golf Association Senior Amateur held at Sedgefield Country Club in Greensboro, NC, coming just one shot shy of winning both the SCGA's and CGA's top senior championships in the same year (a feat he did accomplish in 2012). Cloninger's accomplishments in 2014 also led to a 4th place finish in the SCGA Player of the Year points standings, earning him invitations to the US State Team and Palmetto Cup Team matches.
Both Will Murphy and Rick Cloninger will receive their respective Player of the Year awards at the SCGA's 12th Annual Golf Day Awards Dinner and Banquet, to be held January 10th, 2015 at Columbia Country Club in Blythewood, SC. The ceremony will also include the SC Golf Hall of Fame induction of Kingstree's Bill Smunk, who notably finished 2nd in the SCGA Senior Player of the Year standings in 2014.