Get to Know the 2015 CGA Interns
SOUTHERN PINES, N.C. -- The Carolinas Golf Association hired four interns to assist with the organization's day-to-day activities during the busy summer months. With four weeks of work behind them, these interns have already been immersed into the world of golf administration. Thru mid-August they will be helping at many CGA tournaments and events.
Their internship experience involves exposure to all aspects of golf administration, such as: championships, qualifiers and one-day tournaments; handicap and course rating; communications and membership. The tournament administration aspect includes course marking, course set-up, starting times and pairings, starting, scoring, on-course officiating, pace of play, Rules of Golf, media relations and preliminary office preparation for CGA, TYGA and USGA qualifying events.
Here are the interns' backgrounds, in their own words. Be sure to say hello if you see them on their travels across the Carolinas. F ollow them on Snapchat this summer at @cgagolf1909.
Dawson Fulghum, 21, of Southern Pines, NC
I am currently attending East Carolina University, where in the Spring of 2016, I will received a B.S. in Exercise Physiology with a Minor in Business Administration. After my undergraduate I have aspirations to enroll in a dual Masters program where I will seek to achieve both an MBA and Sports Management degree. I have always loved sports, everything from golf to basketball to baseball to soccer. Anything that was about sports, I was involved. I am a huge animal lover, and just recently adopted a dog last Mother's Day (2014) from the Eastern NC Humane Society - his name is Diego. I spend most of my time taking him on walks and runs, giving him baths, working on tricks and snuggling on the couch. I am eager to see how much I will learn this summer while interning with the CGA and hope to apply these skills to my sports career aspirations.
Tim Britton of Beaufort, SC
My name is Tim Britton and I'm from Beaufort, SC. I have a Bachelor's degree from Clemson University in Parks, Recreation and Tourism Management and am currently working towards getting my Master's in Recreation Management and Policy from the University of New Hampshire. Through the years sports have been an integral part of my life and I hope to continue working in the sports industry. I've had many wonderful experiences already including working for the Charleston RiverDogs, Clemson Athletic Department, and Greenville Recreation District as well as volunteering at the Verizon Heritage, 2012 PGA Championship and 2014 Chick-fil-A Peach Bowl. In my free time I like to play golf, watch Clemson football, nap, and spend time with my family.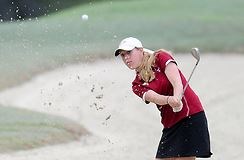 Rachel Wyatt of Blythewood, SC
I'm Rachel Wyatt and I'm so excited to be one of the PJ Boatwright interns this summer! I'm originally from Blythewood, South Carolina where I learned to play golf and grew my game at Columbia Country Club. I graduated last month from Winthrop University in Rock Hill with a Bachelor of Science in Sport Management. During my time at Winthrop I played collegiate women's golf all four years and was named Big South All-Conference my freshman year. I have had lots of previous intern experience working with the 2013 US Women's Amateur Championship in Charleston, the South Atlantic Conference in Rock Hill, and the University of South Carolina Gamecock Club in Columbia. Speaking of USC, I am a huge Gamecock fan and love college football! In my free time I enjoy playing golf, exercising, watching sports, photography, and being with my friends and family. Some of my favorite things are Netflix, jigsaw puzzles, Instagram, blue Powerade, and Sour Patch Kids. Make sure you follow us on Snapchat this summer at @cgagolf1909 where us interns will be posting fun behind-the-scene images!
Ryan Bennett of Sterling, MA
I am a senior at Elon University majoring in Sport & Event Management with a minor in Leadership Studies. I am also a Leadership Fellow. I am an active member of NIRSA: Leaders in Collegiate Recreation (National Intramural-Recreation Sports Association). I was recently selected to be a part of their Strategic Values Commission and was the first undergraduate to be appointed to a 3-year term on their National Leadership Commission. I have worked for the Graham Recreation and Parks Department, Graham, North Carolina as an Assistant Athletic Supervisor where I helped with the organization and promotion of youth athletics and leagues. I also had the opportunity to intern with the New England Section of the PGA working in tournament administration. I assisted the USGA and the PGA in regional qualifiers for its inaugural Drive, Chip and Putt Championship which concluded at Augusta National Golf Club and was a tournament volunteer for the Massachusetts Golf Association. My volunteer work began years ago when I was a Development and Skating Skills Coach for the DEAFinitiely Hockey Program at the College of Holy Cross, Worcester, Massachusetts working with children of the deaf community. Sports have always been a passion of mine. I ran cross country and played ice hockey, lacrosse and golf while attending Cushing Academy in Ashburnham, Massachusetts, graduating in 2012. In my free time I enjoy playing golf, exercising, hanging out with my friends and family, and watching ice hockey. I am looking forward to learning about the industry from the CGA team and I am honored to be a P. J. Boatwright Intern.
About the Carolinas Golf Association (CGA)
The CGA is a 501(c)(3) not-for-profit educational organization that was founded in 1909 to promote and to protect the game of golf in the Carolinas by providing competitions, education, support and benefits to golf clubs and golfers. The CGA is the second largest golf association in the country with over 700 member clubs represented by nearly 150,000 individuals.
Now in its 106th year, the CGA annually conducts 43 championships and five team match competitions for men, women, juniors, and seniors. It also runs over 140 One-Day (net and gross) events and qualifying for USGA national championships. The CGA serves golf in the Carolinas with numerous programs such as: the USGA Handicap System; tournament management software and support; course measuring and course/slope ratings; agronomy consultation; answers about the Rules of Golf, Rules of Amateur Status, and Handicapping; Carolinas Golf Magazine; Interclub series; Tarheel Youth Golf Association; Carolinas Golf Hall of Fame; expense assistance for USGA Junior and Girls' Junior qualifiers from the Carolinas; and the Carolinas Golf Foundation (CGF). The CGF has distributed more than $1,500,000 since 1977 to benefit Carolinas' golf initiatives including junior and women's programs.
For more information about the CGA, visit www.carolinasgolf.org .
##30##