U.S. Amateur Q Mid Pines Final Results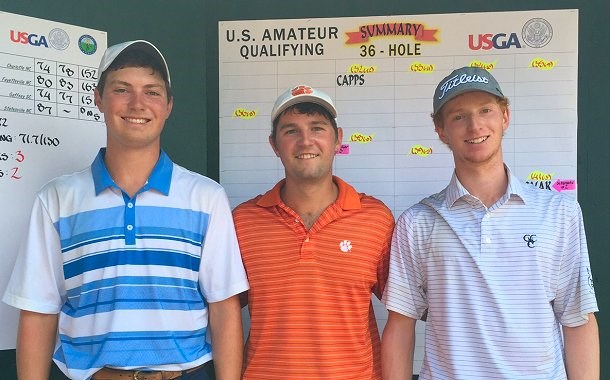 (L-R) Benjamin Griffin, Miller Capps, Stephen Franken
SOUTHERN PINES, NC – Final results from U.S. Amateur Championship sectional qualifying hosted by Mid Pines Inn & Golf Club in Southern Pines, NC on Wednesday, July 15, 2015 (6723 yards, par 36-36—72, Rating: 71.7/130).
It was an All-ACC collegiate player sweep at this U.S. Amateur qualifying site. Miller Capps of Denver, NC (Clemson) fired a course record tying 10-under 62 to finish at 12-under 132 and take medalist honors. Securing the other two qualifying spots at seven-under 137 were Benjamin Griffin of Chapel Hill, NC (UNC-Chapel Hill) and Stephen Franken of Raleigh, NC (N.C. State)
The three qualifiers advanced to the United States Amateur Championship at Olympia Fields Country Club in Olympia Fields, IL from August 17-23, 2015.

Hole-by-hole scoring can be viewed here: https://www.ghintpp.com/carolinasgolf/TPPOnlineScoring/Default.aspx?id=1215
Final Scores
| | | |
| --- | --- | --- |
| Place | Competitor | Score |
| | Qualifiers | |
| 1 | Miller Capps, Denver, N.C. | 70-62--132 (-12) |
| T2 | Benjamin Griffin, Chapel Hill, N.C. | 66-71--137 (-7) |
| T2 | Stephen Franken, Raleigh, N.C. | 67-70--137 (-7) |
| | Alternates | |
| 4 - 1st Alt | Trevor Cone, Concord, N.C. | 69-71--140 (-4) |
| T5 - 2nd Alt | Cody Proveaux, Lexington, S.C. | 71-70--141 (-3) |
| | Failed to Qualify | |
| T5 | Andrew Novak, Mount Pleasant, S.C. | 73-68--141 (-3) |
| T5 | Sherrill Britt, West End, N.C. | 71-70--141 (-3) |
| T8 | Sam Jackson, Pelion, S.C. | 69-73--142 (-2) |
| T8 | John Thatch, New Bern, N.C. | 69-73--142 (-2) |
| T10 | Alex Smalley, Wake Forest, N.C. | 67-76--143 (-1) |
| T10 | Joshua Martin, Pinehurst, N.C. | 75-68--143 (-1) |
| T12 | Thomas Lilly, Newton, N.C. | 71-73--144 (Even) |
| T12 | Bryce Hendrix, Greenville, N.C. | 72-72--144 (Even) |
| T12 | Carson Spears, Augusta, Ga. | 71-73--144 (Even) |
| T15 | Stephen Behr, Florence, S.C. | 72-73--145 (+1) |
| T15 | Mark Johnston, Lewisville, N.C. | 74-71--145 (+1) |
| T15 | Gray Townsend, Winston Salem, N.C. | 74-71--145 (+1) |
| T18 | Brad Clark, Chapel Hill, N.C. | 75-71--146 (+2) |
| T18 | Patrick Stephenson, Four Oaks, N.C. | 74-72--146 (+2) |
| T18 | Noah Edmondson, Davidson, N.C. | 72-74--146 (+2) |
| T21 | Joe Jaspers, Huntersville, N.C. | 75-72--147 (+3) |
| T21 | Austin Inman, Wilmington, N.C. | 70-77--147 (+3) |
| T23 | Joshua Stockwell, Aberdeen, N.C. | 71-77--148 (+4) |
| T23 | Thomas Owen, Fayetteville, N.C. | 73-75--148 (+4) |
| T23 | Wesley Conover, Holly Springs, N.C. | 75-73--148 (+4) |
| T23 | Stewart Alexander, Gainesville, Fla. | 75-73--148 (+4) |
| T23 | Ej Blanton, Gaffney, S.C. | 71-77--148 (+4) |
| 28 | Tyler Lail, Hiclory, N.C. | 72-77--149 (+5) |
| T29 | Eric Bae, Pinehurst, N.C. | 72-78--150 (+6) |
| T29 | Thomas Bonney, Durham, N.C. | 71-79--150 (+6) |
| T29 | Caleb Keck, Reidsville, N.C. | 77-73--150 (+6) |
| T29 | Addison Lambeth, Browns Summit, N.C. | 77-73--150 (+6) |
| T29 | Jordan Vogler, Pilot Mountain, N.C. | 74-76--150 (+6) |
| T29 | Taylor Smith, Johnson City, Tenn. | 77-73--150 (+6) |
| T35 | Stephen Saleeby, Raleigh, N.C. | 78-73--151 (+7) |
| T35 | Timothy Conover, Holly Springs, N.C. | 75-76--151 (+7) |
| T35 | Preyer Fountain, Raleigh, N.C. | 73-78--151 (+7) |
| T35 | Will Morgan, West End, N.C. | 75-76--151 (+7) |
| T35 | Will Blalock, Gastonia, N.C. | 75-76--151 (+7) |
| T35 | Daniel Pizetoski, Pinehurst, N.C. | 75-76--151 (+7) |
| T35 | Bailey Patrick, Charlotte, N.C. | 74-77--151 (+7) |
| T35 | Blair Miller, Southern Pines, N.C. | 77-74--151 (+7) |
| T35 | Cabrick Waters, Gaffney, S.C. | 74-77--151 (+7) |
| T44 | A J Beechler, Pinehurst, N.C. | 73-79--152 (+8) |
| T44 | Aaron Walker, Charlotte, N.C. | 74-78--152 (+8) |
| T44 | Davis Parker, Augusta, Ga. | 77-75--152 (+8) |
| T44 | Jackson Heazel, Atlanta, Ga. | 75-77--152 (+8) |
| 48 | Joshua Allen, Wilson, N.C. | 75-78--153 (+9) |
| T49 | David Brown, Conover, N.C. | 75-79--154 (+10) |
| T49 | Michael Murray, Greensboro, N.C. | 77-77--154 (+10) |
| T49 | Charles Valluzzo, Mt Pleasant, S.C. | 77-77--154 (+10) |
| T49 | Davis Bateman, Charlotte, N.C. | 75-79--154 (+10) |
| T53 | Matthew McDonagh, Winston-Salem, N.C. | 73-82--155 (+11) |
| T53 | Reilly Erhardt, Greensboro, N.C. | 74-81--155 (+11) |
| T53 | Davis Richards, China Grove, N.C. | 76-79--155 (+11) |
| T53 | Kevin Sowinski, Greensboro, N.C. | 80-75--155 (+11) |
| T57 | Brian Chen, Cary, N.C. | 78-78--156 (+12) |
| T57 | George Kilgore, Raleigh, N.C. | 75-81--156 (+12) |
| T57 | Zach Bostic, Gaffney, S.C. | 79-77--156 (+12) |
| 60 | Nicholas Thompson, Southern Pines, N.C. | 75-82--157 (+13) |
| T61 | Mark Absher, Winston Salem, N.C. | 77-81--158 (+14) |
| T61 | Zachary Martin, Pinehurst, N.C. | 81-77--158 (+14) |
| T61 | Jun Ahn, Silver Spring, Md. | 78-80--158 (+14) |
| T61 | Justin Lenzini, Algonquin, Ill. | 81-77--158 (+14) |
| T65 | Davis Kiger, Harrisburg, N.C. | 76-83--159 (+15) |
| T65 | Jacob Golliday, Kill Devil Hills, N.C. | 78-81--159 (+15) |
| T67 | Michael Butler, Chapel Hill, N.C. | 79-82--161 (+17) |
| T67 | Bryan Griffin, Greensboro, N.C. | 82-79--161 (+17) |
| T69 | Will Warner, Fayetteville, N.C. | 80-83--163 (+19) |
| T69 | Wilson Day, Raleigh, N.C. | 76-87--163 (+19) |
| T69 | Austin Cook, Cary, N.C. | 81-82--163 (+19) |
| T72 | Josh Showfety, Greensboro, N.C. | 79-86--165 (+21) |
| T72 | Blake Martin, Pinehurst, N.C. | 80-85--165 (+21) |
| 74 | Dexter Blank, Elon, N.C. | 80-87--167 (+23) |
| T75 | David Ogden, Pinehurst, N.C. | 77-NS--NS (NS) |
| T75 | Butler Melnyk, Saint Simons Island, Ga. | 78-WD--WD (WD) |
| T75 | Justin Wiles, Statesville, N.C. | 87-NS--NS (NS) |
| T75 | William Rocchi, Pinehurst, N.C. | 83-WD--WD (WD) |
| 79 | David Shambley, Raleigh, N.C. | NS (NS) |